In a season fraught with damage and incidents, the KPMG Australia SailGP Sydney has topped the list with a man overboard and a destructive weather event. The Sydney SailGP was canceled after only one day of racing after a severe storm ripped through Sydney, leaving the SailGP technical site in turmoil and causing extensive damage, including Team Canada's F50 and several of its wings. "It was some of the most wind I have ever seen in my life," Canada SailGP Team's driver Phil Robertson said.
The YouTube video below, posted by William Nguy, shows the incident as it occurred, presumably from the press or public viewing rooms.
SailGP reported that working closely with local experts and its in-house weather knowledge, it was believed they had a window to crane the boats and "… with the advice received, proceeded to do so." Fortunately, no injuries were reported.
The Sydney event has officially ended after only three races, with Team France being declared the winner. According to SailGP rules, the three completed races are enough to constitute an event. Team France is now in third place on the leaderboard.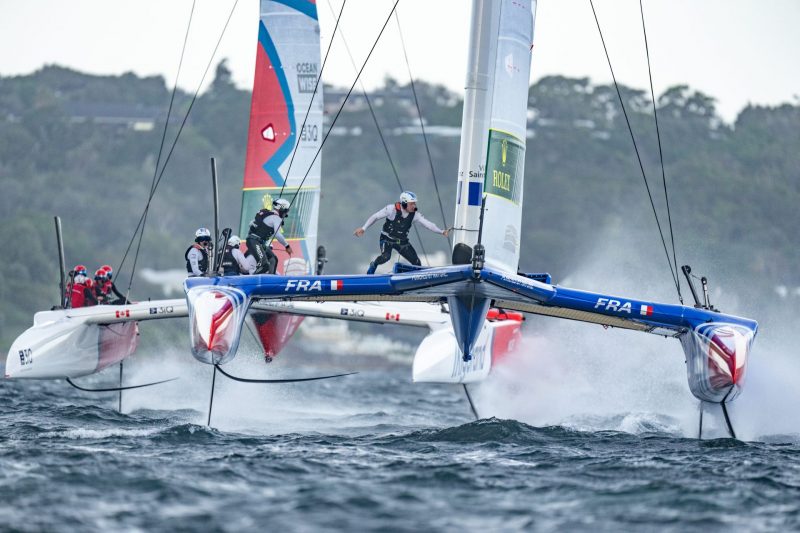 In a separate incident during Friday's races, Emirates Great Britain SailGP Team crew member Matt Gotrel fell overboard during a maneuver.
The team was on the final stretch to the finish line of the first fleet race and traveling close to 50 mph when Gotrel fell through the fairing during a jibe. He remained attached to the boat via his safety line. Team driver Ben Ainslie told SailGP reporters, "We were in pretty good shape in the race and went into a jibe and we had to take some evasive action on Canada — that little bit of movement on the boat sent Matt just flying through the fairing. He was like a rag doll at the end of his tether, with two foils up quite high."
The team slowed the boat and was able to bring Gotrel back on board. He was later assessed with muscle strains and bruising, but was not admitted to hospital.
The incidents in Sydney follow January's mishap during the Singapore SailGP, when lightning struck Team New Zealand's F50 shortly after the conclusion of the final day's racing. The boat was under tow to the technical site, its crew ashore receiving the event's winner's trophy, when the lightning struck the top of the 29m wing. One person was taken to hospital for electrical injuries but was later released.
The current top three teams for SailGP Season 3 are Australia, 74 points; New Zealand, 64; and France, 63. Team USA is at number six with 52 points.
At this stage the next scheduled events, New Zealand on March 18-19 and the Grand Final in San Francisco on May 6-7, 2023, will continue.
Receive emails when 'Lectronic Latitude is updated.
SUBSCRIBE