Max Ebb: Cast Off Your Chains
"It was an offense to science, nature and yacht design." That was how the owner of this home-built catamaran described adding 200 feet of chain to his ultralight carbon fiber creation.
That comment pretty much summed it up. He had home-built a large cruising catamaran, and his being skilled in composite construction, just about everything on the boat was made with carbon fiber and weighed nothing. Not just the foils, the spars and the main structural components of the hull, but the hatch boards, the cabin table, even the treads on the steps leading down to the accommodations in the hulls. And then, following recommended practice for a cruising boat, he felt compelled to add 200 feet of steel anchor chain.
The anchor rode was massive overkill for the project at hand: We were the race committee boat for a midwinter race on the Bay. There were no rocks or coral heads, and the holding ground was good, sticky mud. The heavy all-chain rode was the only option on board. "Like, you couldn't find carbon fiber anchor chain?" asked Lee Helm, only half joking.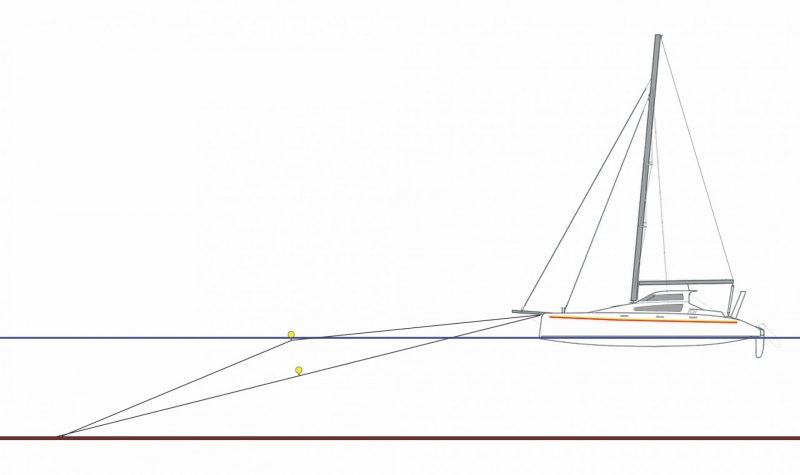 Lee was not part of our RC crew. She was racing on a boat that sailed from a club on the opposite side of the Bay, so she had talked her skipper into picking her up from the committee boat prior to the start. "Carbon chain would be wonderful, if it existed," the owner agreed. "Strong and light. But for a cruising anchor we need the weight, to increase the effective scope at the anchor by keeping the pull more parallel to the bottom."
I was about to suggest, "Just use water ballast," but stopped short when I remembered that water ballast weighs nothing underwater. I made a mental note to ask Lee, some day when we had more time, to explain why water ballast works on ships.
But as the chain rattled out through the chock at the end of the carbon anchor sprit, Lee made an interesting technical point: "The most efficient way to increase the effective scope is to add weight at the anchor, not distributed along the chain."
"Really?" I questioned.
Continue reading in the February issue of Latitude38.com.
Receive emails when 'Lectronic Latitude is updated.
SUBSCRIBE