Updated 3:00 p.m. Wednesday, Feb 15:
Not long after we published this story on the new Hank Easom buoy at Yellow Bluff, we received the following email from Ron Young. "It is with great sadness that we write with the news that Hank Easom passed away around 9:15 pm, Tuesday, February 14, 2023.
"Admired by many, our humble hero died of inoperable cancer at the age of 88, at home with his family.
"Thanks [to the support and generosity of many-ed], the Hank Easom Buoy has created an enduring remembrance of an exemplary person and sailor on his favorite playground, San Francisco Bay.
"Though he was too ill to accompany the voyage, Hank sent Serenade to be first to round San Francisco Bay's newest weather mark — and christen it with a bottle of champagne. Hank delighted in seeing his buoy from the Sausalito shoreline on two special occasions during the last days of his life, putting a final, big and well-deserved smile on our hero's face.
"In the perfect close to a legendary career, on Saturday, February 4, 2023, ten days before his passing, in Hank's final race — the Golden Gate Yacht Club Midwinters — he was first to finish, first in division and first overall. In a competition usually decided by seconds, the next boat finished ½ an hour behind Hank Easom."
———————————————————————–
On a rainy Saturday, January 14, a crowd of well-wishers arrived at Easom Rigging for the unveiling of a new racing mark for San Francisco Bay. The new mark honors the lifetime contributions of renowned Bay Area racer Hank Easom. Easom has numerous racing victories to his name, though he may be best known as the unrivaled competitor who took his 8 Meter Yucca to the podium on innumerable occasions during his stewardship of the beautiful vessel from 1964 to 2017. Appropriately, the clouds parted and the skies dried as Hank arrived for the unveiling of the buoy. The buoy, the Hank Easom mark, was created to become the permanent YRA Yellow Bluff racing mark.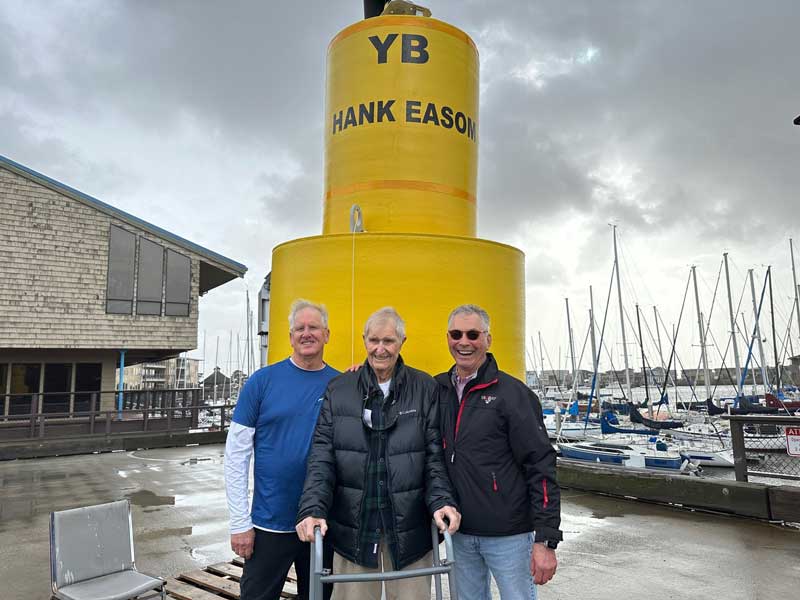 Gathered at the unveiling were longtime crew members of both Yucca and Hank's Sabre Spirit Serenade, plus a large crew of friends and supporters. The new buoy was inspired by Ron Young, and is the result of many months of planning and hard work by Hank's nephew and head of the YRA Buoy committee Scott Easom, along with project partners Ron Young and San Francisco Yacht Club Staff Commodore Carl Lewis. The buoy is being funded by members of the San Francisco Yacht Club, Corinthian Yacht Club, Sausalito Yacht Club, and individual benefactors through the Belvedere Cove Foundation, with ongoing maintenance provided by Easom Racing and Rigging.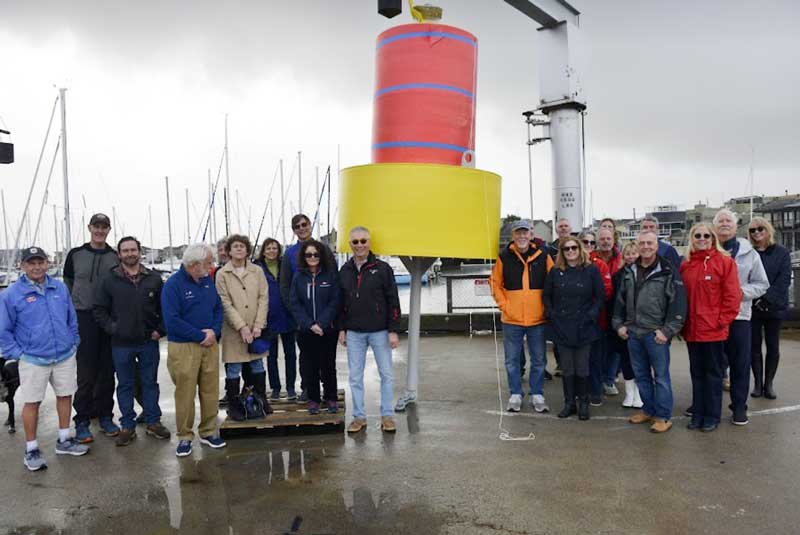 Getting a break from its busy schedule of clearing debris from the Bay after many winter storms, the Army Corps of Engineers vessel, the John A. B. Dillard, was enlisted to bring the buoy to its permanent mooring site off the Marin headlands on Tuesday, February 7. This will make race committees happy that they no longer have to set a Yellow Bluff buoy, and racers happy since the well-secured buoy will be in the same location every weekend.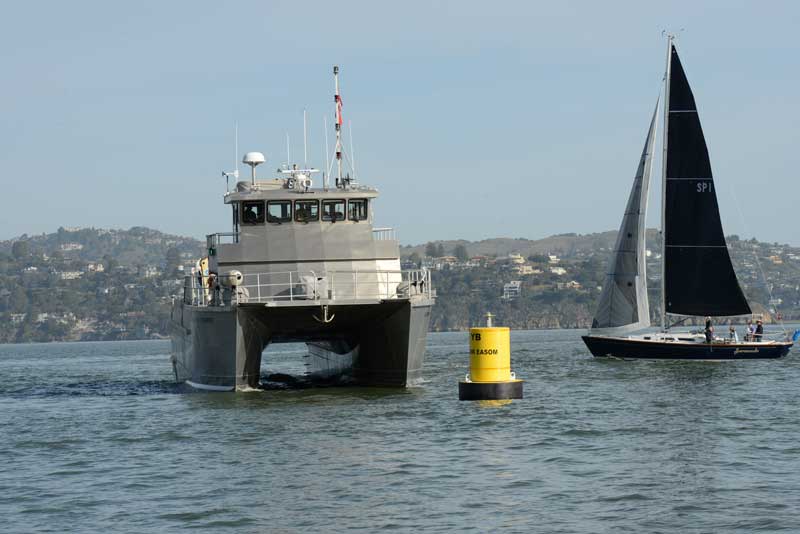 The buoy looks a little less imposing when launched than when it's hanging from a hoist. Though it's a robust steel buoy, it is protected by foam siding to make it a more forgiving surface should anyone get too close.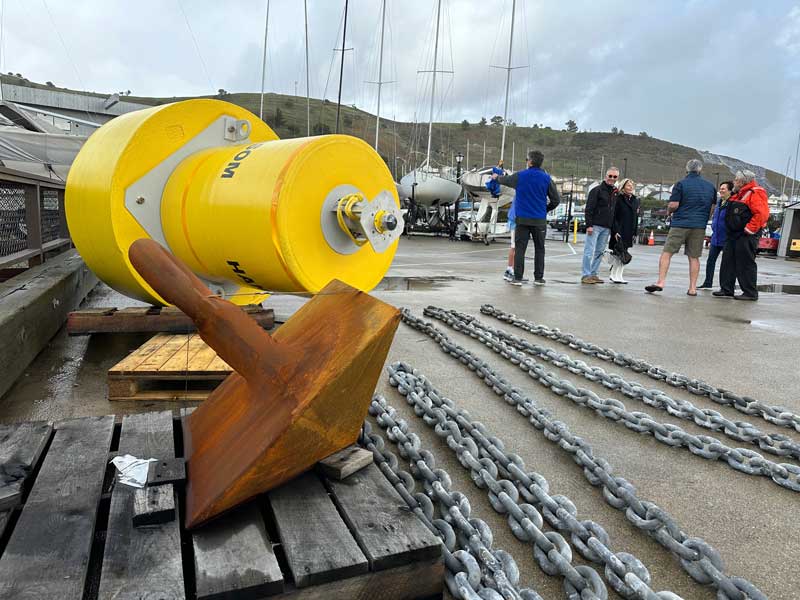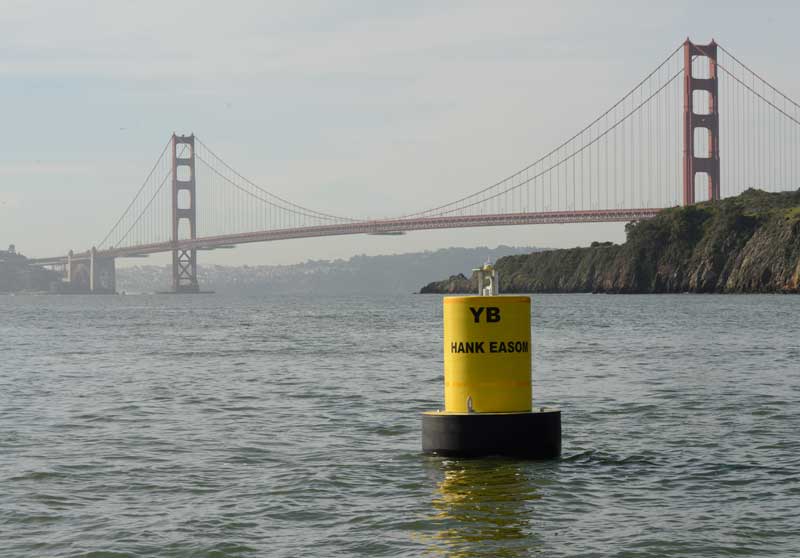 It is a much-deserved honor to have the new Hank Easom buoy now in position on San Francisco Bay. We're sure many racers, including ourselves, will be thinking, as they round the buoy, how it's the first time they've ever passed Hank Easom. We'll have more on Hank and the Hank Easom buoy in the upcoming March issue.
Receive emails when 'Lectronic Latitude is updated.
SUBSCRIBE