The floodgates are opening in Pointe-à-Pitre, Guadeloupe, for the Route du Rhum, with IMOCA 60 monohulls finishing in rapid succession. The huge fleet of Class 40s is now just two days away.
Ocean Fifty Trimarans
After the huge maxi-trimarans blitzed across the ocean in record pace, the next class to reach the idyllic Caribbean island were the Ocean Fifty trimarans. Approaching Guadeloupe in varying strengths of tradewind breeze, the battle for Ocean Fifty supremacy raged until the very end. The legendary Erwan le Roux and Koesio sailed farther west before jibing than chief rival and race leader Quentin Vlamynck on Arkema 4. Coming in at a hotter angle and a higher speed than Arkema 4, le Roux sailed a straighter, faster line and secured a divisional win by just over 14 minutes after nearly 11 days of racing. Sébastien Rogues on Primonial came home about six hours later to round out the podium.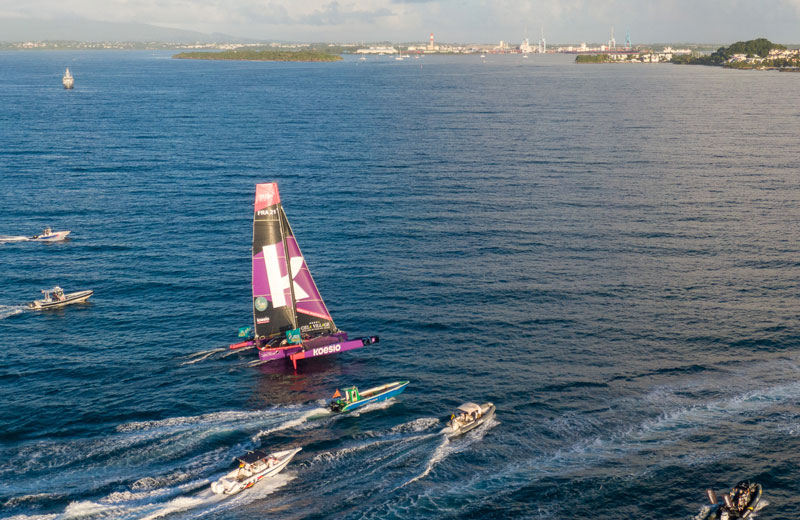 IMOCA 60 Division
Likewise, the IMOCA fleet saw a thrilling battle with more late-race heroics as well. After looking dominant early in this race, Charlie Dalin and Apivia's lead began to be threatened by Thomas Ruyant and LinkedOut while approaching Guadeloupe. Seemingly faster when running deep and jibing dead-downwind, LinkedOut made a pass and gained an advantage before extending to a slight lead over Apivia. Holding that lead until the finish, Thomas Ruyant has won the IMOCA division in the 12th Route du Rhum by about two hours. Jérémie Beyou and Charal 2 finished a further one and a half hours behind to round out the podium.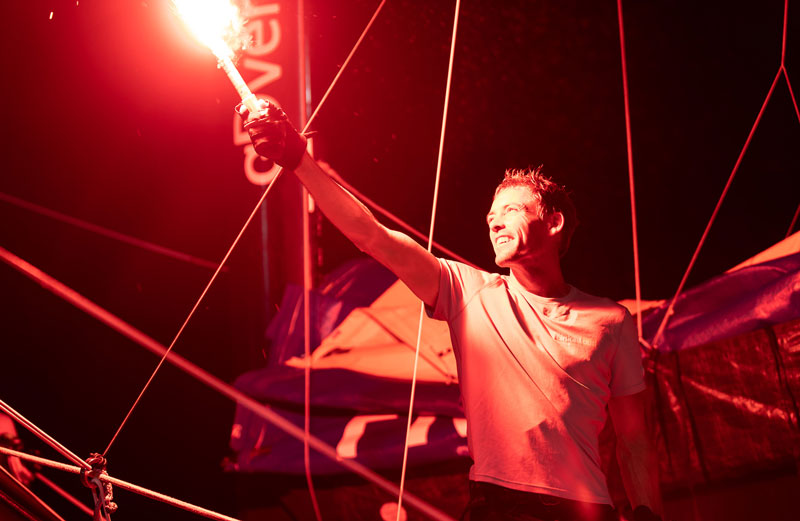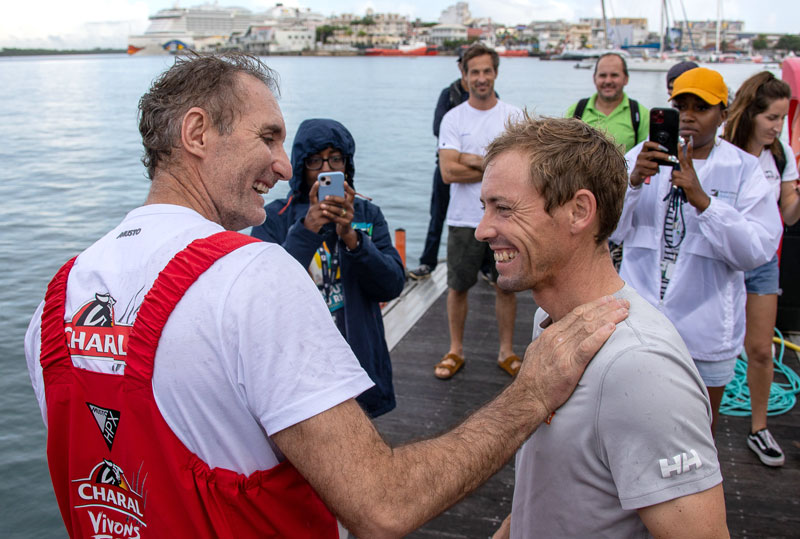 With San Francisco company Medallia's skipper Pip Hare making a remarkable comeback to 10th place, three female skippers are now in the top 10, including Justine Mettraux on Teamwork.net in seventh and Isabelle Joschke on MACSF in ninth. IMOCA 60s will be finishing the race one after another for the next handful of days.
Class 40 Fleet
Yoann Richomme on Paprec Arkéa has continued to extend out in the Class 40 division and now has a lead of more than 100 miles over Corentin Douguet on Queguiner-Innoveo. With Italian and Swiss skippers in third and fourth place as of this writing, the Class 40 podium could end up being quite international. Adding to the international flair in the division, Bay Area native Alex Mehran looks poised to turn in an impressive result in this Route du Rhum. Mehran sails in 14th position, though he has the potential to still gain or lose several places. It's still all to play for in the final stages of this race! American Greg Leonard on Kite is having a good race as well, and currently lies in 24th place.
Most of the fleet is still at sea. Many great battles are drawing to a close in the next handful of days, so make sure to stay tuned to the website, the tracker, and the social media feeds.
Receive emails when 'Lectronic Latitude is updated.
SUBSCRIBE