Holly Williams is a surgeon. She's also a sailor, but since her med school days at UCSF in the late '80s, it seemed she would have to choose: her career or her sailing. Her career as a surgeon in San Francisco meant that her dream of sailing around the world would have to wait until she retired.
Fast forward to 2020, and Williams is stranded at a Philippine dock under strict government surveillance (from early February until March 19, 2020) for six weeks in the early days of the COVID-19 pandemic. She's not retired, but she finds herself on a nautical adventure far from home.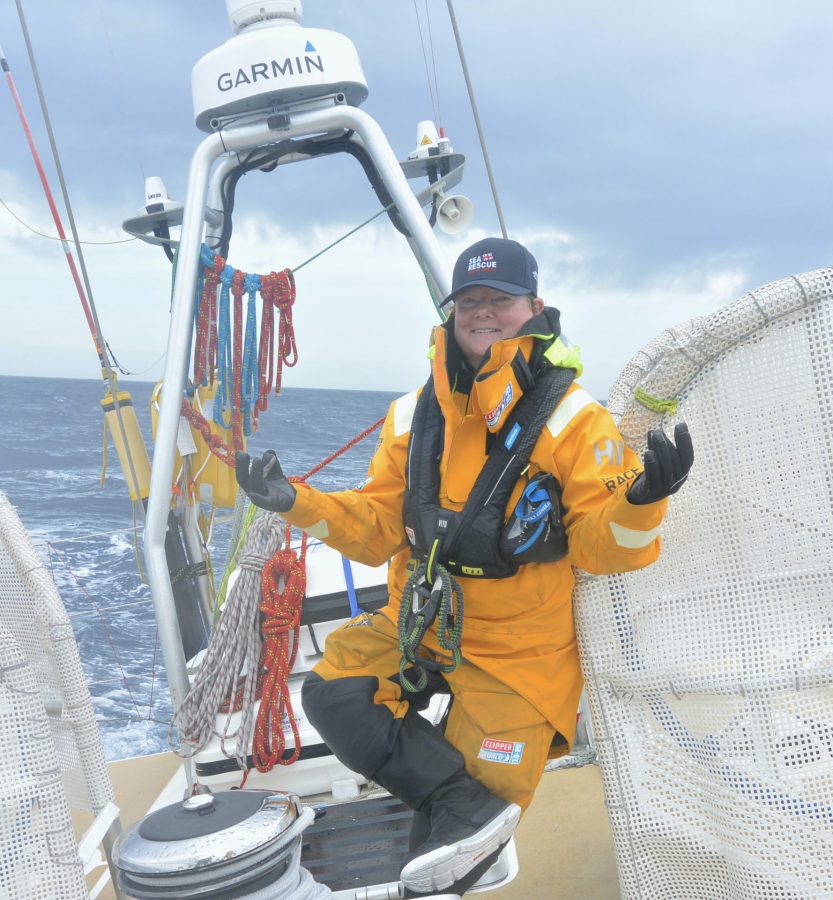 And now it's November 2022. At the time of our interview, it had been only a month since Williams crossed the finish line of the 2019-2020 edition of the Clipper Round the World Race, two years delayed. She's still not retired, and she has managed to sail around the world. This is her adventure.
Williams got her start sailing small boats, mostly dinghies. "I started doing classes at South Beach, and eventually took lessons at Modern Sailing to be able to charter boats and take people out," she explains. "But I stayed on in the Bay to do my surgery residency. That was really time-consuming, and I couldn't charter. Nobody I knew had the same schedule. But I knew — if I buy a boat and live on it, I could make it work.
She bought a 1979 Catalina 30 named Gypsy Heart and was an unofficial liveaboard in sunny Sausalito Yacht Harbor through her residency from 1994 to 1998. Her logic: "I'm a surgeon; there's no time to sail around the world." So she sailed around the United States. Williams found Chesapeake Bay during a few years living in Baltimore, but was back on San Francisco Bay in 2014. She landed in Emeryville and has been based there ever since. "The difference between an adventure and an ordeal is attitude," Williams quips. She had found the opportunity to go with the Clipper Round the World Race — she could sail the world in only 11 months! Turns out, the right stuff for this race just means you need the right attitude. Clipper trains you, and with grit and endurance, the rest is up to fate. Williams' application and interviews were accepted. "I guess they determined that I was the right stuff, that I'd be able to live on the boat with other people for a long period of time with limited privacy."
It was off to the races. Williams left her full-time job and arranged part-time work to make sure she had a position to return to after the race. Not a strict amateur, Williams was going into the global race with ASA 103-110 certificates and delivery experience. "I signed up for the four weeks of training that you do in England. I did that when I had vacation time off in 2018-19. I was still working full-time." A real blending of her two passions, Williams was on the UNICEF boat and loved sailing for a cause that was so defining in her life. "We got to do a lot of cool stuff with UNICEF at stopovers. We could use this boat like a billboard for UNICEF at every port. For example, we took one of our sails and had a table where people could sign a message on the sail for a small donation." The UNICEF initiative with Clipper Ventures made one million pounds between the 2017-2018 edition and the 2019-2020 edition.
So, how did Williams find herself stranded in the Philippines?
Continue reading in this month's issue of Latitude 38.
Receive emails when 'Lectronic Latitude is updated.
SUBSCRIBE