On April 22, we were pleased to join Paul Cayard and a group of nine guests and crew aboard Translated 9 US, a Sparkman & Stephens-designed ketch. A friendly, quiet fellow with a charming European accent grabbed our rather heavy sea bag and gave us a hand aboard. He said his name was Marco. This unassuming chap turned out to be the CEO of a multinational company and the owner of the 65-ft yacht we had just boarded. Marco Trombetti, an Italian entrepreneur, is assembling a crew to compete in the Ocean Globe Race. Not to be confused with the Golden Globe Race, the Ocean Race or the Clipper Race, the OGR will sail around the world with full crews and stops. But it will do so in the tradition of the original Whitbread Race in 1973 — 50 years ago.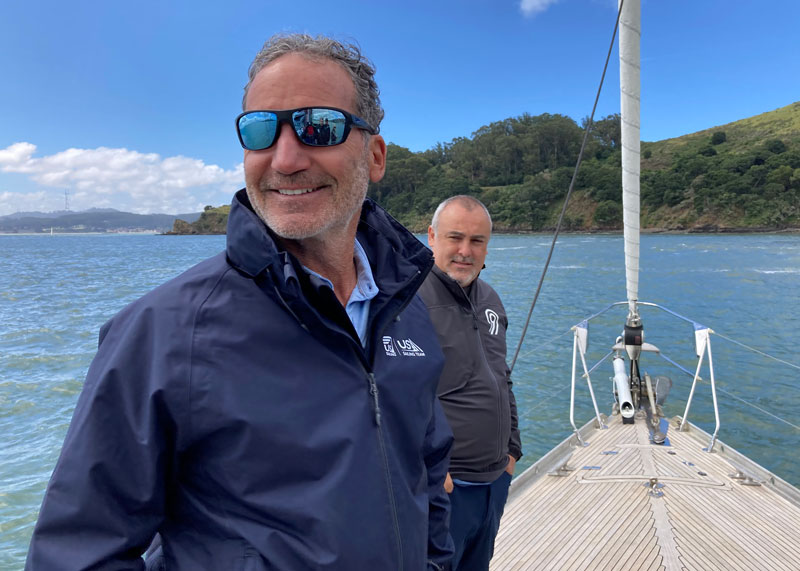 In 1999, Trombetti and his wife Isabelle Andrieu founded Translated, a service that uses artificial intelligence to help professional translators. "People are thinking that machines can do everything, and even too much," Marco explained to the guests. "They underestimate the potential of humans and the fact that this world is built around human needs. We discovered that there is an actual bigger opportunity, not only ethically and socially but economically, to support humans in building tools for them — in our case, translations."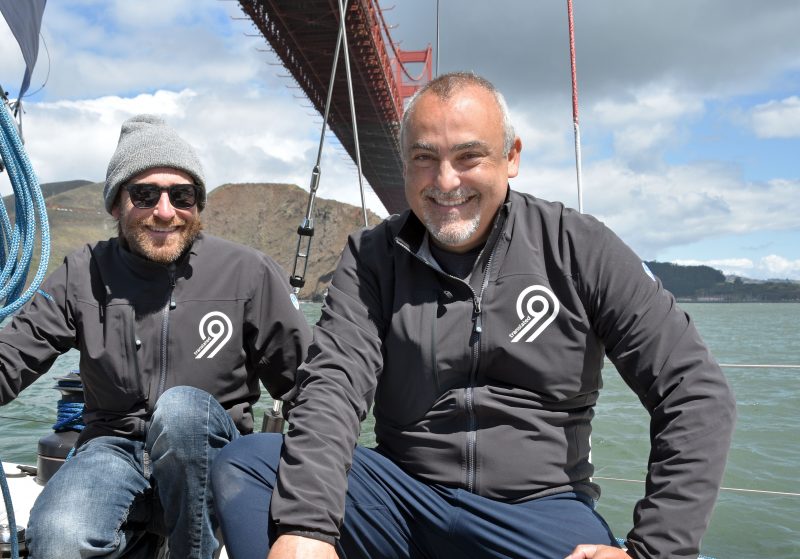 Translated's slogan, "We believe in humans," seems compatible with the OGR. The race forbids computers, GPS and other satellite services, and high-tech materials. Navigators will find their way around the world using sextants.
Based in Rome, Translated has additional headquarters in France, Berlin and Palo Alto. So Marco keeps a sistership to his European Swan 65 in Sausalito — San Francisco Bay being a great place to recruit and train crew. This is the boat we went sailing on in April.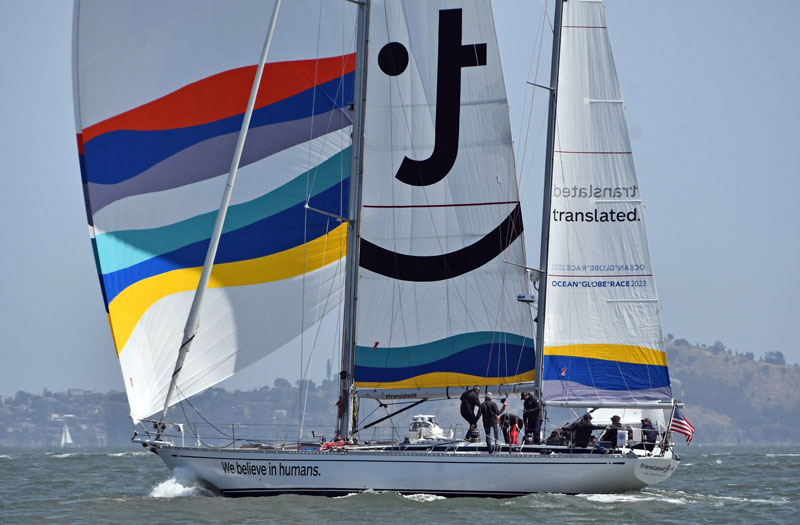 Just few sprinkles fell during the crisp morning. Conditions were ideal, with enough breeze to sail but not too much for the less experienced passengers. We sailed out the Golden Gate into a big but gently rolling Pacific sea swell, returned to San Francisco Bay, and sailed around Alcatraz before returning to Sausalito Yacht Harbor. Guests took turns at the big wheel, Paul Cayard coaching them.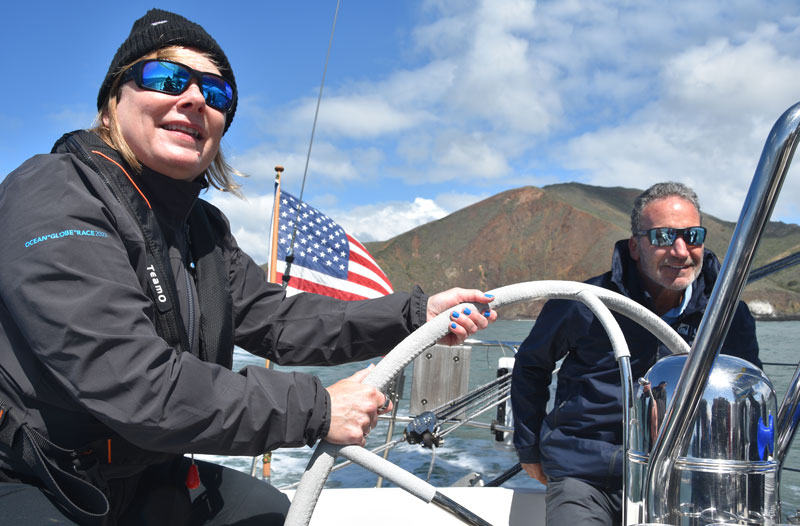 Bay Area sailing legend Paul Cayard is a two-time Olympian, America's Cup skipper and Whitbread winner. He was inducted into the National Sailing Hall of Fame in 2011, and currently works as the executive director of the US Sailing team. "I did win the Whitbread Around the World Race in 1997 and met Marco a couple of years ago through some other Italian friends," he told the group. "I liked the idea of the project. It was a different world 50 years ago. To go around the world, it was much more adventurous and dangerous in some ways. They didn't push the boats as hard as we did in the '90s. It was much more about making sure you came back alive. The competition has gotten more and more intense as the years went by.
"This is celebrating the original adventure. That's why they're taking only three professionals and seven amateurs, allowing people to have this big life experience. I love the idea that Marco is not only entering the race to celebrate human adventure and the human spirit, but that he wanted to bring the boat here to San Francisco, my hometown. I grew up sailing right here on this Bay.
"His willingness to share this adventure, a piece of it for a couple of hours — maybe it'll be more for some of you — to give you a little insight into this human endeavor, is very cool. I like when my sport is involved in that way, so I agreed to promote it. When they told me the story two years ago, I said, 'Yep, I want in, I want to be a part of it.' That's my reason for being here and being involved with Marco."
The Ocean Globe Race will start on September 10, 2023, from Southampton, UK. The eastabout route will stop in Cape Town, Sydney and Rio de Janeiro. Each leg will take about 40 days, and the circumnavigation will take about eight months to complete. With no American teams entered, we're stoked to have a team to cheer for. Read more about the OGR and the Translated 9 entry here.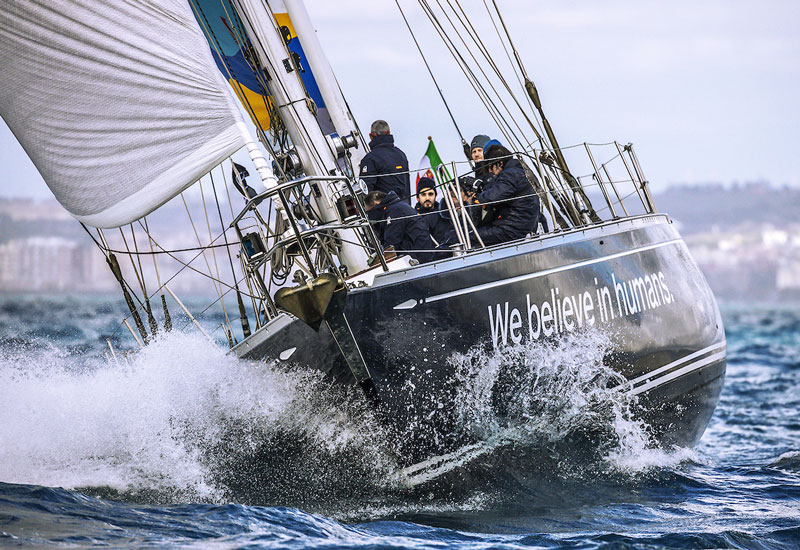 We'll have more in Sightings in the June issue of Latitude 38.
PS – what's the allure of celestial navigation and how do you learn it? Check out a recent story on Paul Kamen's celestial class at CYC.
Receive emails when 'Lectronic Latitude is updated.
SUBSCRIBE