In the Bay and Delta Region on December 4
The Lighted Boat Parade on the Estuary's theme will be Deck the Hulls. Staging will be on the Alameda side between the public pier at Fortman Marina and the Wind River buildings. The parade will start at dark and proceed west past Encinal and Oakland Yacht Clubs, where the judging happens. The route passes Pasta Pelican Restaurant before turning across the Estuary to Jack London Square, east to the Grand Marina, and back to the staging area. The loop will repeat for latecomers. See www.lightedyachtparade.com.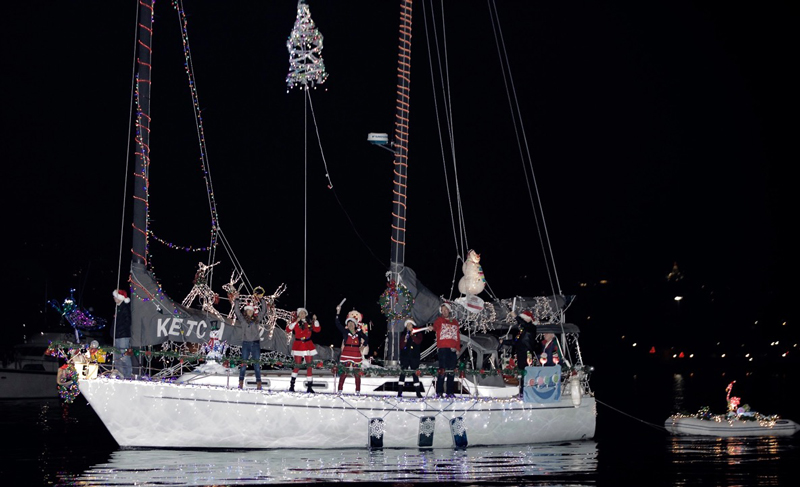 Suisun City Harbor Plaza will play host to Christmas on the Waterfront, 2-8 p.m. There you'll find a Christmas market, live music, a lighted boat parade, pictures with Santa, tree lighting, fireworks, ice skating and more. (707) 421-7201.
The Rio Vista Chamber of Commerce Holiday Celebration will culminate in a lighted boat parade on the Sacramento River starting at 6 p.m.
On the San Joaquin River, the Lynn Hahn Memorial Delta Reflections Lighted Boat Parade will begin at 5 p.m. The parade will gather at Windmill Cove and proceed upriver to downtown Stockton. For info, see https://stocktonyc.clubexpress.com.
December 11
Coyote Point's Lighted Boat Parade in San Mateo will begin at 5:30 p.m. Holiday treats, music, and special guests arriving by boat to Coyote Point YC will follow the parade. For info, call Cathy at (650) 464-6265.
Sausalito's Winterfest lighted boat parade will begin at 6 p.m. Fireworks will follow.
Richmond Yacht Club's Lighted Boat Parade will begin at 5:30 p.m. at Richmond Harbor Entrance Channel Marker G"5″ and proceed east in Point Potrero Reach to Marker 15 at Foss Pier, then cruise around Brickyard Cove and RYC's harbor. For info, contact Anne Thomas.
Oxbow Marina and Marina West YC will have a Christmas Lighted Boat Parade, followed by snacks at the marina office. Boats will gather at the guest dock at 5 p.m. for a skippers' meeting then proceed up Georgiana Slough.
Discovery Bay YC's Lighted Boat Parade will begin at 5 p.m. with the theme Christmas in Paradise. Entry is open to members and non-members.
December 12
The San Rafael Lighted Boat Parade will proceed up the Canal starting at 6 p.m.
December 17
St. Francis YC's Decorated Boat Parade in San Francisco will travel between Crissy Field and the Marina Green.
Lighted Boat Parade Safety Tips
The Water Sports Foundation suggests six safety tips for winter/nighttime on-the-water parades:
Wear Your Life Jacket. Drowning is the cause of death in 79% of fatal boating accidents where the cause of death was known; 86% of those drowning victims were not wearing life jackets.
Gear Up. Make sure all required boating safety gear is ready, functional and easily accessible. Always have a VHF radio on hand and know how to use it properly.
Dress for Success. Choose the right type of attire for local weather conditions and be prepared in case conditions change. Children lose body heat faster than adults, so bring extra layers of clothing in a waterproof dry bag, along with towels and blankets in case they are needed.
Designate a Sober Skipper. Caution crew to avoid or minimize alcohol consumption to keep their wits about them while underway and on board.
Learn the Parade Route in Advance. Run your boat through the course in the daylight to spot any obstacles or challenges that may be harder to see with limited visibility.
Charge Your Batteries. Consider using LED decorative lights, which use less electrical power, or a longer-lasting lithium-ion battery that is separate from your engine's starting battery.
Dockside
Pier 39 in San Francisco is having tree lighting ceremonies, 5-10 p.m., featuring a light show with synchronized music every half hour. The shows continue nightly through January 9.
Doubtless many more events will be happening throughout the region. Feel free to add your favorite in the comments section below!
Receive emails when 'Lectronic Latitude is updated.
SUBSCRIBE