Today is December 1, and that means the December issue of Latitude 38 is on its way to you, right now! Maybe you already have your copy, or maybe you've been reading it online. Either way, it's go time. Our drivers have been up since before the crack of dawn, as dawn arrives rather late at this time of year, and filling their vans with bundles of magazines, just for you — just like Santa filing his sleigh with goodies and toys. The best part is that we don't keep a list of who's been naughty and who's been nice; we're happy to share the magazine with everyone! (Although we do hope you've all been nice, and if naughty, not terribly naughty.)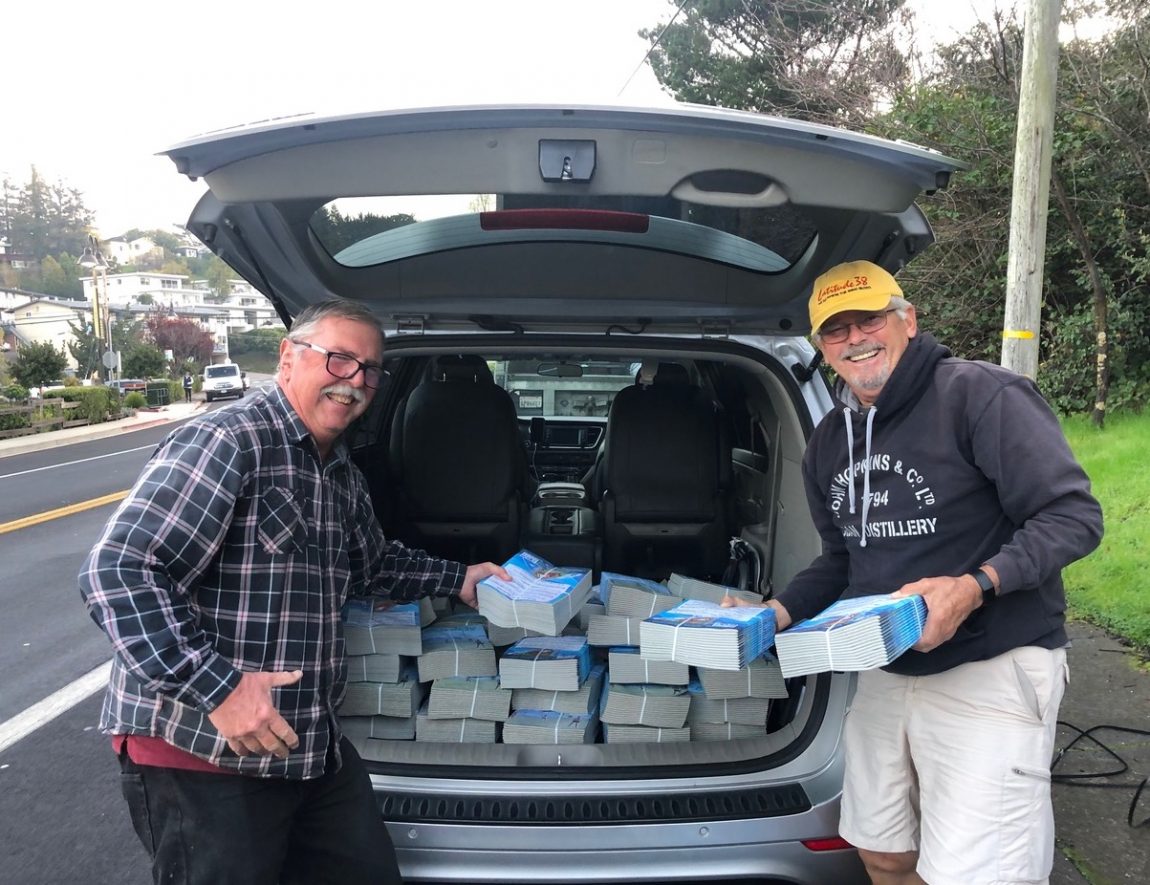 It seems this pair of sailors are gaining celebrity status. Last week they were the roving reporters who got the scoop on the boat fire in Petaluma. What will they get up to next?
Speaking of celebrities, in the December issue we bring you a story about Alex Blue and Brady Trautman, who have transitioned from the legendary YouTube juggernaut SV Delos to the creation of their new Northern California sailing school, Cruisers Academy.
"Sailing is a great filter," said Alex Blue at the start of the conversation. "I feel like anyone I've met who's interested in sailing also loves the outdoors, and they're interested in learning more about the world and how to be more self-sufficient. A certain type of person is drawn to that, so everyone's always awesome."
Blue said the idea for a sailing school, and empowering people to get out on the water, had been brewing while she and Brady were still aboard Delos — but they had originally envisioned some kind of ocean voyaging school. "The plan was to teach people to sail across oceans," Brady said. "We had no plans to move to Tahoe and start a sailing school." But COVID made the couple take a detour. They spent many snowy days in their Tahoe condo developing a business plan and curriculum for what would become the Tahoe chapter of Cruisers Academy. They eventually built up a fleet of four Catalina 22s, and were teaching basic keelboat sailing.
But that dream of a bigger boat and blue water remained. Brady and Blue had been hinting at a "special boat" that they'd had their eye on. They had a fortuitous connection with a passionate Bay Area sailor and craftsman named Justin, who'd spent more than a decade restoring the now-glistening 1980 Passport 42 Lintika, based in Sausalito.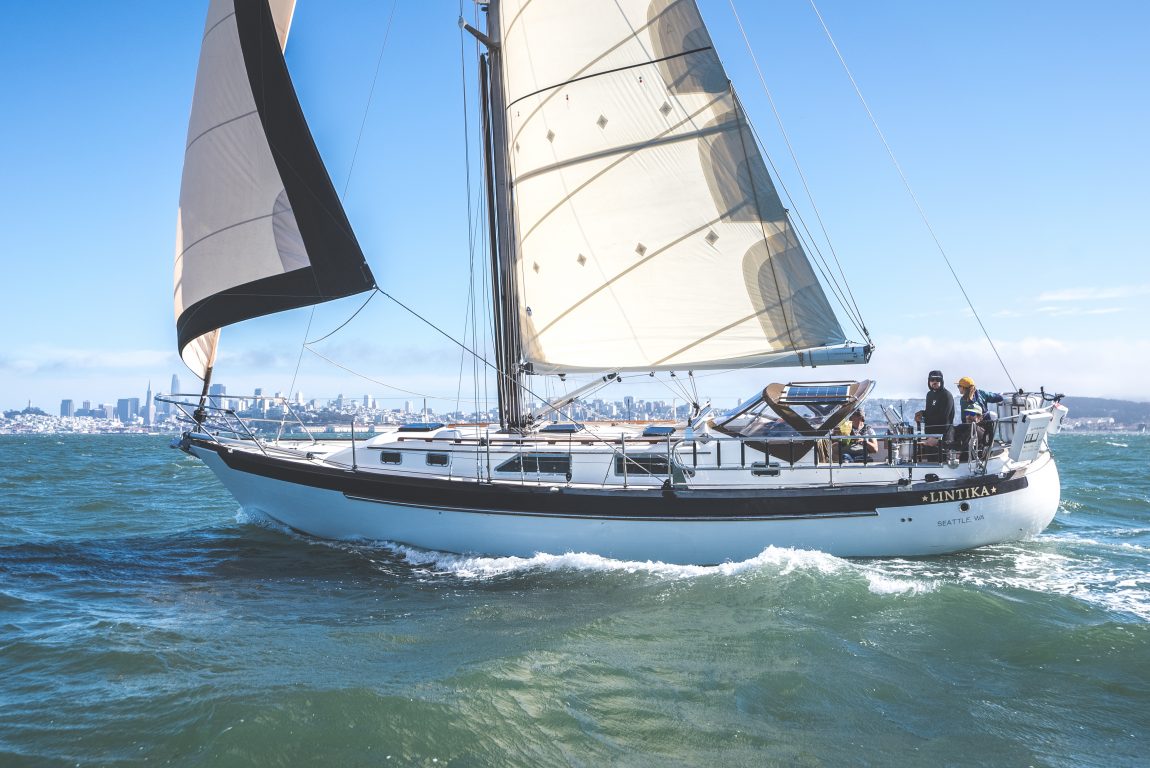 Also inside this month's magazine …
This year's overall sailing conditions for the 750-mile course from San Diego to Cabo San Lucas were the best in recent memory. Pat Williams, crew on the Ericson 38 Peregrine Spirit, said this was the most he's flown a chute on the eight Ha-Ha's he's done. And if Myron Eisenzimmer of the San Geronimo-based Swan 44 Mykonos had known the wind was going to be this good for his and his wife Marina's 12th Ha-Ha, he might not have dropped a bundle on a new engine so soon.
Fifty-one boats sailed the entire first leg, nine sailed all of the second leg, and 27 sailed the entire last leg. The seven 'Soul Sailors' who sailed all of all three legs were Elliot James with the Tiburon-based Mancebo 31 Bloom County; Robert Day of Newport Beach with the X Yachts AP44 Day Dreams on his fourth Ha-Ha; Andrew and Laura Park of Lake Oswego, OR, on the Jeanneau SO 440 Ever After; Scott Sibbald and Joanne Pilkington of Carson City on their Bavaria 46 Fundango; Sandra and Lawrence Blanchette of Walnut Creek on their Catalina 42 Lady Kate; Naomi Neville and Jeff Rothermel of Manhattan Beach, who did the Ha-Ha 17 years ago with their Aerodyne 38 Wilderness, and did it this year with their two daughters; and Assistant Poobah Patsy Verhoeven of La Paz on her Gulfstar 50 Talion, who has sailed every leg of all 15 Ha-Ha's she's done.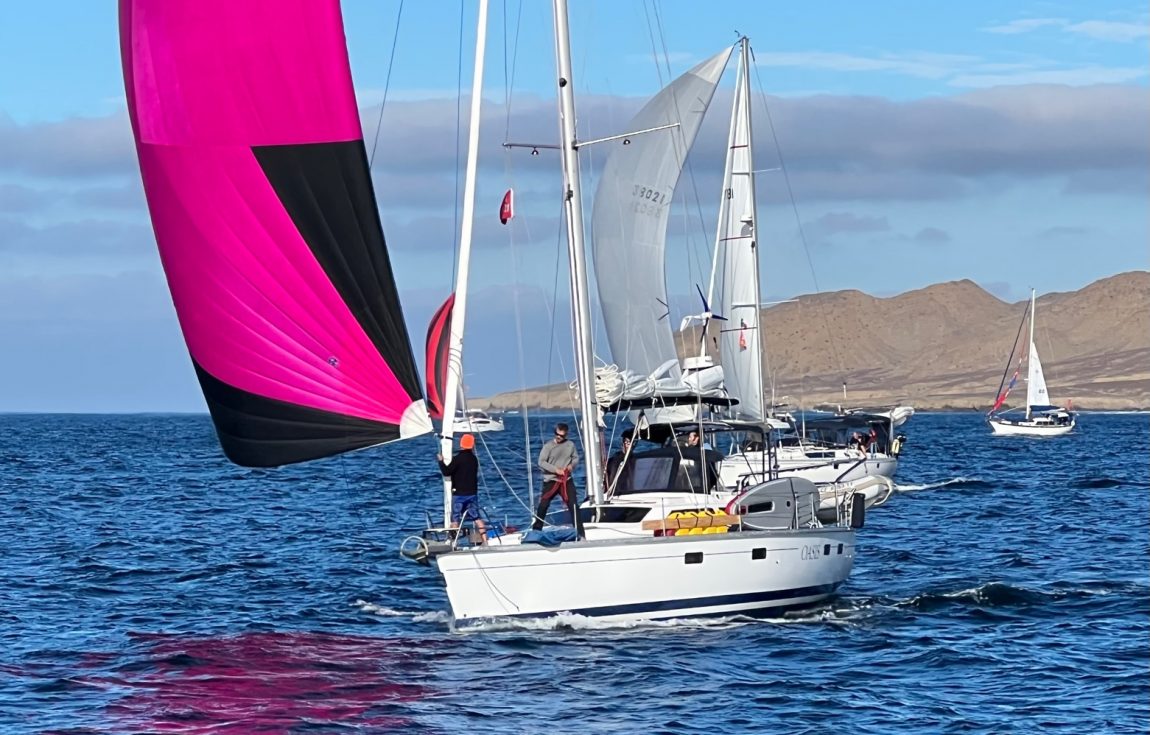 The pages of Latitude 38 are often filled with rambunctious adventures, competitive races and other dramatic aspects of sailing. However, we never forget how much we enjoy the simple pleasures and adventures that can come from sailing with friends close to home. Al Fricke wrote up this recent tale with a wink and a smile about a local cruise with his regular sailing fleet.
The Plan, concocted over the course of several of our weekly Salty Swabs and Sailors Zoom meetings, was to sail three boats to Fort Ross Cove, with stops at Drake's, Tomales, and Bodega bays. We'd spend the first night, October 5, in Horseshoe Cove and ride the morning ebb to get a good start. Jubilee promised to catch a salmon big enough to feed the fleet on the way up. There would be complicated exchanges of crew in Tomales and Bodega Bay. The Boats: O'Neil's 1984 Ericson 38 Lagniappe, Pate's 1984 Endeavor 38 Trilogy, and Al's 2000 Catalina 36 Jubilee.
Average age of the nine regular members of the Salty Swabs and Sailors group is a sprightly 80. All have sailed as crew or owners in many parts of the world. Trilogy sailed in the 1996 Baja Ha-Ha. Several of us have done Ha-Ha's on other boats. Jubilee even did a SoCal Ta-Ta a while back.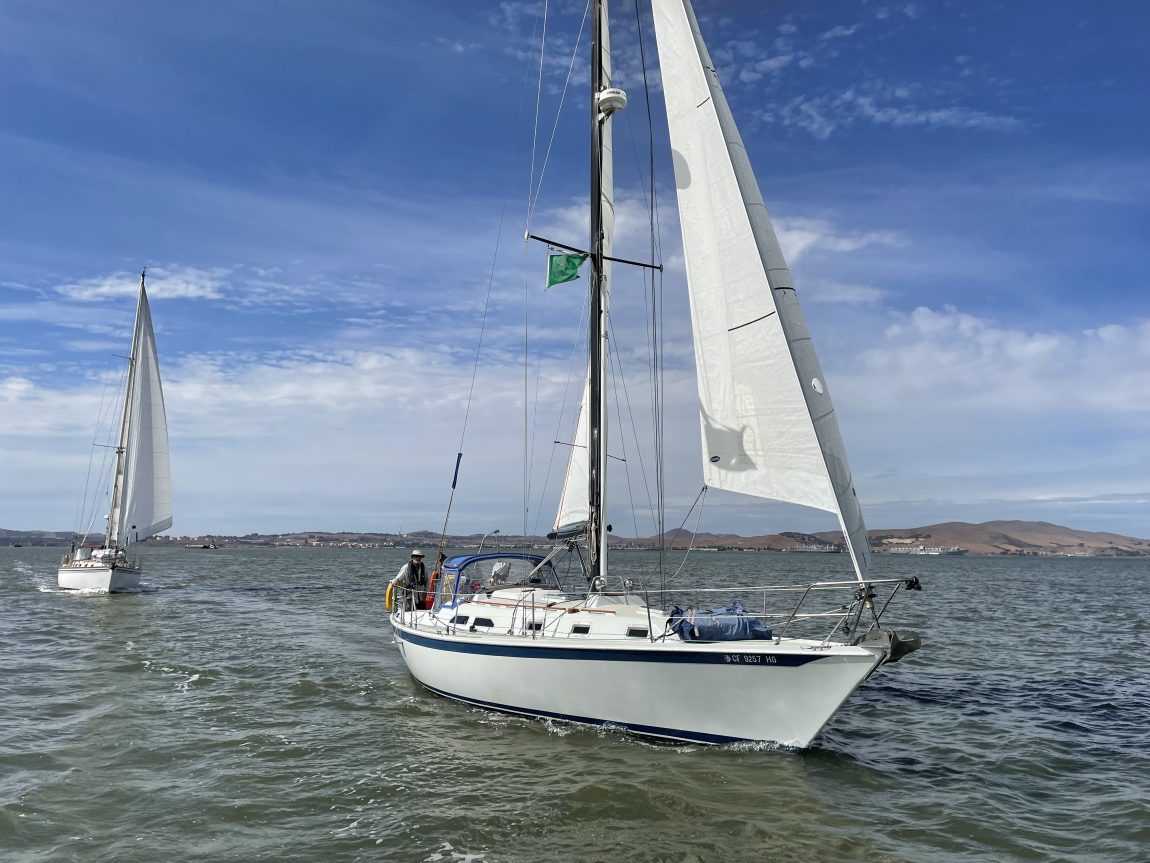 Read the December issue for all your regular favorites:
If you've subscribed to Latitude 38, you should receive your December issue in the mail any minute now. If you haven't subscribed you're missing out. But, you can pick up your copy from your favorite distributor.
Receive emails when 'Lectronic Latitude is updated.
SUBSCRIBE