Like a lot of Friday night dates, it didn't start out well. The Friday night beer can skipper (who shall remain nameless) landed themselves in a bad spot — hit the start mark, did slow circles in the light air, and then proceeded to see if they could get the now-dismayed crew back in the game. A gentle, warm breeze and building flood meant smooth, flat-water sailing. We were straining to find an alternative lane that would suddenly transform the dismal start into a stunning upset, and though the crew worked mightily, the start set the trendline for the evening.
Then we remembered one of the other great reasons we sign up for Friday night races. We like to win cups when we can, but when we can't, we stop and look around. It was spectacular out there, and we commit to the evening beer can series because we want a regular date with our boat and friends. The reactivated Matthew Turner set the tone as she was tucking in her sails in the setting sun after her evening sail. Porpoises played around our transom, and competitors passing in the other direction from the weather mark gave a friendly wave.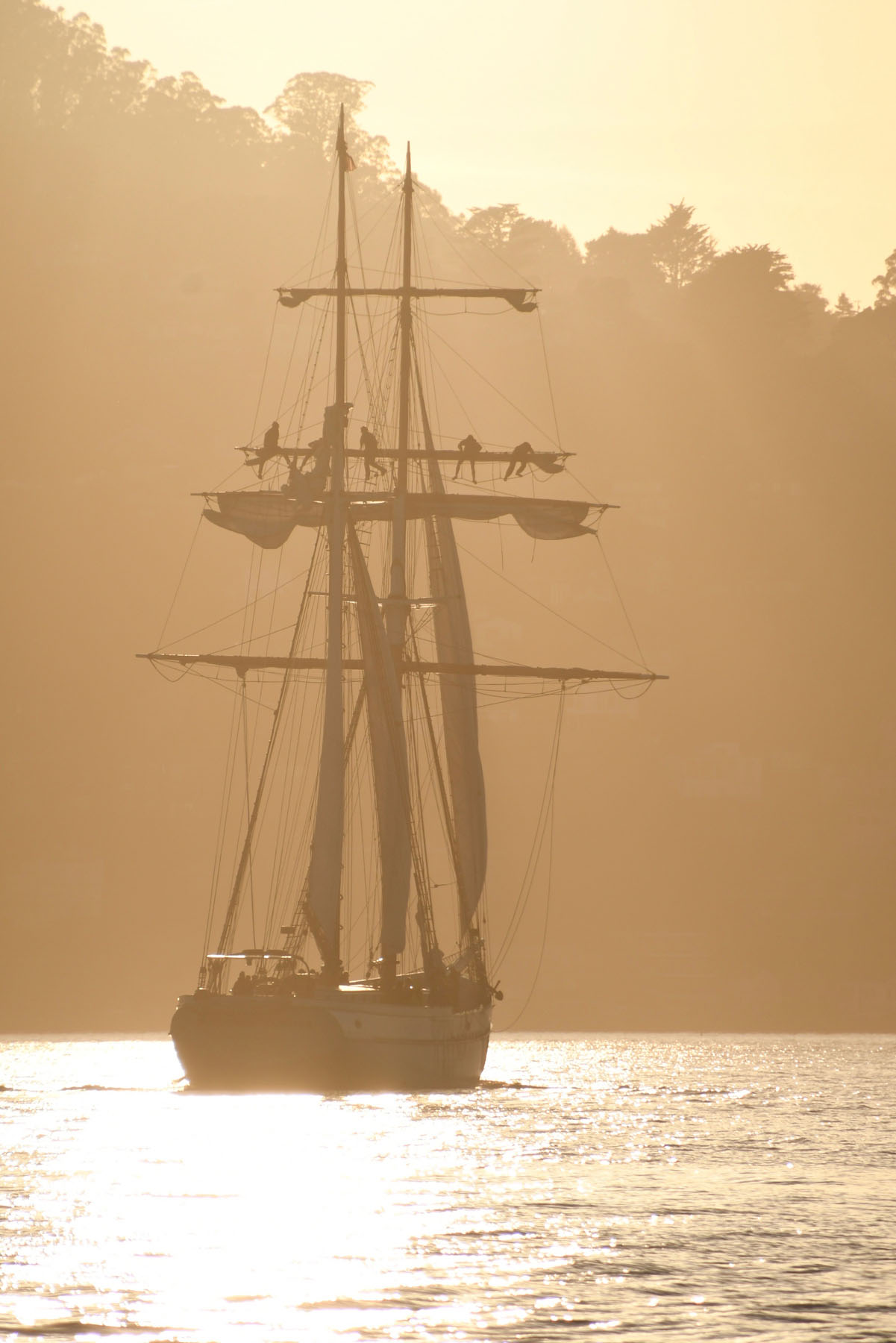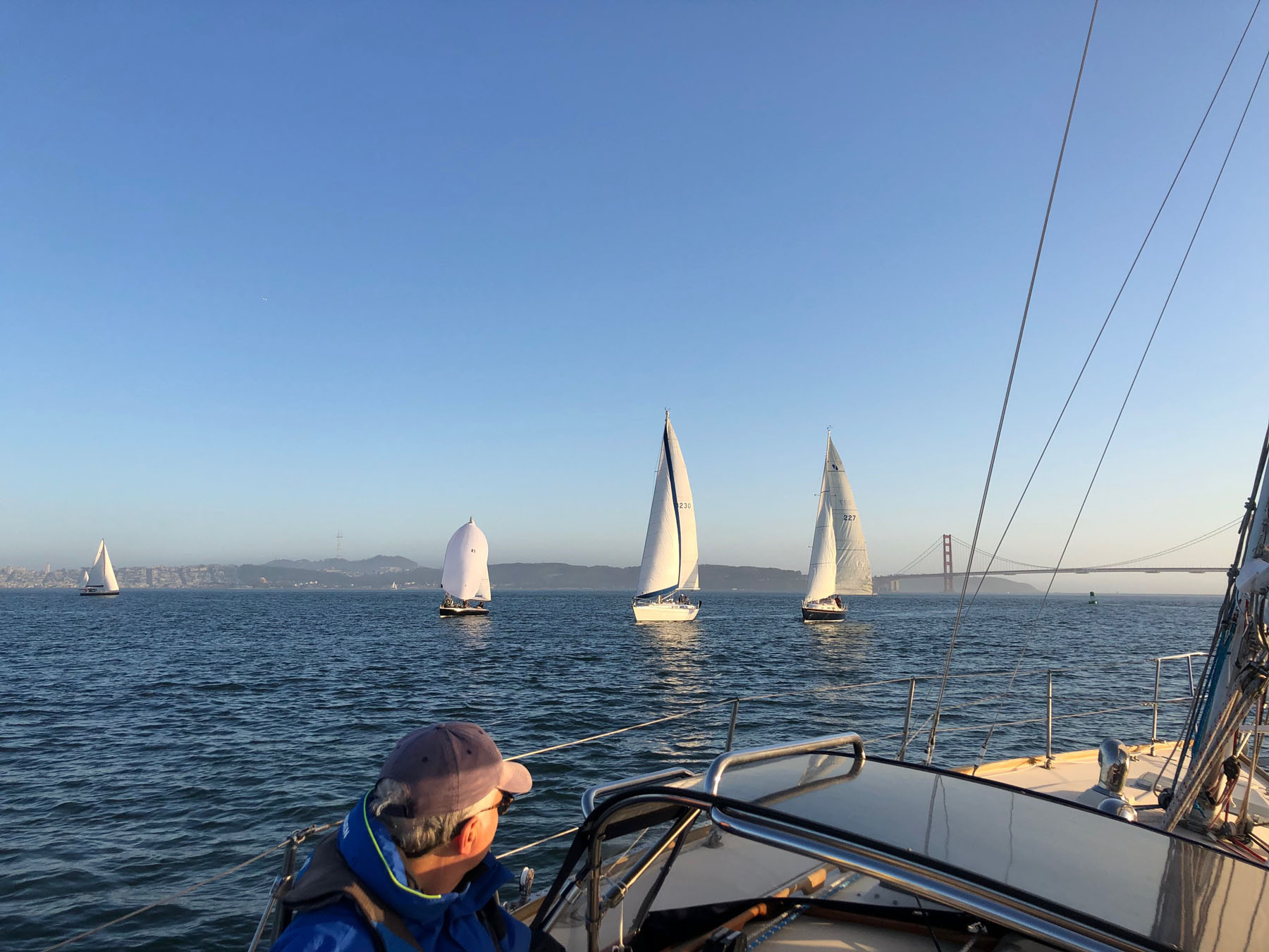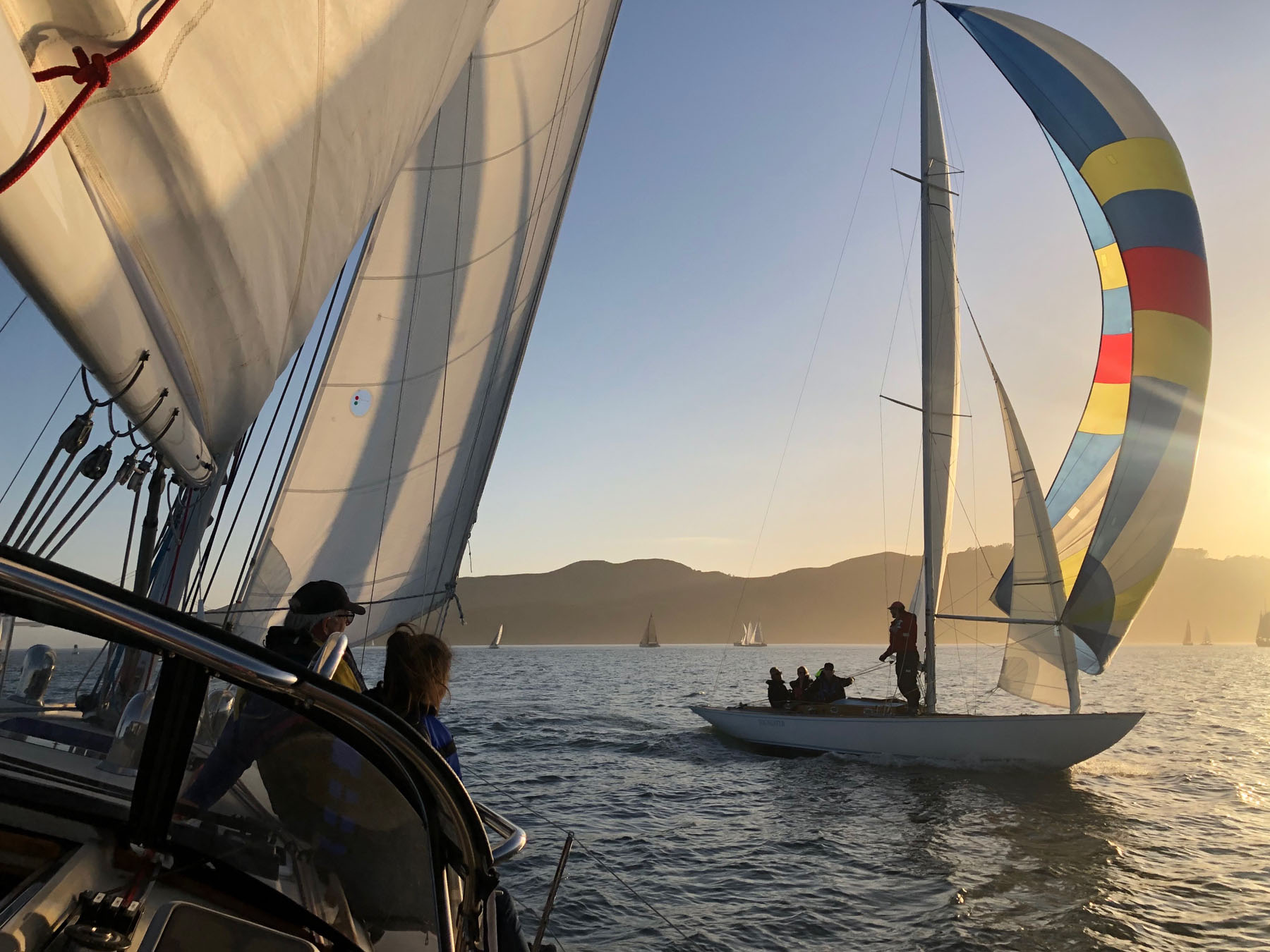 There was very little sign of more breeze anywhere. and our normally quick weather leg to Little Harding was getting longer with each upward tick of current and downward tick of wind speed. Weight to leeward, gentle trimming and careful tacks did nothing to get us much closer. At one point we did get within six boat lengths of the mark, but despite our sailing another 100 or more yards beyond the mark, the current was again too much, and the buoy was moving faster to the west than we were. Oh, well.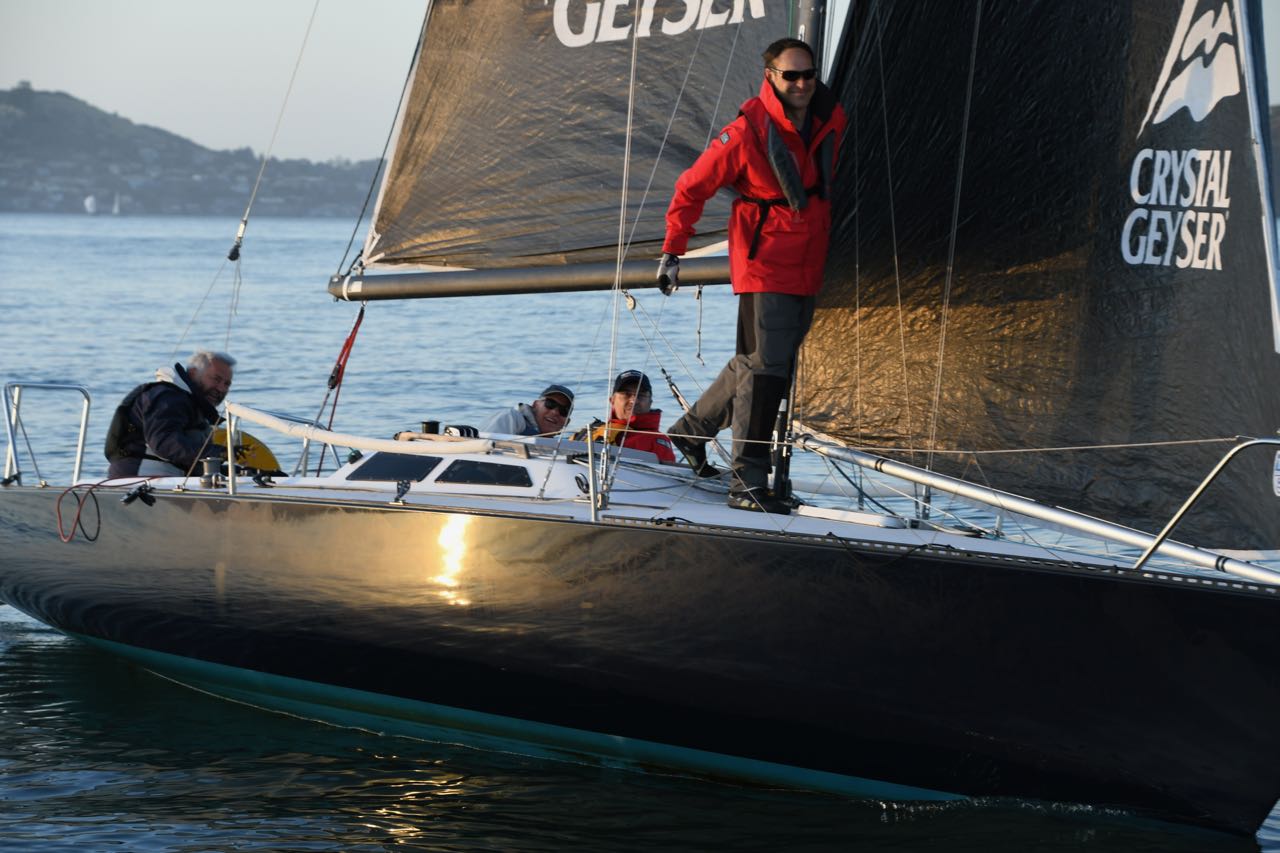 Like a runner on a treadmill, we tried everything but never got any closer to our destination. We finally shifted our attention away from the mark and back to our crew and our surroundings, and life improved once again. We decided to turn and go with the flow. We popped a cold one and had a relaxing, slow sail back to the docks.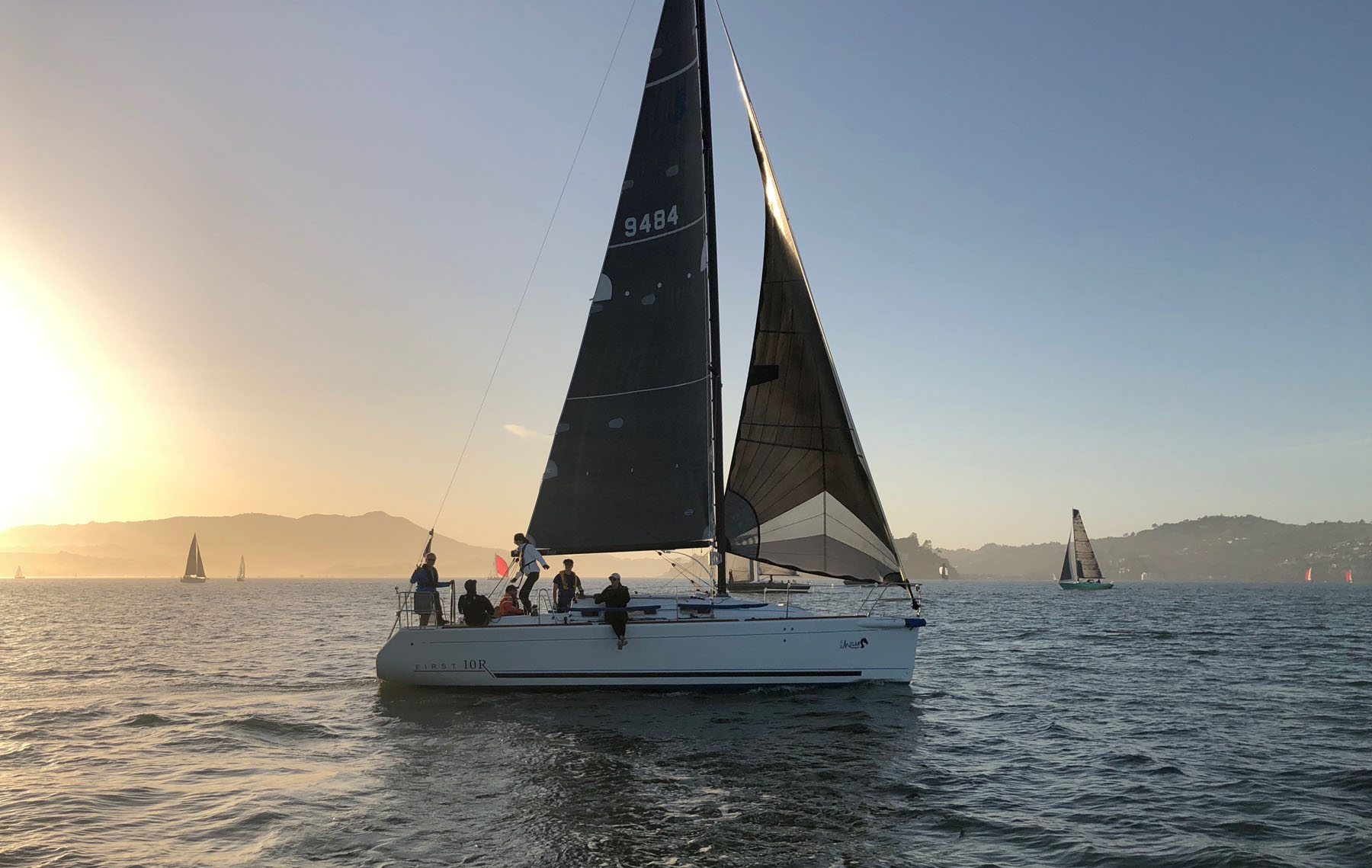 If you're looking for a date with your boat, the Bay and friends, Sausalito Yacht Club will welcome you on Tuesdays and RYC, OYC, SCYC, StFYC on Wednesdays. There are many more on the calendar here.
In the end, we remembered that on many dates, the end-of-the-evening slow dance is the best dance.
Receive emails when 'Lectronic Latitude is updated.
SUBSCRIBE