Time to step up to the Ha-Ha plate? Seventy-six paid entries were received in the first 12 hours of sign-ups for the November 1 Baja Ha-Ha XXVII. This is a significantly higher number than the typical average of 64 first-day entries.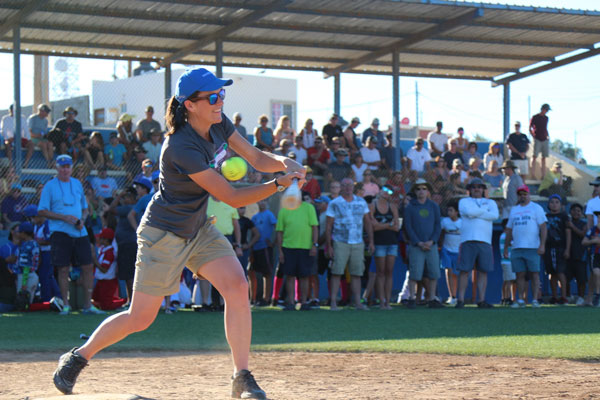 Of the 76 entries, 71 are monohulls. They range in size from Darron Byers's Tacoma-based Ranger 33 Ranger Rick to Bill Thorpe's Huntington Beach-based 59-ft research sailboat Argo. Monohull entries encompass the entire spectrum from heavy cruising vessels, such as Geoffrey Campbell's Rafiki 37 from Livermore, to Garry and Suesan Pawlitski's wonderfully named J/169 Sugar. She's 55 feet. Most boats are sloops somewhere in between, with a few split rigs in the mix.
Curiously, the most common boat in the fleet so far is the 'big bang for the buck' Catalina 36. There are four of them.
The smallest multihull is Ed Neiman's Gemini 37 from Homewood, while the largest is Steve Skolnik's Leopard 58 Wine N Down from Sonoma. Probably the fastest is Kevin and Katie Millet's custom 55 Kalewa from Kauai, on her fourth Ha-Ha.
What's the most important thing to owners of a 'kid boat?' That there be other kid boats around. To date there are six 'kid boats' that have signed up for the Ha-Ha, with a total of 10 kids ranging in age from 1 to 15.
For a complete list of current entries, see below. To see the Notice of Rally and/or sign up, visit www.baja-haha.com.
Speaking as the Grand Poobah of the Ha-Ha, I can say that I, along with Assistant Poobah Patsy 'La Reina del Mar' Verhoeven of the Gulfstar 50 Talion, and Doña 'Chief of Security' de Mallorca, am humbled by everyone's interest. We, as well as the crew of the mothership Profligate, and our various supporters, will do all we can to make your Ha-Ha experience as enjoyable as possible.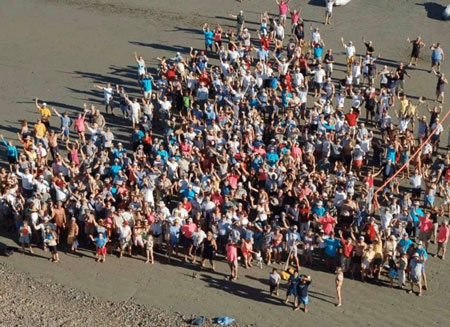 1. Adios Columbia 43 Craig Shaw, Portland, OR
2. Landfall Jeanneau 46 Scott Culver & Suzie Edwards, Seal Beach
3. Water Guy Beneteau Oceanis 40.1 Michael McGuire, Santa Monica
4. Esperanza Catalina 38 Mike Whalen, El Dorado Hills
5. Fairwyn Sparkman & Stephens 42 Richard and Gayle Leland, Durham
6. Kalewa Custom Cat 50 Kevin Millett Kalaheo, Kauai, HI
7. Mykonos Swan 44 Myron & Marina Eisenzimmer, San Geronimo
8. Dances With Winds Catalina 36 Eric Walker, Oxnard
9. Sweet Adeline Wauquiez/Centurion 42 Jabez & Anne Phyfe Palmer, Seattle, WA
10. Sweepea Tung Hwa 34 Steve Fisher, Doyle
11. Avocet Caliber 40LRC Issac Ohana, Palo Alto
12. Ohana Catalina MkII 42 Stephany & Becky Thompson, Walnut Creek
13. Vent Arriere Catalina 36 Tom Farr, Santa Barbara
14. Petrichor Catalina 36 Sean Colk & Kate Schnippering, Oakland
15. Shenanigans J/120 Michael Clarke, Placerville
16. Sea Bella Brewer 44 Scott & Kathy Erwin, San Luis Obispo
17. Blue Safari Leopard 40 Mark & Lisa Wolford, Escondido
18. Aria's Song Lagoon 400 S2 Richard Doherty, Porter Ranch
19. Somand Beneteau Oceanis 45 Gordon Phillips, Orinda
20. Cold Fact Catalina 36 Owen Fogel, Pasadena
21. Chaos Beneteau First 47.7 Mark & Karen Williams, Anchorage, AK
22. Cool Change 34′ Gemini 10.5 MC Cat Ed Neiman, Copperopolis
23. Soirée Beneteau Oceanis 49 Steve & Connie Hill, San Rafael
24. Sacagawea Caliber 47 LRC William McCormack, Missoula, MT
25. WindStar Liberty 49 Stephen Millard, Santa Barbara
26. Wine N Down Leopard 58 Catamaran Steve Skolnik, Sonoma
27. Stella Blue Hunter 460 Kim & Larry LaPrade, San Diego
28. Day Dreams X-Yacht/Ap44 Robert Day, Laguna Beach
29. Seafox Dufour 52 John Calkins, Los Angeles
30. Prana Hunter 45 Tom & Marianne Mangold, Carmel
31. DeeDee Beneteau Oceanis 40 James Ward, Redwood City
32. Coyote Beneteau First 42 Scott Smith & Mary Culley, Santa Cruz
33. Jubel Gulfstar 44 Kyle & Leah Mackenzie, Victoria, BC
34. Ranger Rick Ranger 33 Darron Byers, Tacoma, WA
35. Flyer Outbound 46 Wayne Koide, Incline Village, NV
36. Way Mari Westsail 42 Jim Picerno, Union City
37. Sugar J/169 Garry & Suesan Pawlitski, Santa Barbara
38. Aloha Amel Super Maramu 53 Steve & Liz Davis, Honolulu, HI
39. Salacia Catalina 42 MkII Sean & Meredith Penrith, Portland,OR
40. Second Verse Hylas 54 Bill & Sally Andrew, Reno, NV
41. Hokulani Tayana 48 Tony Rogers, Leucadia
42. Set Me Free Beneteau 423 Jimmy & Kelly Aviles, Oceanside
43. Peregrine Spirit Ericson 38 Thomas Fisic, San Diego
44. Key Lime Pie Kelly Peterson 44 Pawel Drzazga, Clovis
45. Exit Strategy Jeanneau SO 45.2 Steve Ginder, Park City, UT
46. Aurora Jeanneau 53 Michael Lewis & Lois Mandel, San Diego
47. Redemption Hinckley OC 42 Thomasina Ann Trautwein, Pillar Point Harbor
48. Folio a Deux Jeanneau 42 DS George Slater, Danville
49. Pelagia Rafiki 37 Geoffrey Campbell, Livermore
50. Verano Beneteau Oceanis 38 James Hirsch, Santa Barbara
51. Triaena Newport 41 Tom & Patty Mitchell, Tulalip, WA
52. Windhorse Islander Freeport 41 Dennis Patterson & Vickie Reed, Napa
53. Lady Kate Catalina 42 Sandra & Lawrence Blanchette, Walnut Creek
54. Shades of Grey Beneteau Oceanis 48 Eric Coyle, Channel Islands
55. Sparklemuffin Cabo Rico 34 Chuck Batson, San Rafael
56. Fair Winds Pacific Seacraft 37 Randy Jenson, Woodinville, WA
57. Nike Maple Leaf 48 Robert & Dorothy Birnie, San Jose
58. Ole Sarah Beneteau 37 Wesley Jenkins, Lafayette
59. Argo Thorpe Seeop 59 Douglas Thorpe, Mesa, AZ
60. Kastaway Hunter 420 CC Steve Cloney, Placerville
61. Thirst Responder 40′ C&C 121 Stacey Dobson, Indio
62. Imagine Caliber 40 LRC JR Rousseve, Rio Rico, AZ
63. Manuela Hylas 56 Chris & Manuela Perkins, San Diego
64. Epsilon Island Packet 41 William Southon, Morgan Hill
65. Talos IV Pacific Seacraft 37 Gary Gray, Monterey
66. Velella Hylas 44 Chad Walsh & Katrin Spirig, Redmond, WA
67. Christina Morris 486 Stephen Stroub, Tiburon
68. Shamaal Outbound 46 Jerry & Jane McNaboe, South Lake Tahoe
69. Pacem Islander 48C Terrence Berger, San Francisco
70. Maya Celestial 48 Nick Sissine, Port Townsend, WA
71. Freyja Cal 35 MkII George Scott, San Rafael
72. Dulcinea Pearson 36-2 Ken & Monica Grismore, Escondido
73. Delaware Girl Norseman 400 Charlie & Wendy Wyatt, Oceanside
74. Sirena Beneteau Oceanis 41 Nashun Robinson & Jennifer Kobow, San Diego
75. Rochambeau Beneteau 49 John & Marcy Baker, Anchorage, AK
76. Talion Gulfstar 50 Patsy Verhoeven, Portland, OR/La Paz
Receive emails when 'Lectronic Latitude is updated.
SUBSCRIBE