Up and down the west coast of the Americas rests a fleet of cruising sailboats that have been outfitted, restored and prepared for a voyage west, across the Pacific. Many were ready to start the Pacific Puddle Jump last year, and they remain ready today. They've been joined by others who thought they could ride out a one-year pandemic postponement in Mexico, or their home cruising grounds, before joining the Puddle Jump this year. The summer Olympians planning to head to Tokyo have been thinking the same thing. Unfortunately, once again, things have not gone according to plan. Both the Pacific Puddle Jump and the Tokyo Olympics remain on hold pending an improving planet. We asked Pacific Puddle Jump ringleader Andy Turpin to give us an update.
"For 23 consecutive years the loosely structured Pacific Puddle Jump rally (PPJ) has helped introduce hundreds of westbound cruisers to the wonders of French Polynesia and beyond. But this year, due to a variety of issues related to the COVID-19 pandemic, PPJ organizers have had to shelve their rally plans, at least temporarily. Here's an overview of the situation.
"Last March, in reaction to the rapid increase of COVID cases worldwide, virtually every South Pacific nation quickly closed its frontiers to international yachts, and they remain closed today with the exception of Fiji, which international sailors may now visit by special arrangement.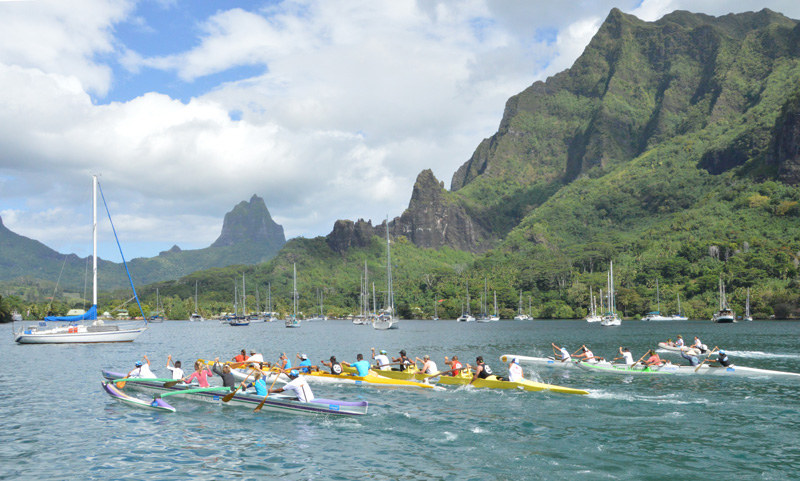 "The other exception is French Polynesia. Since last spring it has officially been 'closed' to arriving yachts, although several hundred have been granted permission — while underway — from the territory's maritime agency, DPAM, to cruise the archipelagos in a nearly normal fashion. Trouble is, DPAM cannot guarantee that this seemingly contradictory policy will remain throughout the April-July arrival season.
"It's not that local businesses don't need the substantial income that yachts bring — they do. Or that international yachties are responsible for escalating the COVID numbers — we know of no cruisers who have arrived ill or infected since March, although a superyacht crew who flew into Tahiti from Europe last spring did test positive.
"One major problem with the prospect of a new fleet of cruisers arriving in the coming months is that at least half of the boats that arrived last spring are still in French Poly waters, with or without crews aboard. Marinas and mooring fields in Tahiti and Raiatea are chock-full, and many boats are moored in previously unauthorized anchorages in and around the capital, Papeete. Until New Zealand and Australia open up again, the logjam of cruising yachts in Tahiti will continue to grow. That said, cruising in the outer atolls seems largely unaffected, except that islanders may seem a bit more guarded than in years past.
"Another factor that might inspire would-be Puddle Jumpers to delay their South Pacific cruising plans is that Long Stay Visa applications are not currently being processed, due to the closure of French consular offices worldwide. Without this, non-EU passport holders are given only 90 days to cruise French Polynesian waters — an area larger than Western Europe.
"Regardless of all this, some international cruisers will undoubtedly be determined to test their luck and make the crossing — rally or no rally. If you are among them, Puddle Jump organizers encourage you to cross later in the season than normal, i.e., toward the end of May or in early June. Perhaps by then COVID vaccines will have reached the islands, and the future will look a little brighter for residents and visitors alike.
"Organizing a late-season PPJ rally is not out of the question, but for now the best advice seems to be to sit tight wherever you are until COVID-related tensions ease, and at least several more South Pacific nations open their frontiers."
While we're all starting the new year with plenty of hope for the new vaccines and progress with the pandemic, the current news headlines are not encouraging. Yet, if you are on a well-prepared boat and able to cruise and isolate in whatever cruising area you inhabit, we think you should consider yourself lucky. And when the world finally improves enough for everyone to cast off, it will be ready to welcome cruisers with open arms. Or whatever greeting seems appropriate at the time!
Receive emails when 'Lectronic Latitude is updated.
SUBSCRIBE