"You are never too old to set another goal or to dream a new dream." – C.S. Lewis
In this weirdest and — for many of us — most stressful of years, we are extra happy to report that one man's dream of almost half a century will be realized at the end of this month: On September 27, Wil Spaul will sail out the Golden Gate and head west aboard the 9-ft Chubby Girl, in hopes of setting a new record for the smallest boat ever to sail to Hawaii.
Regular readers will likely 'know' Wil pretty well by now through articles in both the print and 'Lectronic versions of Latitude 38. To recap: Wilbur Spaul, who has been sailing and cruising since the '70s, has dreamed of doing this trip for 45 years. His inspiration was and is Gerry Spiess, who in 1981 sailed the 10-ft Yankee Girl from Long Beach to Honolulu in 34 days. (Spaul has dedicated this voyage to Spiess, who passed away in 2019.) Wil designed and built the first Chubby Girl in 2018-2019 of fiberglass over marine plywood, in Walnut Creek. But sea trials went poorly, and the boat, while strong, turned out to be too sluggish. In February, he salvaged what gear he could, Sawzall'ed the rest, and tossed the remains into a dumpster.
By then, Wil had made some local friends, notably Cree Partridge of Berkeley Marine Center (BMC), and naval architect Jim Antrim. Jim had helped with modifications to the original boat, and when that didn't work out, Spaul went to him for a design that would. The result — built at BMC — is the current boat, still chubby enough to wear the name, but vastly improved performance-wise. A foot longer than the original, the international orange craft is basically two foam-infused fiberglass dinghies — one in the water, one upside down forming the 'topsides' — with a 15-inch spacer in between.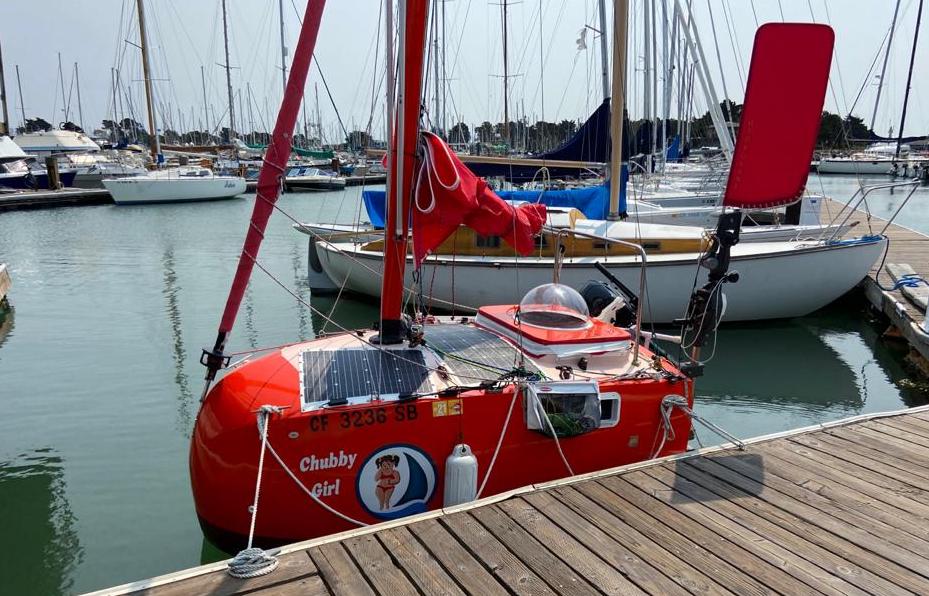 Launched in June, the new Chubby Girl comes in about a third lighter than the original (around 650 pounds empty), and Wil says the performance is night-and-day better. Fully loaded, under her blood-red Pineapple main and small spinnaker, the boat will do about 3 knots downwind. Close reaching with a small jib, she'll reach about 2 knots.
The plan is to head southwest, possibly far southwest, to get below the Pacific High and catch the trades, then beeline for the islands. As all Hawaii-bound sailors know, it's extra miles, but worth it to stay out of the windless maw of the High. He figures the 2,400-2,700-mile trip will take about two months. ETA: sometime the first week of December.
The boat is equipped with modern navigation and communications systems, including a YB3 Iridium tracking device that will allow anyone interested to follow Chubby Girl's progress on Wil's website, http://chubbygirlcruising.com. Solar panels will provide power. A windvane will handle steering chores. There is a small watermaker aboard to supplement the jugs he uses as partial ballast. The boat will carry a 5-hp outboard, but unlike Gerry Spiess (who did use limited outboard power during his 1981 trip), Wil does not plan to use it in his crossing. "I'm only carrying enough fuel to get me from Berkeley Marina to the Golden Gate, and into the dock at Kaneohe Bay," he says. (It's possible he may save a bit of fuel if he gets a tow to the bridge.)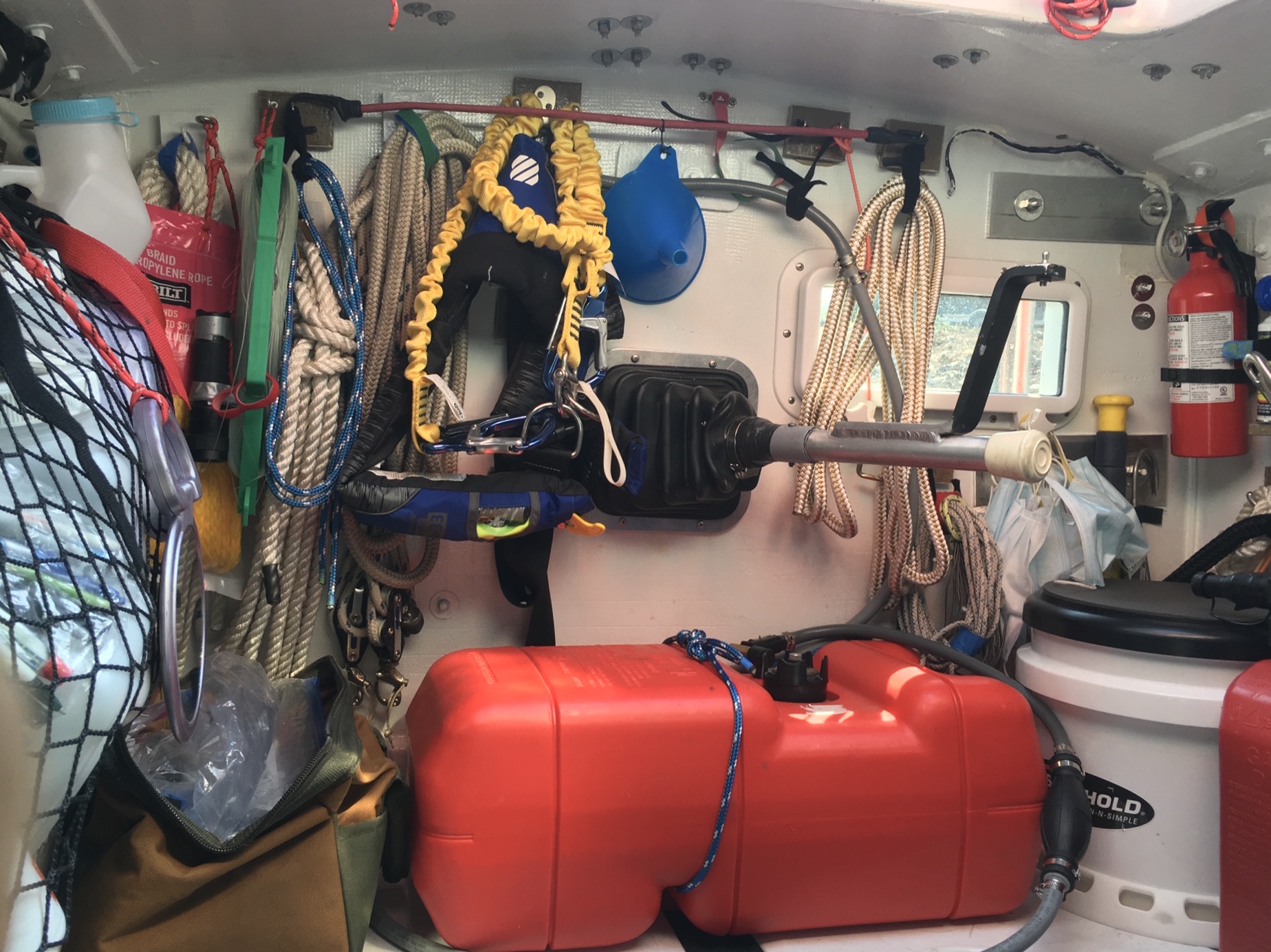 Food stores include high-calorie, low-volume items — mostly canned and freeze dried. He hopes to supplement those with a trolling line. There's not much room for nonessentials, but Wil has managed to find room for a bottle of Diplomatico Reserve, his favorite Venezuelan rum. He plans to enjoy a tot or two on October 29, his 71st birthday. (We've marked our calendars and plan to join that toast from afar.)
We hope, if you are out on the water on Sunday, that you will keep an eye out for one very small and very orange little craft headed west — and perhaps sail over and give one very special dreamer a wave and a hearty 'Bon Voyage!'
Note: Wil is planning to take advantage of the ebb to launch Chubby Girl's record attempt. That starts at around midday on Sunday. At the time of this writing, his exact departure time from Berkeley Marina had not been confirmed. Please check his website for the latest update.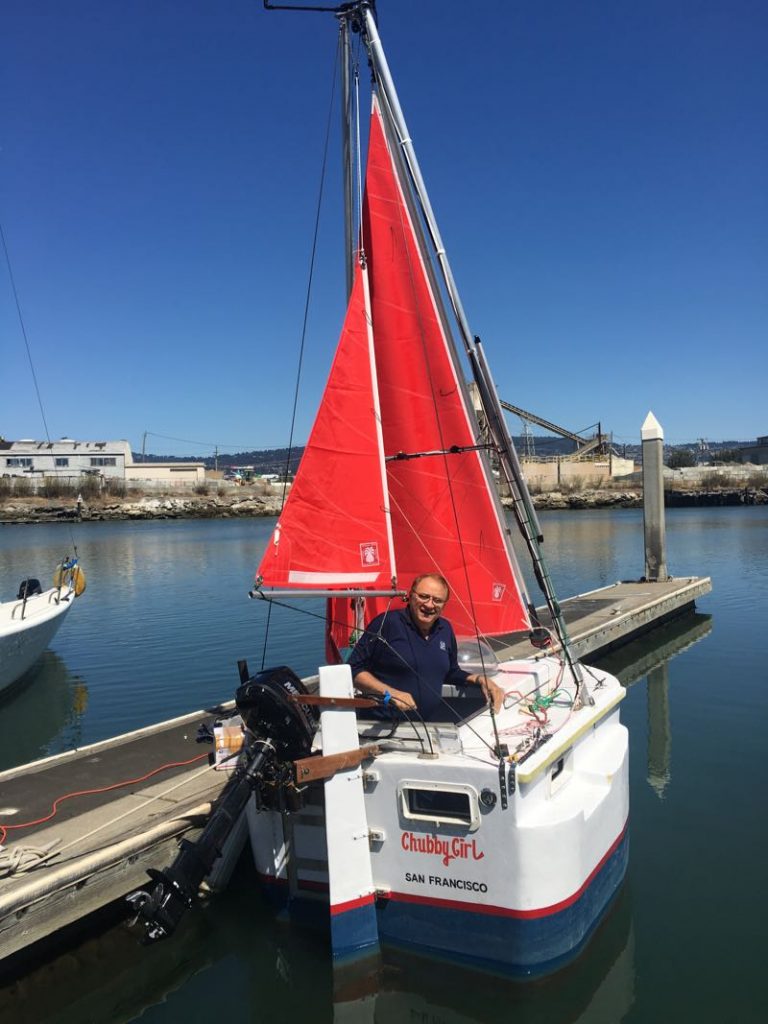 Receive emails when 'Lectronic Latitude is updated.
SUBSCRIBE