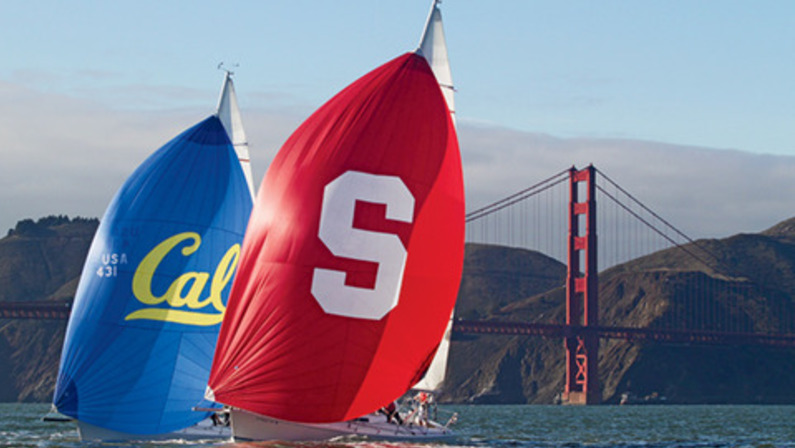 Stanford University has announced that its intercollegiate sailing program will become a "club sport," losing its varsity status after next year's season.
One of the most successful college sailing programs on the West Coast, Stanford boasts four sailors who recently earned 2019-2020 All- American awards, including the winners of both male and female College Sailor of the Year honors. With Jack Parkin '21 receiving the Everett B. Morris Trophy, awarded June 13 to the Marlow Ropes College Sailor of the Year, and Michelle Lahrkamp '23 earning the Quantum Women's Sailor of the Year award, this news is bitter indeed.
In an open letter to the Stanford community, administrators said that continuing to fund 36 athletic programs was "not sustainable" and that alternatives such as budget reductions and fundraising were "insufficient to meet the magnitude of the financial challenge before us."
"In consultation with the Board of Trustees, we have made the decision to reduce the breadth of our athletics programs and staffing. Stanford will discontinue 11 of our varsity sports programs at the conclusion of the 2020-21 academic year: men's and women's fencing, field hockey, lightweight rowing, men's rowing, co-ed and women's sailing, squash, synchronized swimming, men's volleyball and wrestling. All of these teams will have the opportunity to compete in their upcoming 2020-21 seasons, should the circumstances surrounding COVID-19 allow it, before they are discontinued at the varsity level.
"This is heartbreaking news to share," the administrators wrote. "These 11 programs consist of more than 240 incredible student-athletes and 22 dedicated coaches. They were built by more than 4,000 alumni whose contributions led to 20 national championships, 27 Olympic medals, and an untold number of academic and professional achievements…."
Stanford Sailing and the University of Hawaii are the only fully funded varsity schools in the Pacific Coast Collegiate Sailing Conference, while the other 18 PCCSC schools only field club teams, typically without paid coaching. Previous reporting incorrectly indicated that Stanford Sailing would be discontinued, but the school is honoring all scholarships with athletes and contracts with coaches and staff for the coming year. The Cardinal team's varsity swan song is a final season as one of a whopping 36 programs at Stanford.
The COVID-19 pandemic caused a financial emergency for Stanford's entire athletic program, as empty seats in football and basketball stadiums led to voluntary pay cuts and an overall ten percent budget reduction. Although Stanford Sailing's previous coach was implicated last year in the Varsity Blues college admissions scandal, this was not a factor in Wednesday's announcement.
While this news is grim, we're confident that there will still be a spirited nautical rivalry on San Francisco Bay between Cal and Stanford. This will include both student athletes and alumni, as before. We may also see an improvement in competitive balance and participation in local PCCSC regattas. So while we're saddened by the diminished status of Stanford's juggernaut sailing squad, we hope the change may create grassroots growth in regional college sailing.
You can find more information here:
Receive emails when 'Lectronic Latitude is updated.
SUBSCRIBE