National Sailing Hall of Fame Inducts New Honorees
Legendary sailors from near and far gathered this weekend for the National Sailing Hall of Fame induction ceremony, held for the first time at the old Newport Armory building currently under renovation. The Armory will become the Sailing Museum's new home next summer.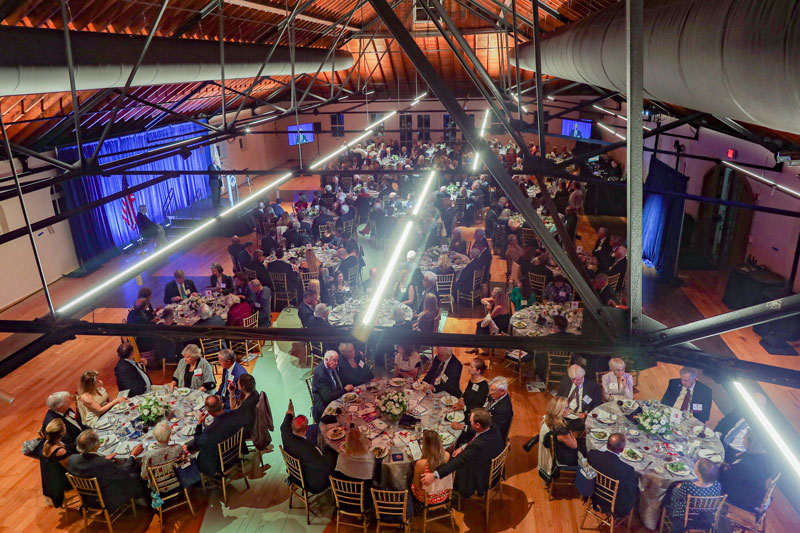 The old armory, built in 1885, was the media building for multiple America's Cups and served as the site for press conferences over the years, including several of Ted Turner's notorious post-race affairs. In 1983, it was where Dennis Conner tearfully had to explain his loss of the Auld Mug to the Australians.
Saturday's proceeding, emceed by Gary Jobson, was one of joy and celebration as the 11 new inductees joined the 90 current Hall of Fame members. The ceremony also honored members of the Class of 2020 who were recognized in a virtual ceremony last year.
The inductees were:
Captain Pinkney was the keynote speaker. His speech was one of the highlights of the weekend. It was a mix of sardonic humor with some very poignant examples of the numerous hurdles he faced even before he began his legendary voyage. Many points of racial references left an impression on those who listened to his passionate words.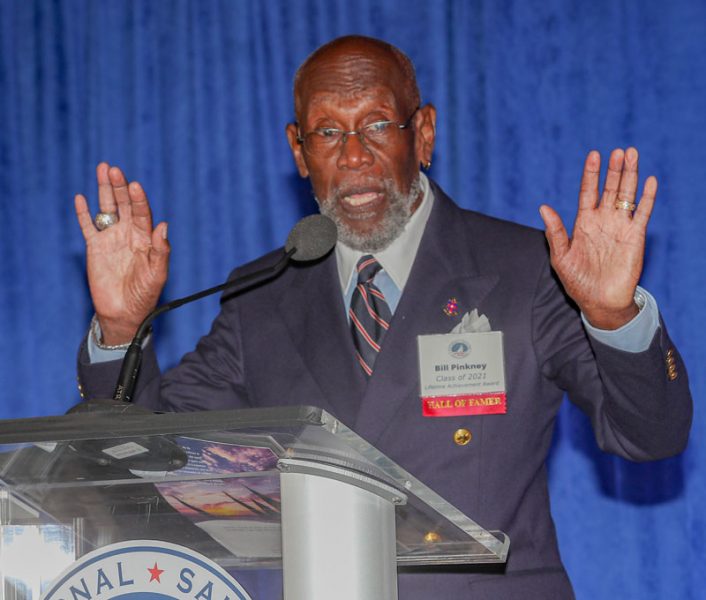 "I cannot express accurately the emotions today that I feel. It's really overwhelming," said Captain Pinkney. "The sea provides the most level playing field of any sport. It cares nothing about your age, your sex, your color, your religion, your nationality. And your ability, or lack thereof, will be extracted in a short period of time by a stiff breeze, a squall or a storm."
Lynne Jewell Shore is a California legend from Los Angeles. New York Yacht Club named her Yachtswoman of the Year in 1980. Rolex honors followed in 1980 and 1988. She won Olympic gold in Seoul, South Korea, in 1988 with Allison Jolly in the 470 Class. This is just a short list of her numerous achievements and contributions.
"I am part of the Title IX generation, so it never occurred to me there would be separate events for each sex," said Jewell Shore. "Some opportunities for women were limited, but I wanted to compete against the top athletes in the field. More often than not those athletes were men. It wasn't easy. There were hours spent in the gym working on my physical strength. And I invested a lot of time building up my mental toughness. Resilience, determination and fearlessness all played a part in becoming a strong top athlete. There was no other way.
"Jane Pegel, Jan O'Malley, Timmy Larr, to name a few, were a part of the first generation of sailors to go up against top-ranking male sailors. It was not an easy thing to do, but their first step laid the foundation for me and a new generation of female sailors, several of whom have already been inducted into the Hall of Fame. I hope by following their example I have continued to pave the way for the next generation of female sailors."
Carl Buchan was the College Sailor of the Year in 1977. He won a gold medal in 1984 at the Summer Olympics in Los Angeles in the Flying Dutchman class, and sailed on Stars & Stripes in 1988 when they defended the America's Cup in 1988. He hails from Seattle, Washington. His father Bill was a legendary sailor as well, with multiple championships in the Star and Soling classes.
"Anything I've ever done sailing/racing-wise, I've always done it because I enjoyed it and it was fun," said Buchan. "I've always wanted to win, but I enjoyed the preparation, and that includes working on the boat and getting that ready, sailing for the pure joy of it, the competition, seeing old friends, and meeting new ones."
Dawn Riley, who has graced these pages of late, has checked off almost every yachting box possible. She was one of the women sailors aboard Maiden, sailed on the America3 all-women's America's Cup team, and was founder, skipper and CEO of America True, representing San Francisco YC in 2000 in Auckland, New Zealand. She is currently the executive director of the Oakcliff Sailing Academy.
"Having three women and Bill [Pinkney], who is kick-ass, in this group is amazing," said Riley. "And I want to recognize that we need to continue to do this in all of our teams, whether it's business or sailing. For some groups it's 10 times harder to get in, so can we all just agree to ask three times more: How are you? Would you like to come sailing? Have you ever been sailing? … I see a future in our sport with equity, equality, diversity, and with leaders who naturally ask these questions."
Sailors from across the US nominated the inductees. A selection committee comprising representatives from the NSHoF board, previous inductees, the sailing media, the sailing industry, community sailing, a maritime museum, the cruising community and US Sailing reviewed the nominations.
In a COVID-19 world, much of what happened this past weekend could not have been done without the tireless efforts of executive director Heather Ruhsam and her team.
"The 2021 Induction event weekend was incredibly special! It was a reunion for our inductees and a celebration of their newest peers," said Ruhsam. "It was also a milestone for the organization. We gathered in the newly renovated Armory property, a location historically relevant to our sport. As we get closer to opening this national home for sailing, it was wonderful to see sailors from 10 of the country's sailing regions in the room."
"The men and women we recognize today do not live in a world of make-believe," said Gus Carlson, president of the NShoF. "They do not hide and hope for someone to save them. They change things themselves. When it comes to measuring their lives, they do so by testing them … and there is no question they have passed those tests."
The National Sailing Hall of Fame was founded in 2004 as a nonprofit educational organization dedicated to preserving the history of sailing and its impact on American culture; honoring those who have made outstanding contributions to the sport; demonstrating its value as a hands-on tool for scholastic and life skills learning; and inspiring and encouraging sailing development and participation.
"The Sailing Museum will be a wonderful addition to Newport and to the sailing world at large," said Steve Tsuchiya, chairman of the America's Cup Hall of Fame nominating committee. He is helping oversee that portion of the new museum's display. "The interactive display monitor will feature images and biographies of the ACHoF and NSHoF inductees as well as 21 half hulls of important America's Cup yachts, from America to Te Rehutai."
The amazing evening was just the beginning of what will be an amazing museum for generations to come when it opens its doors next summer.
Receive emails when 'Lectronic Latitude is updated.
SUBSCRIBE