After nearly a month of lawlessness and what liveaboard residents have described as a state of perpetual fear and anxiety, the Coast Guard announced this week that they will begin patrolling the Oakland Estuary to combat a recent outbreak of piracy.
"Our plan is to increase the level of Coast Guard law-enforcement presence in the Estuary at random times throughout the day," Captain Taylor Lam of the USCG told ABC7 News this week. Lam said the Coast Guard will deploy different multi-mission small boats, as well as "some of our aviation resources to provide overt presence from the air."
This is certainly welcome news for residents who have seen the near-daily theft of boats, motors and equipment from local marinas and yacht clubs. This is also probably uncharted territory for the Coast Guard, who are tasked with homeland security, drug enforcement on the high seas, and the safety of mariners, and who have told Latitude that they don't typically engage in civilian law enforcement.
"So far, we've seen little to no change," an Estuary liveaboard told us yesterday. "[On Wednesday], a friend reported there was a patrol boat across from us and they were excited that they seemed to be kicking folks out of their anchorage," the liveaboard said, referring to a flotilla of illegal anchor-outs near Union Point Marina. "[But] as soon as they left, all the derelict boats were back."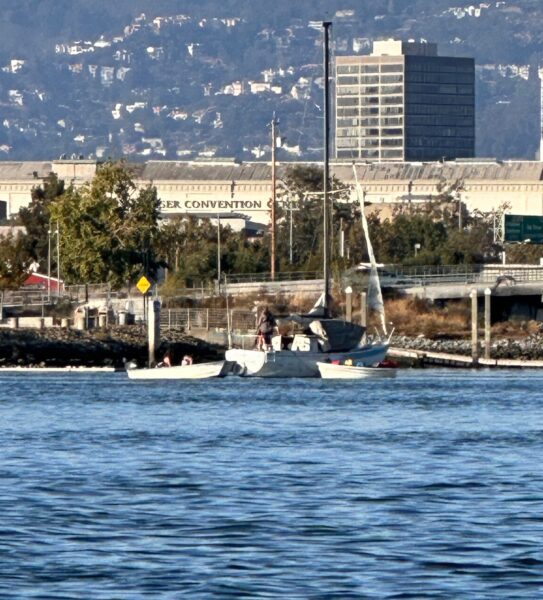 "We have seen quite an increase in Coast Guard patrolling — they just went by now in their helicopter, flying low," a longtime Alameda liveaboard told Latitude this morning. The liveaboard also told us that just last night, several gas cans were stolen on the Oakland side of the Estuary.
"Something has got to be done — it's so brazen. There's such a high level of concern and fear from people who live on and have boats. It's pretty scary. It's led me to buy a shotgun.
"We'll have to wait and see how effective [the Coast Guard patrols] will be."
It's obviously early in the Coast Guard's deployment, and it's unclear when (or if) it might bear fruit. Regardless, the Coast Guard's presence will be just one piece of the Estuary puzzle — meaningful and lasting enforcement will require the efforts of multiple agencies.
There's been speculation that the Oakland Police Department's marine unit is expanding. According to former Oakland harbormaster Brock de Lappe, OPD officer Kaleo Albino, the lone "waterside" officer assigned to the Estuary, has reportedly trained/certified three additional officers for a temporary 90-day deployment. "He is awaiting the award of a $170,000 grant from the SAVE [Surrendered and Abandoned Vessel Exchange] program of the California Division of Boating and Waterways for dealing with derelict and abandoned vessels."
A City of Oakland spokesperson told Latitude that OPD is prepared to enforce the new Nuisance Vessel Ordinance, pending grant funding.
"Primary funding for the maritime unit has relied on state and federal grants. Over the last four years, OPD has secured nearly $2 million in state and federal funding to purchase our police boats and equipment related to the marine unit; a portion of our fuel costs are paid for by the Port of Oakland." the spokesperson told us.
"Typically, we apply for $50,000 per grant and have expended the funds quickly. This year, we applied for $170,000 to deal with the increased number of vessels in the Estuary."
The Alameda Police Department will continue to have a limited presence on the Estuary; APD's marine patrol boat is still on the hard, and all staff have other full-time responsibilities, according to de Lappe. "Alameda has done an exemplary job of preventing anchor-outs on its shoreline; they apply annually for SAVE grant funds. Alameda PD recently provided Oakland with $30,000 from their SAVE grant to assist with Oakland's vessel cleanup," de Lappe added.
The Alameda County Sheriff's Office no longer has a marine unit due to budgeting and staffing, according to the City of Oakland spokesperson.
Enforcement is, of course, just one part of the criminal justice system. Once caught, accused thieves must be prosecuted. After our story about the rash of thefts in the Estuary, several readers wrote to tell us that after having their cars and other property stolen, Oakland and Alameda district attorneys declined to press charges. It's presumed that in Oakland, there is a backlog of violent crime that takes precedence over larceny, or dare we say piracy?
Editor's note: The word piracy has been making the rounds in the media, and is obviously in the title of this story. Latitude's understanding is that piracy typically describes theft or violence committed on the high seas, or "the ocean water column that lies beyond the boundaries of any one country, also known as areas beyond national jurisdiction (ABNJ)," according to the United Nations Law of the Sea. The same theft or violence committed in inland jurisdictional waters is simply considered robbery and assault.
Cover photo: The Oakland Estuary, as seen from Union Point Park, in November 2021.
Receive emails when 'Lectronic Latitude is updated.
SUBSCRIBE