Shakespeare on the Water Comes to the Sausalito Waterfront
Gulls crying, anemometers whirling, life jackets rustling, and waves lapping — would you believe it was the scene of a Shakespeare play? Outdoor theater is a natural setting for Shakespeare, but last weekend Sausalito's only operating theater group, Shakespeare on the Water, brought A Midsummer Night's Dream to the docks of the Sausalito waterfront community.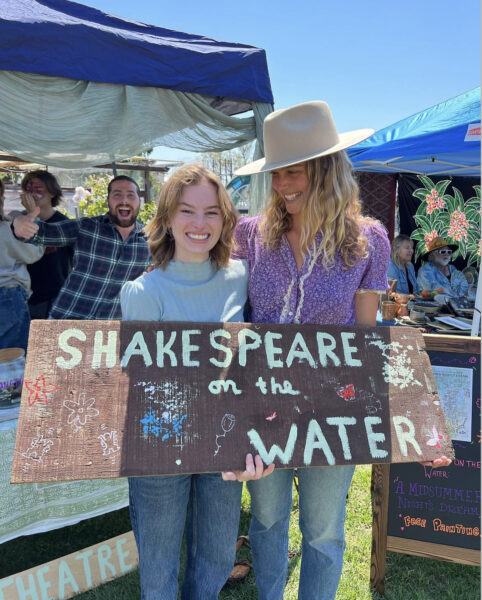 Sausalito had no operating theater company until Isabelle Ellingson, founder of Shakespeare on the Water, was struck with inspiration born from COVID-era restrictions. "I grew up here [in Mill Valley], and you know, left to do theater in New York City and film in Los Angeles, so it's been a great homecoming," Ellingson explained. "The main story I want to tell is about our community here."
From Agnes Varda to Otis Redding, Sausalito, and its famous houseboat community, is home to a rich artistic and maritime history. But in today's world, existing as an artist adjacent to the tech world renders many talented, inspired creatives critically underutilized and underesourced.
Enter Galilee Harbor, the member-run cooperative at the foot of Napa Street in Sausalito is made of artists and maritime workers actively employed in boatbuilding, sailmaking, boat repair and marine canvas work, as well as creative writing, theater, painting, photography and other visual arts. As a close friend of the community, Ellingson is a natural fit, a welcome instigator of art made by and for her boat-dwelling community.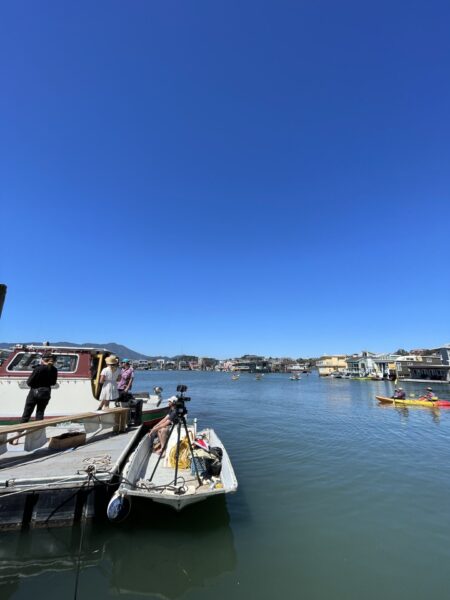 Named after the brigantine Galilee — whose sunken midship wreckage is still visible today in low-tide mud — Galilee Harbor is not 10 minutes away from the Bay Model and tall ship Matthew Turner. The tall ship is named after the real-life Bay Area master boatbuilder Matthew Turner, who built the Galilee in 1891. This waterfront has been home to artisans, builders, and creators for 100 years. It's now a haven for today's waterfront artists and creatives, who struggle to make a living in one of the most expensive places in the country to live.
"My goal in living here as an artist is to find a way to have the community involved as much as possible — and to pay my artists." said Ellingson. For this year's production of A Midsummer Night's Dream, every industry on the waterfront got involved: Boaters, marine fabricators, metal shops, restaurants, and others donated time, goods, and their enthusiastic support. "The best part about doing it in 2021 was that everyone said yes, to where it snowballed a bit this year, becoming much bigger than I anticipated," said Ellingson. "Our land show was held at the new Sausalito Center for the Arts, and we had sold-out weekend shows."
The first Shakespeare on the Water dockside production in 2021 was free to attend, and had a cast of maybe seven. This year, with the land show, they charged $20 to attend, and had a cast and crew of more than 20 people. They held a gala opening night at the Sausalito Center for the Arts on September 7, but the weekend shows were held at a secret on-the-water location, map coordinates disclosed with the purchase of your ticket. These shows were accessible by boat, kayak and SUP only, with nearby sponsor Sea Trek giving discounted rental rates for attendees. The affordable theater helped many locals get out on the water. Sea Trek allegedly had to bring more kayaks to their fleet to accommodate the weekend's sold-out shows.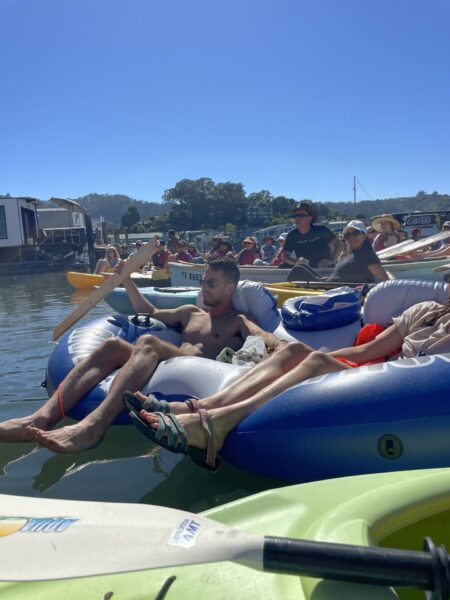 It's multigenerational community art too, reflecting Ellingson's own childhood spent in Marin County art programs and inspired by generations of female creatives in her family. "Isabelle's grandmother was at the first play and has since passed," explained Ellingson's mother, Susan. "She has given the love of art and to be free and to be strong to Isabelle. Just look: This year, everything is being run by women." It's true — the play was created and produced by Ellingson with her director, Ash Baker, musical direction by Ruby Day, and choreography by Victoria Gusciora.
"In case she was modest, Isabelle is extraordinary," explained Ash Baker, who is a teacher at Tamalpais High School. "She has put her all into this. It's really amazing to see her have this success." Baker is modest too: She abridged the original play into a seamless one-hour production — easy to understand for younger audience members, with clear storytelling. Under her direction emerged a deeply humorous but classic story of love, mischief, and magic.
"My students are my creative inspiration. They are a daily reminder of why I started. Regardless of what my students go off and do with their lives, I love to see how theater brings them friends, community, and safety on campus," said Baker. "Everything makes sense coming back to this as a teacher."
According to Baker, half the cast were actor friends and half were students from the Tamalpais High dance and drama theater ensemble. The cast performed with rare-find authenticity, depth, and humor. Of course, the gorgeous poetry of Shakespeare's classic lines echoed across the water with impressive loveliness, punctuated with asides in modern parlance, drawing in the floating assemblage and building intimacy, rapport and even interjections from the audience.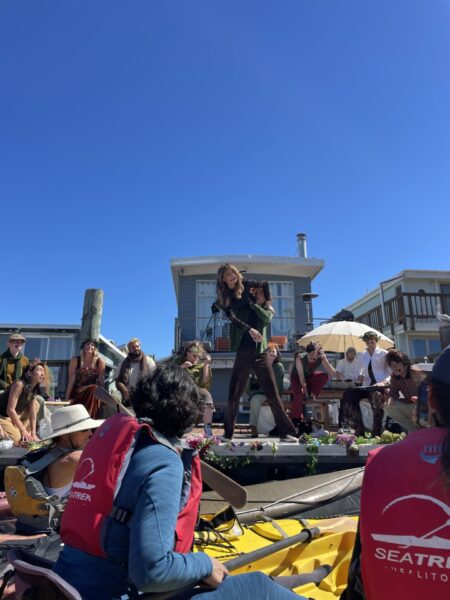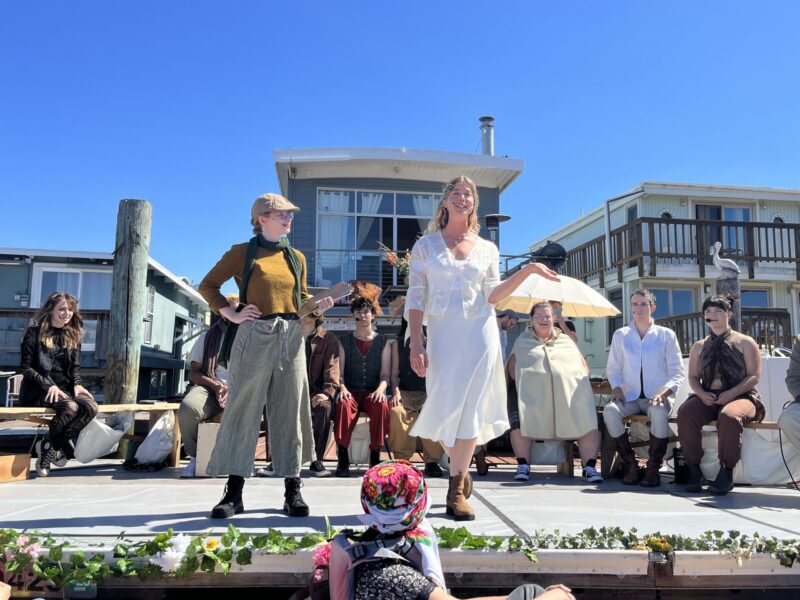 The flotilla of kayaks, dinghies, boats and other floating vessels was as much a part of the dock, houseboats in the background, and vintage costuming that set the Shakespearean scene. The floating audience shifted and bumped around in the swell — everyone held on to the vessel next to them to stay front and center to the stage, passing snacks and sunscreen from one kayak to the next, forming natural friendships on the water.
Benjamin Spendov played Demetrius (Helena's lover for our Shakespeare fans) and talked about outdoor theater. Baker grew up doing local outdoor theater, but Spendov noted it's a little different performing on a floating dock. "Being outside means being vulnerable to the elements and still serving the purpose of the story."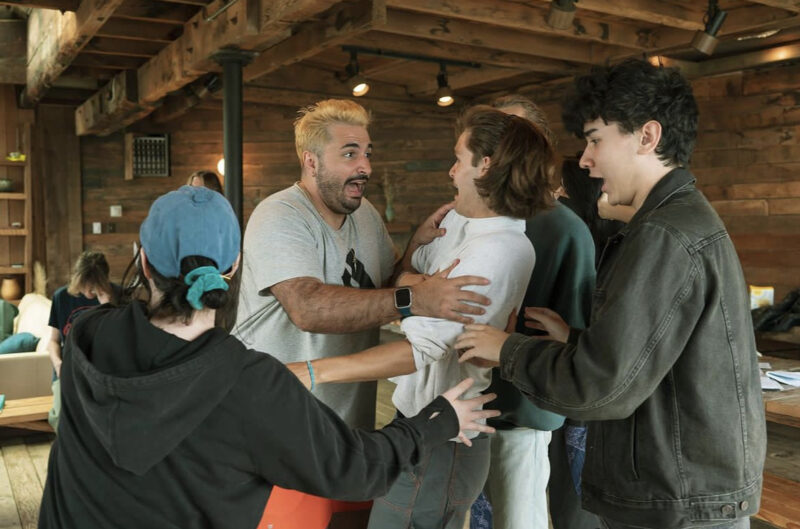 Actress Emily Barrett, who played Helena, was quick to remind me: Shakespeare was meant to be performed outdoors! "Shakespeare wanted the shows to be seen outside, daytime lit. In America, I think Shakespeare can be perceived as this exclusive, highbrow thing, but doing it this way makes it really accessible," said Barrett. "Being British, my understanding is we have a lot of Shakespeare happening at home, but here, perhaps less."
This production served the local waterfront community's needs on multiple levels: launching local community theater, paying local artists, activating local houseboat and waterfront community members, supporting local businesses, increasing waterfront access, and even bringing more diversity and multigenerational representation to the arts.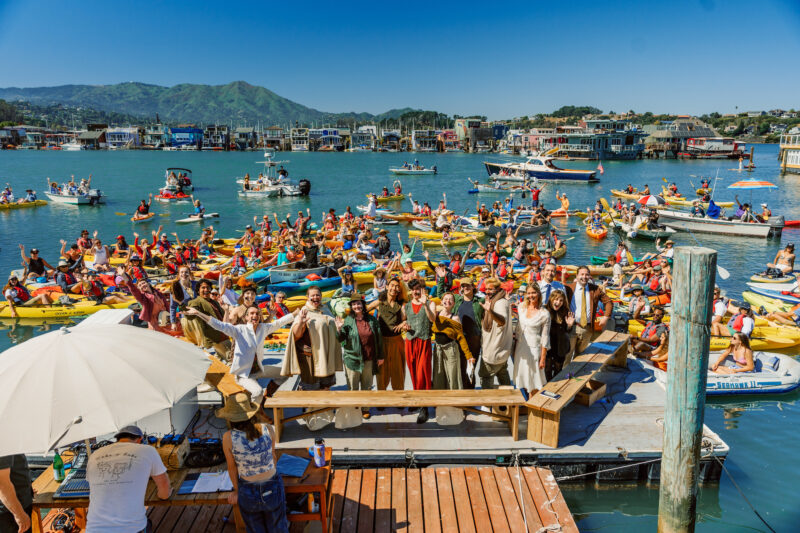 If you missed out on attending this year, check out nonprofit Shakespeare on the Water for news on upcoming projects, or to volunteer or donate. All donations are used to pay artists and actors, perpetuating something profoundly healing in community members serving their own with whimsical, playful art in harmony with the natural beauty of the Bay. It would make a perfect cruising weekend, sailors!
Receive emails when 'Lectronic Latitude is updated.
SUBSCRIBE