As the start of the 2023 Baja Ha-Ha Cruisers Rally approaches, the Poobah is persisting with the idea that this may be the last-ever Baja Ha-Ha. In fact, with his latest message he reminds everyone that the official entry deadline for what is likely to be the last Ha-Ha is September 1. He also reminisces about the first Ha-Ha and its mothership, Big O, in 1994.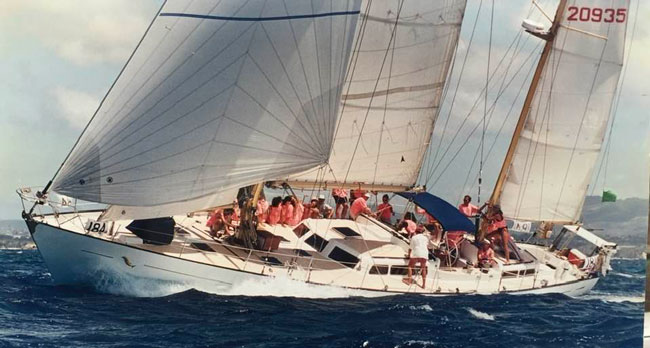 So this could be your last chance to sign up and be a part of Ha-Ha legend.
The Poobah might allow late entries, but they probably couldn't be included in the Meet the Fleet booklet, get the boat name on the T-shirts, or even get all the swag. He'd hate to see that happen, so please make the deadline.
Big O was one of about 17 Ocean 71s built to be the fiberglass version of the great Van de Stadt 74 Stormvogel, the first ocean-racing maxi. The South African ketch took line honors in the 1961 Fastnet Race, but also played historical roles in both the Transpac and San Francisco Bay racing.
Stormvogel returned for this year's Fastnet Race in England and acquitted herself well in some nasty conditions.
The photo of Big O was taken five months after that first Ha-Ha. She's seen racing in her sixth Antigua Sailing Week under the Poobah's ownership, back when Sailing Week was a huge international event with as many as 240 boats. We had 35 crew, most of them women.
Following that Sailing Week, Jim Drake took the boat across the Atlantic and across the Med to Turkey, then back to the Caribbean. After that was an unauthorized two-week stint in Cuba with Doña de Mallorca, the Poobah's then-new girlfriend.
The Poobah sold Big O about a year or so later, at which time she became a very busy charter boat out of Comox, Vancouver Island. She tragically burned beyond repair in a shed fire just a few years ago.
As with many things, the Poobah never fully appreciated Big O until she was gone. What a yacht! So many memories!
And now is your time to make memories in the Ha-Ha before it, too, is likely gone for good.
You can sign up here. Hoping to sail south with you.
By the way, there are now 99 entries listed on the Ha-Ha website. Jerry and Kathy McGraw from Newport Beach with their Kelly Peterson 44, Pooino Roa, hold that spot. Who will be number 100? Is it you?
Receive emails when 'Lectronic Latitude is updated.
SUBSCRIBE