Here we go, here we go!!! It's coming up to Crew Party time! The event we look forward to all year, the annual Latitude 38 Fall Crew List Party for the Baja Ha-Ha and beyond is happening on Thursday, September 7, from 6 p.m. to 9 p.m. at Sausalito's Spaulding Marine Center. This event is the perfect place to meet other like-minded people — sailors, of course — and to find crew for your boat, or, in the case of your not having a boat, a skipper you can sail with. Plus, as the party includes the Baja Ha-Ha Cruising Seminar and party-mingle, you could even find yourself a crew or boat to join for the 29th cruising rally to Mexico. Get your tickets now.
Whether you're planning to sail to Mexico or keep it local with racing, daysailing or Bay, Delta and coastal cruising, the Latitude 38 Crew Party is the place to get those extra bodies for watch-shifts, foredeck crew and rail meat, or just great company for a casual day on the water. We were clicking through our archives recently and came across this story from Sylvia Stewart Stompe and Barry Stompe, after they'd attended a Latitude crew party in 2012. We know that's a long time ago, but we liked the story, so here it is:
"Thank you for hosting the Latitude 38 Spring Crew List Party on March 7 at Golden Gate YC," write Barry Stompe & Sylvia Stewart of the Sausalito-based Hughes 48 Iolani. "The party yielded us a great bunch of race crew recruits. Seven of the sailors in this photo are contacts we made at the Crew Party. Four of the individuals just moved to the Bay Area — and are learning that we sail with PFDs and foulies around here. So thanks to Latitude for hosting the great event.
"This photo was taken after a good day of spinnaker practice, which was followed by an awesome potluck lunch behind Angel Island, featuring many homemade treats. After a brisk sail back to Sausalito, we hosted a little dock party and beer tasting of some micro brew created by one of our crew. The Chipotle Amber Ale was voted the favorite."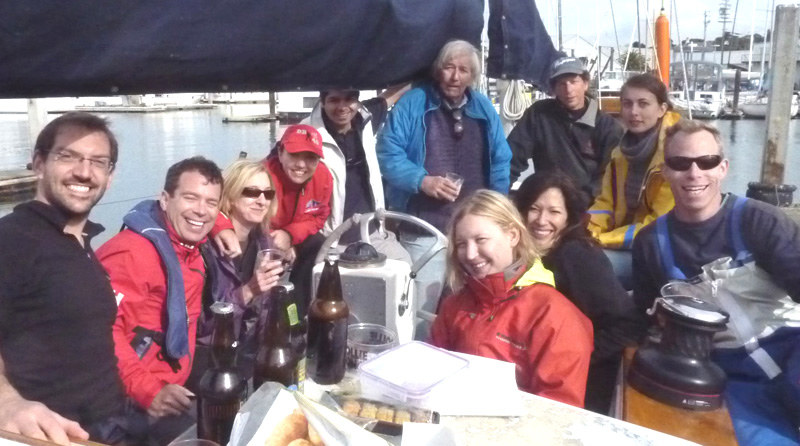 We don't always hear of so many sailors joining one boat as a result of an L38 Crew Party, but dozens of sailors have met their new skipper or crew at one of our parties. Now it's your turn! Tickets available here.
Here's what you can expect:
THE SEMINAR!
We will be holding our annual cruising seminar for our Baja Ha-Ha sailors and cruisers preparing to head south. The seminar will run from 4 p.m. to 5 p.m. with half an hour of Q&A from 5 p.m. to 5:30 p.m. Doors will open for the cruising seminar at 3:30.
Call of the Sea will offer tours of the Matthew Turner for Latitude 38 Fall Crew List Party guests from 3 p.m. to 5 p.m.
THE PARTY!
The Fall Crew List Party will run from 6 p.m. to 9 p.m.
The event will be mostly outside, in the Spaulding Marine Center boatyard, with vendor tables set up inside. (This is Sausalito — so please dress in layers!) Casablanca Mediterranean Food Truck will be on hand serving from 6 p.m. to 9 p.m., and Spaulding will be hosting the bar with all proceeds going to benefit their education programs.
There will be vendors to answer your questions about cruising and heading south to Mexico, along with local partners who want to help you get sailing in the Bay. San Francisco Sailing Science Center will set up an entertaining and educational exhibit.
Our crew parties are geared toward helping people find sailing opportunities for cruising, racing, or daysailing. The Fall Crew List Party is ideal for boat owners seeking crew who want to head south to Mexico, or crew who want to do the same. It's also well suited for folks looking for midwinter race crew or anyone who just wants to sail the Bay.
ADMISSION DETAILS!
Admission includes free munchies, entry to door prize raffle, a sailing slide show, and connecting to the most vibrant sailing community in the Bay Area!
Admission to the Fall Crew List Party is $10
Admission to the Mexico Cruising Seminar* is $10
Admission to the Party and Seminar* is $20
*Each skipper and first mate registered for the 2023 Baja Ha-Ha gets free entry to the Fall Crew List Party and Mexico Cruising seminar.
If you are considering joining the 2023 Baja Ha-Ha fleet, sign up before September 1 and get two free tickets to the Crew List party and Mexico Cruising Seminar.
PARKING!
There is parking around Spaulding. Please do not park at Clipper Yacht Harbor.
Skip the wait at the door and get your tickets online now. We look forward to seeing you all on September 7!
Receive emails when 'Lectronic Latitude is updated.
SUBSCRIBE