Taking Their Time — San Francisco to the Chesapeake
I last chimed into Changes from Isla Mujeres, Mexico, after the longest passage of our two-year voyage from San Francisco. The 980 miles from Cartagena, Colombia, had been choppy but benign, with several delightful moments, including sailing with a pod of pilot whales — and two steak dinners. The addition of our friend John made for an easy watch schedule of four hours on and eight off. My regular crew aboard Azimuth, a 1979 Pearson 365 sloop, are my husband Scott Racette and our salty cat, Cypress.
Our timing on Isla Mujeres, off Cancun, coincided with spring break, and this stop took on a holiday feel of its own for us. We rented lounge chairs on the beach for an afternoon, attended a water aerobics class with the local ladies, and did a last round of souvenir purchases.
Much of our attention was on the weather as March turned into April. We needed to make it back north to Latitude 38 and our new home base in the Chesapeake Bay well before hurricanes began carving their paths off the coast of Africa.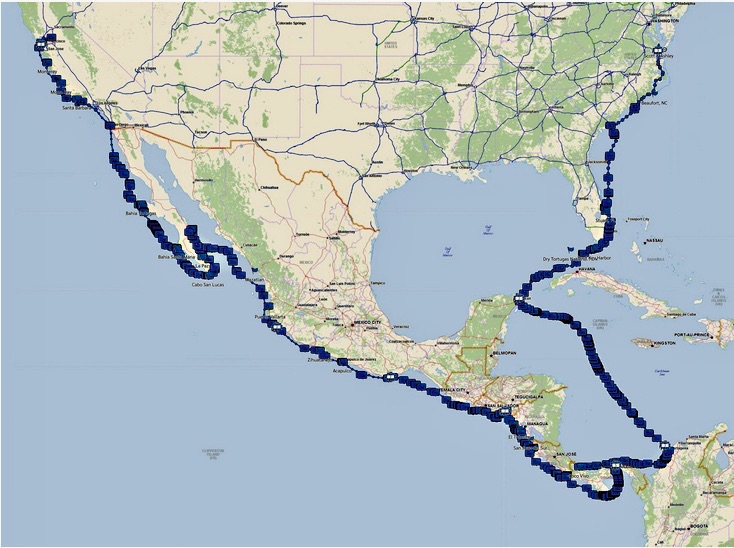 There were a couple of tempting weather windows that came and went due to concerns about the arrival of the next cold front, the stomach flu that descended on us, and various other concerns. We began wondering if we were dragging our feet to extend our time at sea, but determined that our intuition and research had gotten us this far — and it was no time to stop trusting our guts!
On April 12, we untied the dock lines with the help of friends at El Milagro Marina and set off for the Florida Keys. Sargassum seaweed floated as far as the eye could see, and clouds billowed huge overhead. The passage was pleasing, with just one squall keeping us on our toes at 3 a.m.
About 30 miles from our destination, the wind shut off and we cranked up our Westerbeke 40. We had been troubleshooting a variable rpm issue since Panama, and despite some TLC in Colombia from ourselves and Elvis, the mechanic, it had arisen again during the previous passage. The likely culprit was fuel contamination. Organisms thrive in diesel fuel in hotter climates, and to make matters worse, we had water splash into the tank when refueling from jerry cans in rough seas off Punta Mala in the Pacific. After motoring along for an hour or two, the engine cut off again. We cleared the filter and bled the engine a few times before waving the white flag and calling TowBoat US. Our visions of reentering the United States hadn't included being tied to their bright-red boats, but within 15 minutes, we were blasting along at seven knots on a rhumb line to Marathon, Florida.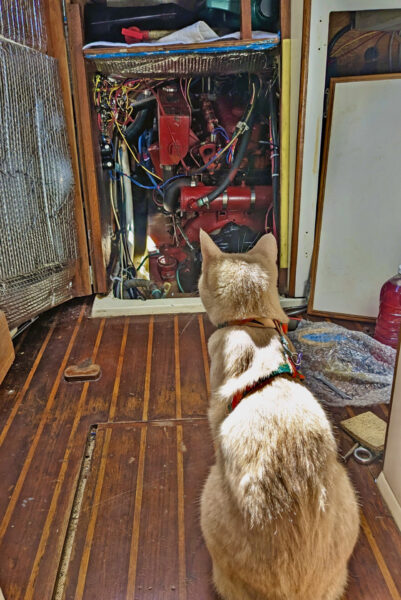 Find out when you continue reading at Latitude38.com.
Receive emails when 'Lectronic Latitude is updated.
SUBSCRIBE