Want To Have a Say in What a Pedestrian Bridge Over the Oakland Estuary Might Look Like?
In late November 2022, the City of Alameda held the first of what will be many, many public meetings about a proposed pedestrian bridge spanning the Oakland Estuary, from Jack London Square to the northeastern shore of Alameda.
The City is asking for sailors' input.
Plans for the bridge have been under study since 2009, though many of us hadn't heard about the project until a few months ago. The reception was less than enthusiastic. There is still discussion of a water taxi that would service the Estuary, but regardless, plans for the bridge seem to be moving full-steam-ahead. (A water taxi would obviously be limited in hours; the bridge would be open 24/7.)
How tall will the bridge be? How will it affect sailing on the Estuary? How often does the City expect the drawbridge section to be opened on a typical high-water-traffic day (aka the weekend)?
At the November Zoom meeting, we asked these very questions.
The height of the bridge has not yet been determined, but there will certainly be a drawbridge section to accommodate Coast Guard cutters stationed in Alameda. "We're working closely with the Coast Guard," an Alameda city planner said at the meeting.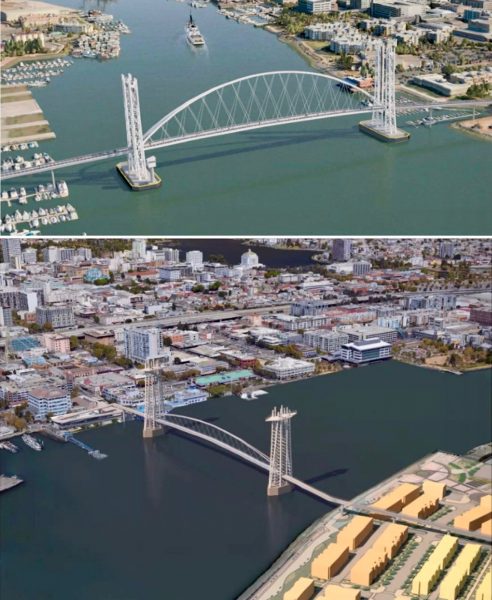 We've been wondering what the ideal height would be so that the largest possible majority of boats can pass through on most tides. Would that be about 70-ft? What's the ideal height for the average size of boats racing on Friday nights?
"There's going to be a ton of tradeoffs," a City of Alameda employee said, admitting that a lower height was more desirable for bikers to avoid steep inclines at either end of the bridge, and that a larger height was more desirable for sailors.
"We have to figure this thing out together," the city employee said, adding that "data" were needed.
We cannot stress enough the need for organized advocacy, nor can Latitude carry that particular torch entirely on our own. We hope that someone, or an organized group, can assume the role of "quarterback" and start to marshal data and stakeholders, and lobby on behalf of sailors.
We were one of maybe three advocates for boating at the November Zoom meeting, though a number of marinas and yacht clubs had apparently been invited. There were, however, a large handful — maybe between five and a dozen — of bike-advocacy groups in attendance.
Clearly, there is work to be done.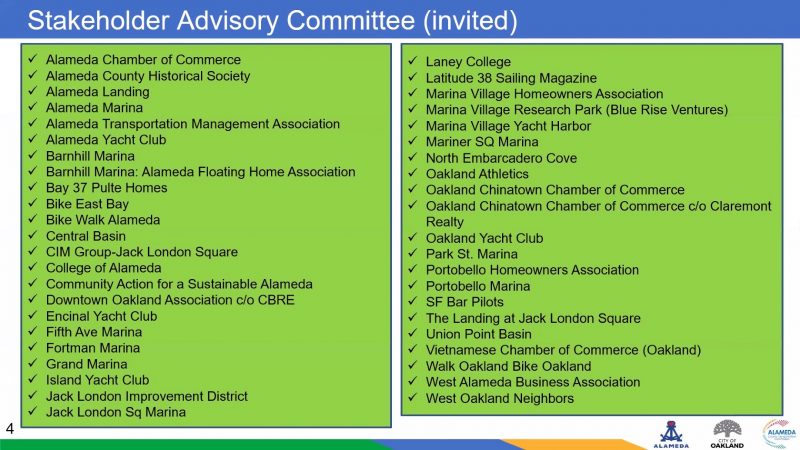 "Please note that we will be doing much more extensive public outreach in early 2023, and will have more materials for the public to review," Rochelle Wheeler, the senior transportation coordinator for the City of Alameda, told us in an email. "The city will continue to engage with maritime industry and all interested folks throughout the project development, so now is certainly not the only opportunity for commenting," she added.
Here's the official page for the proposed bridge, where you can sign up for updates: www.alamedaca.gov/bridge.
Here's a link to Rochelle Wheeler's email if you'd like to make specific comments. You can also reach out to Frank Ponciano, a consultant who's also taking input on the bridge.
Receive emails when 'Lectronic Latitude is updated.
SUBSCRIBE