The Mubadala SailGP season finale provided all the thrills, spills and action worthy of a world-class event that concluded with the Australians again winning the championship, for the third time in a row, in front of a sold-out crowd on the San Francisco Cityfront.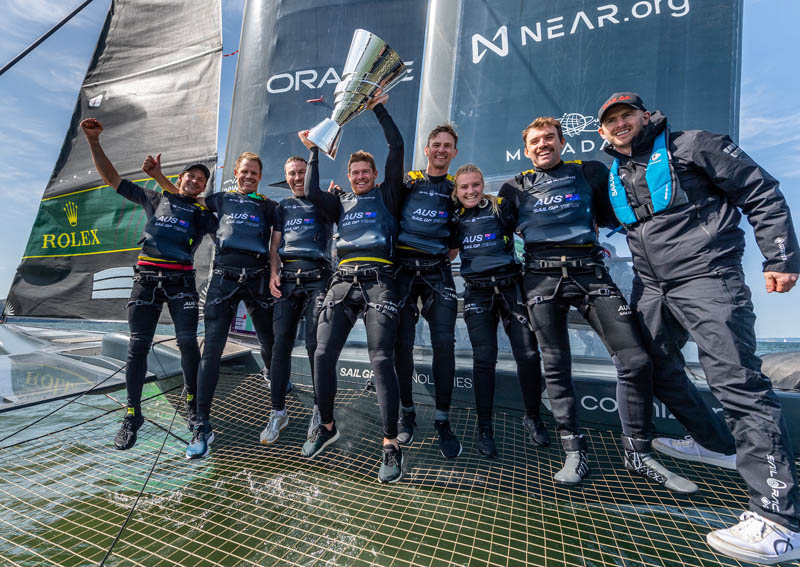 It was an all-"Empire" final race on a weekend when Great Britain crowned a new king, but it was Australia, Emirates Team GBR (still getting used to that one) and New Zealand that put it all on the line and in the water when it counted, and in turn delivered a rousing final race, which concluded with the Aussies soaked in champagne … again!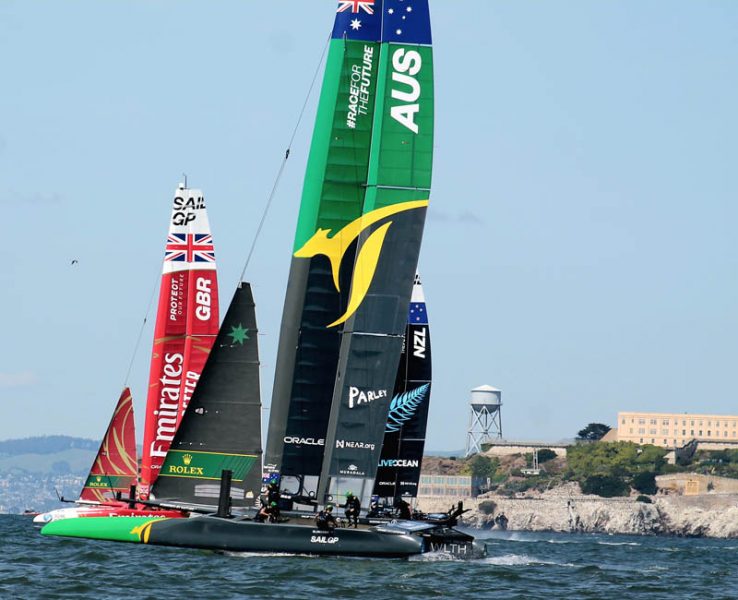 In a dramatic final leg, the Australians fell off their foils just enough to give New Zealand a shot at a dramatic last-gasp pass, which almost happened! But …
"It was bad that this was going through my mind so close to the finish, that I can't believe we are going to lose it from here and choke like this in front of all of these people watching around the world," said Slingsby, who was part of the Oracle Team USA's dramatic America's Cup comeback victory a decade ago and is a co-helmsman of the New York Yacht Club's Quantum American Magic team. "We had such a comfortable lead at that point so I thought I would shut down the race and do an extra maneuver to make sure they don't get different wind. In the end they didn't really get better wind, but they were foiling out of their tacks a bit better than we were and they were gaining and gaining. Fortunately, we were [able] to hold the tack in our last maneuver and just hold on until the finish."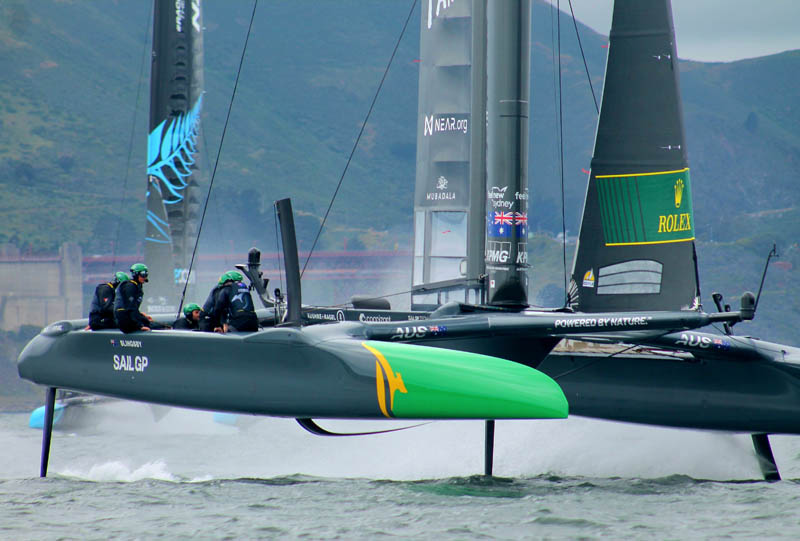 "In hindsight, I would have sailed that last leg very differently; I just didn't react to the changing conditions as quickly as I could have," said Slingsby. "But on that last leg the wind really died off. It was really a solid steady breeze the entire race, but then on that last upwind it started flaking out and it was getting a bit more patchy."
"The Aussies sailed a brilliant race. They put a hook on us at the start, which slowed us up, then we had a big crashdown at the leeward gate and that was it for us," said Sir Ben Ainslie, ETGBR's CEO and skipper. "Unfortunately, we sailed a bad race. Certainly, when we needed a good one, we couldn't put it together, which was frustrating."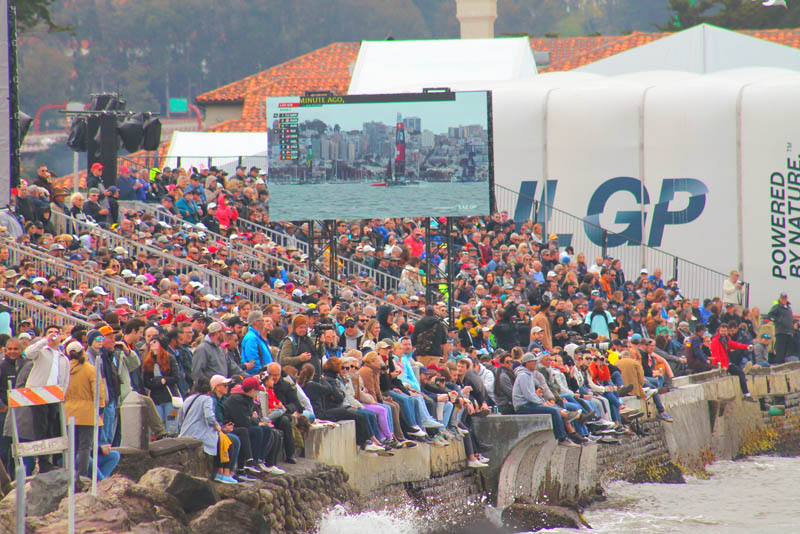 "The league is growing in popularity and the racing is getting tighter and tighter," said Ainslie. "It is an incredible achievement when you consider the one-design elements of the boats."
"We're gutted; we were battling all weekend and we were so close at the first mark, we only needed another meter to get over his bow. We felt like we were sailing around the course all day really well; we just ended up making some big errors here and there," said New Zealand skipper Peter Burling. "When we are sailing well, we are pretty hard to beat. We got ourselves back within a half meter from winning it, so losing it was pretty tough to swallow, but I am really proud of the way we sailed in the last part of the race."
"I have been sayng for years that I believe that Australia has the best sailors in the world. It's nice to be able to back that up with some evidence. It is a very satisfying, mainly patriotic feeling," said Slingsby. "I am never going to say I am the best sailor of all time. Anything that I have done in the last 10 years, I have done with this team behind me. So, if I am ever called the best, it's because of this team behind me. For me, Sir Ben Ainslie will always be the greatest. I grew up watching him at 15 during the Sydney Olympics and I said right then and there, 'I want to become a professional sailor,' and I want to try to do what he has done. He is such an inspiration to me, and even though I have a couple of wins on him lately, he will always be the GOAT."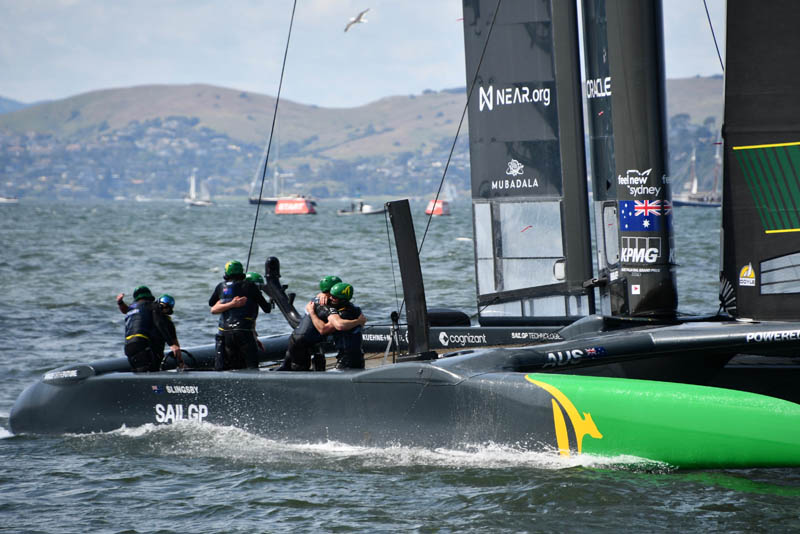 The French, who held the last spot by one precious point going into the weekend, came out on the short end when Ainslie and ETGBR went straight for the jugular on the get-go and inflicted brutal chaos tactics on the team.
Skipper Quentin Delapierre said he "expected" the Brits' aggressive match-racing tactics but admitted he was surprised Ainslie targeted him from the off.
"They trust their skills and maneuvers and they are just one point behind us," he said. "I was surprised that it was directly from the first race … and I am frustrated because I think in the first two races we could have got a hook or rolled him, but we didn't manage to achieve it."
The Denmark SailGP Team has completed a spectacular transformation to be crowned Impact League champions for Season 3, just nipping the Kiwis, who were last year's champions. The Impact League is a second leaderboard that runs alongside the Season Championship and tracks the positive actions teams take to reduce their overall footprint and accelerate inclusivity in sailing. The victory sees Denmark moving from worst to first, winning funds for its Race for the Future partner One Ocean Foundation, having launched "More Speed Less Plastic" to reward athletes for doing what they do best, racing fast by connecting the cutting-edge performance in SailGP while diverting ocean-bound waste by removing 10 kilograms of plastic litter from the ocean for every km/h of speed the team clocks at each event.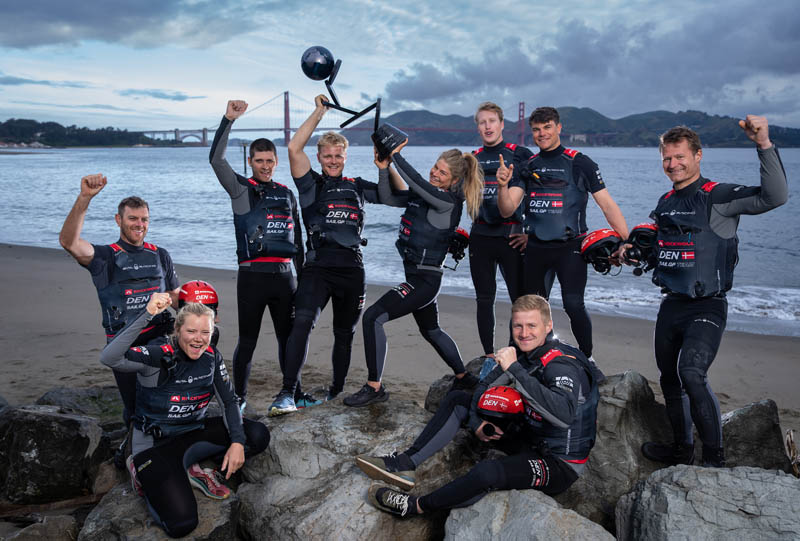 As for the Americans, the team finished its last race of the event on a positive note with a third-place finish, but CEO/skipper Jimmy Spithill recognized it as a lost opportunity to claim a race win after a terrific start.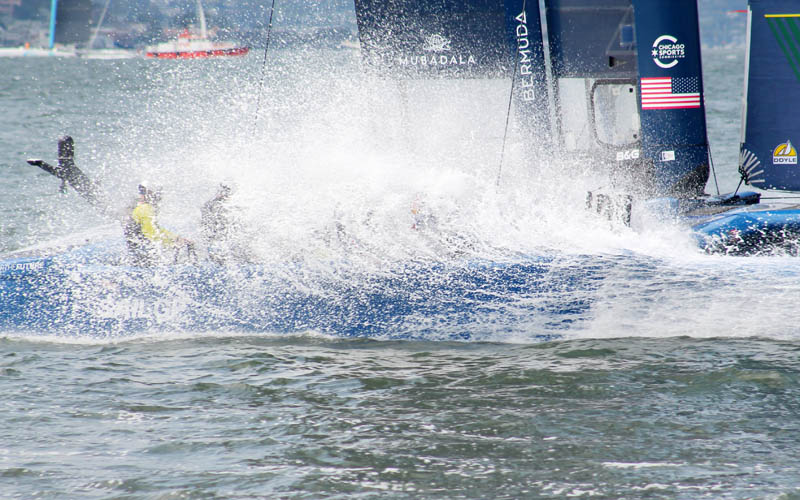 "We were testing a new combination, so it was nice to somewhat pull it together, but clearly we need to get our act together," said Spithill. "This event was about as good as it gets for our sport and clearly we wanted to do well here. We are overdue for a good result at home and have yet to do that, and with four US events in Season 4 we absolutely want to be up on the podium."
As for the Australians: "We know this 'purple patch' run we are on now is going to come to an end," said Slingsby. "We just got to really enjoy this moment, because our reign will come to an end and we will be sitting around beating ourselves up saying we used to be so good, but we just got to keep it going for as long as we can and we need to look at these moments and the dynamic within the team, the atmosphere, and know we are going to go through some dark days ahead.
"I have no plans of leaving SailGP and I know I am not going to retire undefeated," concluded Slingsby. "We have to look at these moments, because we are in the peak of our careers, and when I am retired in the future I am going to look back at this as the best time of my life".
If anyone is wondering about the term "Three-peat" in the headline, a three-peat (also threepeat, or 3-peat) is a term sometimes used when a sporting team wins a championship three times, usually, but not limited to, consecutively. Now you know … – Ed.
Receive emails when 'Lectronic Latitude is updated.
SUBSCRIBE