The 2018 Baja Ha-Ha saw 160 boats enter for the two-week cruising rally from San Diego, USA, to Cabo San Lucas, Mexico. Ha-Ha Poobah Richard Spindler followed up with the fleet to see where everyone is now.
Curious as to what the folks who did the 2018 Ha-Ha are up to, we emailed them. We received so many responses that we're dividing them into several segments. We think the information will be interesting to those who did the 2018 or other Ha-Ha's, as well as those thinking about doing this year's Ha-Ha. Sign-ups for this fall's Baja Ha-Ha XXIX, which starts on October 30, begin on May 9.
Anne Alberg and Diana Trump, Arctic Loon, Jeanneau 45, Poulsbo, Washington.
"The well-orchestrated 2018 Baja Ha-Ha was a great experience for us. We two co-captains had a crew of Jaqi Nadolny, Sue Drake, and Jean Sartou — all women."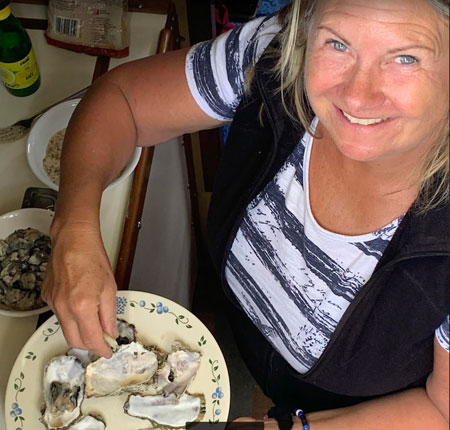 "Of the 160 Ha-Ha entries, only our boat and Diane Berol's Celtic Song were all-women boats. During the Ha-Ha we made friends that we would continue seeing all the way across the Pacific.
"Some 10,000 miles after starting our adventure, the two of us, along with crewmembers Kristie Huntington and Donna Elton-Rodrigues, arrived in Opua, New Zealand, where new adventures began."
Diana sold the boat to a Kiwi family and moved to a coffee farm above Captain Cook in Kona, Hawaii, while Anne became skipper of a Hylas 54 for continued adventures in the South Pacific. When COVID closed the South Pacific and New Zealand, Anne moved back to the Pacific Northwest. She currently lives in Bellingham, where she is a sailing instructor and private captain."
Kendra Knoll, Jersey Girl, Irwin 65, San Diego.
"After doing four Ha Ha's and sitting through the pandemic, it became apparent that it was time for me to move on to new adventures! So I made the decision to sell my beloved Jersey Girl and move on. I did stay in La Paz, and only recently moved to Aspen, Colorado. I'm getting back into my corporate flying career. There've been a few other changes, too. Such as my changing my gender, and being so totally happy loving my life as who I truly am! Love ya!"
Gregory and Susan Newman, Rapture, Caliber 40 LRC, Berkeley.
"Yes, we are still cruising. Rapture is now in Australia while we're on an expedition vessel crossing the Drake Passage to Antarctica. We'll return to Rapture in May of this year."
—————————————–
These are just three of the interesting responses to Richard's "Where are you now?" email. Stay tuned for more in the coming weeks.
And if you want to write your own "Where Am I Now?" story in five years' time, start your adventure by signing up for the 29th Baja Ha-Ha. Registrations open May 9.
Are you still cruising after your Ha-Ha? If you've got news and updates to share with your 'back home' cruising community pass it along to our Changes in Latitudes editor JR.
Receive emails when 'Lectronic Latitude is updated.
SUBSCRIBE