David Crosby, of Crosby, Stills, Nash and Young, passed away yesterday. Of course, he was best known for his musical career, but he was also well known for his sailing and his years of owning the 1947 59-ft Alden schooner Mayan. When Crosby bought Mayan he would have been about 28 years old. He owned the wooden schooner from 1969 until 2014, when it was purchased by Beau Vrolyk of Santa Cruz.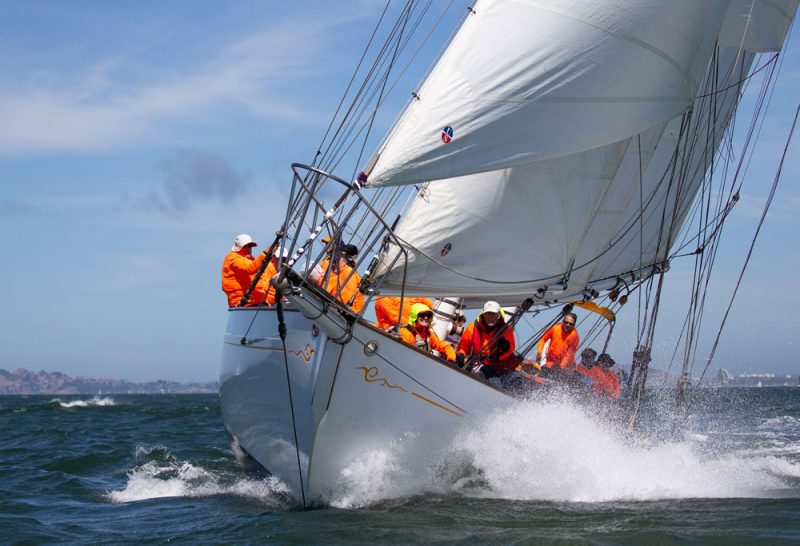 In our Good Jibes podcast with current owner Beau Vrolyk, he described Crosby's early purchase and ownership. "He grew up in Santa Barbara and had been sailing his whole life. He borrowed some money from the lead guitarist of the Monkees ($25,000 from Peter Tork). It's a fascinating tale. David then proceeded to sail around the Caribbean for many years and eventually sailing her himself with buddies, with possibly Graham Nash aboard for the trip. He went through the Panama Canal and up to Sausalito." Beau went on to say, "She also really served as a cruising boat for David. He sailed her to Tahiti and to Hawaii, at least twice, and back again. In almost every port we pull into there are people who come up to the boat and say, 'I partied on that boat.' I think she had many, many entertaining evenings."
After sailing from the Caribbean, Mayan lived in Sausalito for many years in the '80s, berthed at Pelican Harbor. At that time, Billy Martinelli, builder of the scow schooner Gas Light, did lots of work refining her. Martinelli also sailed off to the South Pacific with Crosby. During Martinelli's refit of Mayan, John "Woody" Skoriak ended up with many of her discarded sails and items off the boat that were then sold and passed on to other wooden-boat owners. Many local sailors found their way aboard for parties during that particularly boisterous, bohemian time along the Sausalito shoreline. It was another era in life along the waterfront from which many well-remembered but now-fading stories were created and told. Later Crosby moved Mayan to Santa Barbara, where he kept her for the last 20 years of his ownership.
1970s dock neighbor Brook Townes has some fond memories of his time berthed next door to Mayan in Herb Madden's Sausalito Yacht Harbor, "The Mayan was in SYH's Pier 3 (later called C-dock) next to the Freda (my home at the time) in the late '60s, beginning of the '70s. CSNY road manager Bob Wilson's gaff schooner the Sea Runner was on the other side of the Freda. The Croz and friends added icing to Pier 3's resident cast of great and interesting liveaboard characters.
"David was a fine boat husband and employed numerous local boatwrights. He had numerous nicely-done inlays, ivory porpoises and such, here and there, about the boat. As reported, he was a mite mercurial and could be nasty one morning, pleasant and considerate in the afternoon, but considerate in general. When the 'straights' on the dock complained about too many groupies and their antics, he would do his best to quiet things down and usually succeeded for a while.
"It was a mixed blessing, having him next door. At times it was a little hectic; other times a treat to hear him and his friends play live 20 feet away. Mostly he and his friends enlivened the dock nicely. Best was getting invited to crew an evening sail on the Mayan, leaving David free to play music under sail with his pals, ghosting along at sunset."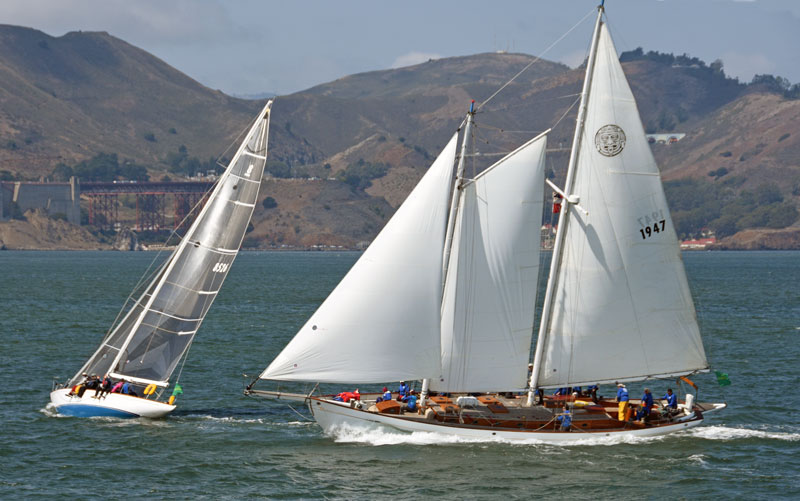 We contacted Beau Vrolyk, who told us about his ownership, and more about Crosby's life and his preservation of Mayan.
"Without David's deep affection for Mayan she would have never survived. In the mid-'90s he moved her to Santa Barbara, and by 2000 she was in need of a full refit.
"The master shipwright Wayne Ettel (who recently rebuilt Chubasco's hull) went over her and then sailed her back to Santa Barbara, where she would stay as he and David discussed her future. After that sail in the strong winds and big seas that can build up along the north side of Santa Cruz Island, Wayne decided, 'This boat needs to be saved.' In 2005, after two years of work at Wayne's yard, she was re-launched with her hull and deck entirely rebuilt, her rigging renewed, and her engine rebuilt. Mayan would not be here today without David having poured affection and treasure into her.
"When we saw her in 2014, my wife Stacey and I fell in love. Wayne had preserved much of her original interior, built of the beautiful mahogany of Belize, where she was built. We've had Wayne return some of the interior closer to Alden's original design, and we recently had Matthew Coale in Santa Cruz return her rig to a transitional schooner with a gaff foresail.
"Of course, we'll race any boat we own, even though that was not why we bought Mayan. She has turned out to be far swifter than we expected, having taken second in the Classic Class of the Rolex Big Boat Series twice, and first once. When racing or cruising in the ocean, she is amazingly stable and easygoing. We expect to continue cruising her in 2024, when she'll have retired from being the StFYC flagship.
"I talked to David a few weeks before he crossed the bar; he was happy and told me we were crazy to race her. 'Relax and go someplace warm with your family and friends.' Great advice from a great sailor."
When he put the boat up for sale in 2009, we quote Crosby saying, "After 40 years of sailing and writing many of my best songs aboard, I have reached the point where I must let her go." Mayan was reportedly the inspiration for many of his songs, including Wooden Ships and Lee Shore.
Fair winds, sailor.
Subscribe/contribute to Latitude 38 sailing magazine here.
Receive emails when 'Lectronic Latitude is updated.
SUBSCRIBE