On November 14, 1909, Captain Joshua Slocum set sail from Martha's Vineyard, Massachusetts, for the Caribbean aboard his 36-ft cutter Spray. It was one of Slocum's "typical winter voyages," and practically a daysail for the man who, 20 years earlier, had completed the first-ever singlehanded circumnavigation of the world.
Slocum went on to pen the best-seller Sailing Alone Around the World, a seminal book that earned him critical and financial success. "The book rapidly became a bestseller and was reprinted many times," says the introduction of SAATW. "Some persons living today may remember when it was required reading in public schools. For it is more than a record of an epic voyage: It is a masterpiece of vivid story telling. The pace is as swift as Spray herself."
Joshua Slocum never arrived in the Caribbean in 1909. In July 1910, Slocum's wife Henrietta told local reporters that she believed the famed captain had been lost at sea. Slocum was declared legally dead in 1924. He was 65 upon his departure.
The legacy that Joshua Slocum left behind is unparalleled in the sailing universe, in both his feat as a mariner and his lasting prose as a writer. Sailing Alone Around the World continues to inspire sailors of all stripes.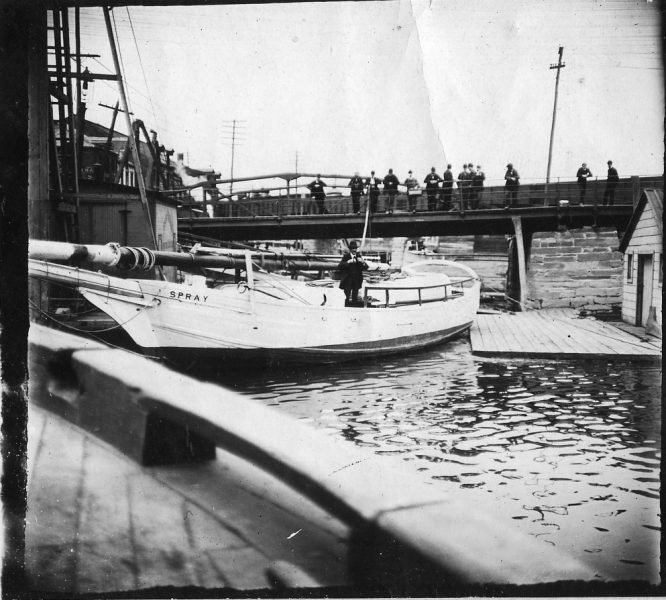 Here's my favorite scene from Sailing Alone Around the World, which isn't about ocean sailing at all, but rather, docking.
"I made for the cove, a lovely branch of Gloucester's fine harbor. The bay was feather-white as my little vessel tore in, smothered in foam. It was my first experience of coming into port alone, with a craft of any size, and in among shipping. I hardly know how a calamity was averted, but with my heart in my mouth, almost, I let go the wheel, stepped quickly forward, and downed the jib. The sloop naturally rounded in the wind, and just ranging ahead, laid her cheek against a mooring-pile at the windward corner of the wharf, so quietly, after all, that she would not have broken an egg.
"Very leisurely, I passed a rope around the post, and she was moored. Then a cheer went up from the little crowd on the wharf. 'You couldn't 'a' done it better.' I said nothing. Had I uttered a word it surely would have betrayed me, for I was still quite nervous and short of breath."
I don't know if this quote made me take extra care and pride in smooth, effortless dockings, or if it reminded me that I already had taken such pride. I'd been nervous, too, the first few times docking bigger boats by myself and under sail, but then did it so often that it became sport, even art.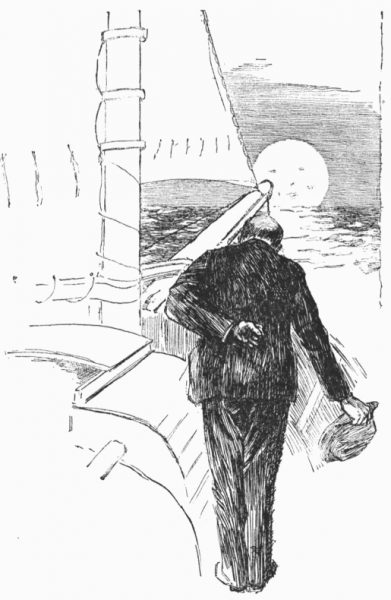 I realize now that it is Slocum's humble and earnest assessments of himself that are so appealing. We can, without hyperbole, call Josh Slocum one of the greatest sailors to ever sail, but he talks about the process of sailing in a way that almost any sailor can relate to.
"The voyage is invested with a deceptive air of casualness that often becomes downright comical," the introduction to SAATW reads. "One reads with a chuckle how the captain 'lamented the day I allowed on board the goat that ate my chart.'"
Here's my favorite touch of dry wit from Slocum: "My dory was leaking fast, and by the time I had rowed far enough to drop the anchor, she was full to the gunwale and sinking… I grasped her gunwale and held on as she turned bottom up, for I suddenly remembered that I could not swim."
As funny as SAATW is, it is also deeply reflective — one could say that it delves into the psychology of extreme isolation.
"The waves rose high, but I had a good ship. Still, in the dismal fog I felt myself drifting into loneliness, an insect on a straw in the midst of the elements. I lashed the helm, and my vessel held her course, and while she sailed I slept.
"During these days a feeling of awe crept over me. My memory worked with startling power. The ominous, the insignificant, the great, the small, the wonderful, the commonplace — all appeared before my mental vision in magical succession. Pages of my history were recalled which had been so long forgotten that they seemed to belong to a previous existence.
"I heard all the voices of the past laughing, crying, telling what I had heard them tell in many corners of the earth."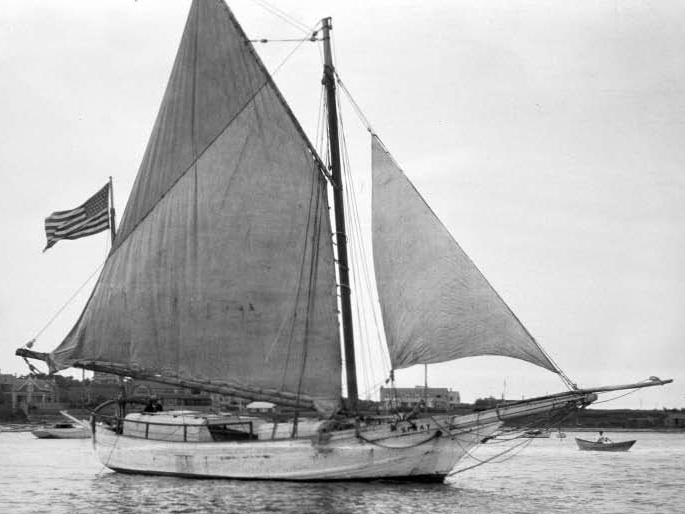 Captain Joshua Slocum was such a paradigm-shattering sailor that another paradigm-shattering sailor, Bernard Moitessier, named his boat Joshua.
Both Slocum and Moitessier wrote as much about the mind as they did about sailing. In a 1981 interview with Latitude 38, Moitessier famously said of his round-and-round-the-world voyage during the 1968 Golden Globe race, "I didn't know I was going to fight against the 'dragon,' which is the second aspect of the trip, the spiritual part. The physical part is that you must be very careful and be as good a sailor as you can be."
Though they are inextricably tied to sailing (and we're calling them "sailing books"), I'd like to think that both SAATW and The Long Way sit on the esteemed shelves in the library of great books written by great writers.
Moitessier was such a paradigm-shattering sailor that he inspired paradigm-shattering sailor Liz Clark. In the introduction to her book, Swell, Clark writes, "My hope is that by sharing both my inner and outer voyages on these pages, you might be inspired to listen closer [to] the yearnings of your heart, face your inner dragons, and decide to choose love over fear, again and again."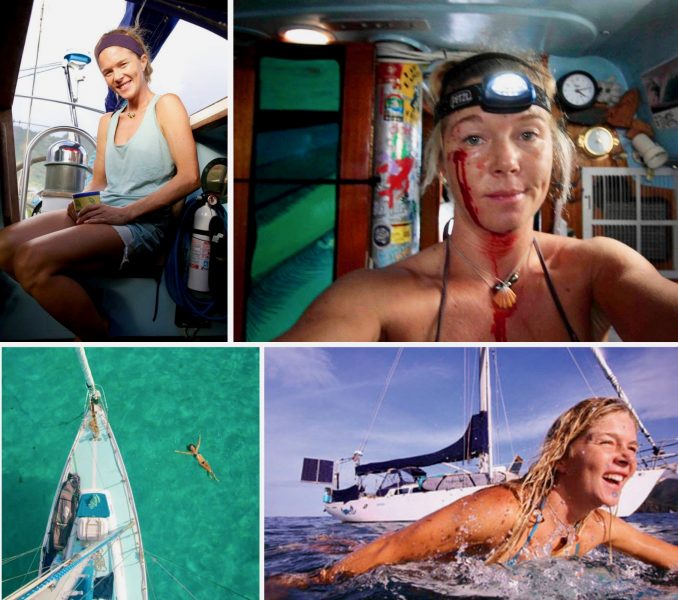 You can find Swell, Sailing Alone Around the World, and The Long Way — along with hundreds of other titles — at our online bookstore: www.bookshop.org/shop/Latitude38. We know you have a lot of options when doing your Christmas shopping, and we thank you for supporting independent bookstores, and supporting Latitude 38.
PS: Though we'd love it if you shopped from our bookstore, Sailing Alone Around the World is available in its entirety and complete with illustrations, online.
Receive emails when 'Lectronic Latitude is updated.
SUBSCRIBE