The Sailing Books That Made Us
We've all probably told everyone who would listen about the sailing books that were seminal in our lives.
I probably told you that after reading The Long Way, by Bernard Moitessier, I was inspired to return to the world of sailing and sailboats. I've definitely told you that I had been windsurfing my brains out for almost two decades, but after reading Bernard, I was ready to return to keels and cabins and canvas, long passages at sea, and anchorages off beautiful islands.
But was I able to tell you exactly why The Long Way spoke to me? As I've sat down to write this story, I'm not sure that I can articulate what was so stirring about Moitessier's words. I guess it was the right book at the right time for me.
Some sailing books just make us.
Just to be clear, my telling you about my favorite sailing book — yet again — is an attempt to get you to tell us about your favorite sailing books. (Please comment below, or write us here.) Can you say why it's your favorite? Can you say how it "made you" the sailor that you are? (And just to be clear, this story is yet another attempt to try to get you to visit Latitude 38's new online bookstore — www.bookshop.org/shop/latitude38.)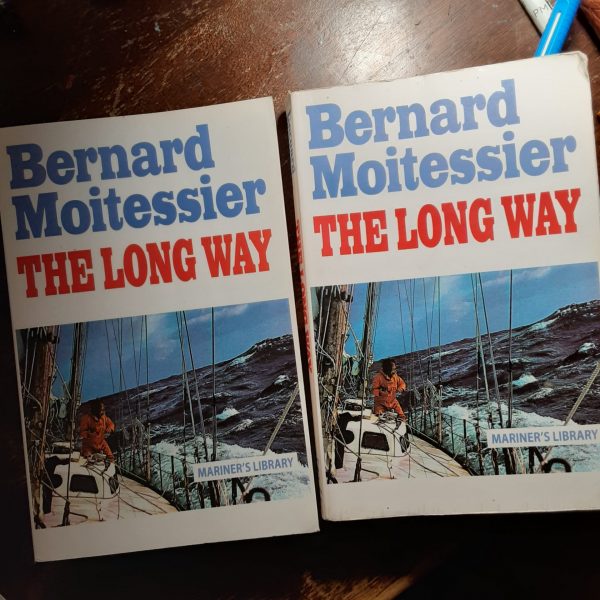 I found my copy of The Long Way on an outdoor rack at Pegasus Books in Berkeley in 2014. I had seen the documentary Deep Water about the 1968 Golden Globe Race just a few weeks before, even though the film is from 2006.
I'm sure I found the book to be just as much a look inward as it was outward, at the sea.
"I am neither happy nor sad, neither really tense nor really relaxed," wrote Moitessier in Chapter 14, Joshua Against Joshua. "Perhaps that is the way it is when a man gazes at the stars, asking himself questions he is not mature enough to answer. So one day he is happy, the next a bit sad without knowing why. It is a little like the horizon: for all your distinctly seeing sky and sea come together on the same line, for all your constant making for it, the horizon stays at he same distance, right at hand and out of reach."
Even though he was attempting such an epic thing, Bernard was just a man enjoying being at sea. He never seemed alone; he was always reveling in the nature around him.
"My porpoises have been swimming around Joshua for over two hours," Moitessier wrote in Chapter 12, The Time of the Very Beginnings. "When they leave, all at once, two of them remain behind until twilight. They swim as if a little bored, one on the right, the other on the left, for three hours, each isolated on his own side, without playing, setting their speed by Joshua's, two or three yards from the boat. I have never seen anything like it.
"Porpoises have never kept me company this long. I am sure they were given the order to stay with me until Joshua was absolutely out of danger."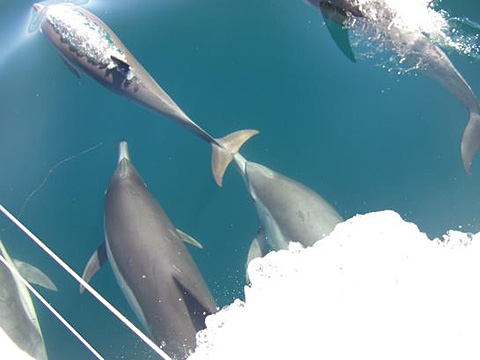 Once I started working at Latitude, I wrote about Moitessier whenever I could, though he was already well established in the zeitgeist. Some of you even knew Bernard. When I first met Randall Reeves in 2017, he told me about the time he interviewed Moitessier onboard Joshua in Glen Cove, Vallejo. "Moitessier wanted to talk about saving the world; I wanted to talk about the ocean. It was the worst interview ever," Reeves told me, adding, "[Bernard's] descriptions in The Long Way were early inspirations for wanting to see the big, bad ocean."
Not everyone is a fan. A friend once told me that he was living with a perhaps somewhat intense Frenchman when he tried to read The Long Way, and just couldn't vibe with the book. Over the last few years, Moitessier has felt a tad dated to me, like an artifact of my "youth" that no longer speaks to me in the same way. His "mysticism" that I once found so compelling felt at times too "woo-woo," like something you'd read on your hippie friend's Instagram feed.
This, of course, is a normal cycle through which any piece of writing, music, artwork, etc vacillates — meanings ebb and flow like the tide.
In my rereading parts of The Long Way for this story, however, the meanings have changed yet again, and I remember some of the old kinship I felt nine-ish years ago. In fact, I'd almost forgotten that there was a passage that inspired a painting I made in 2014.
Again from Chapter 14:
"During a gale, I saw a pyramidal sea. It collapsed like an avalanche, and the sound it gave made me think of a distant thunderstorm. Eyes wide, I watched and listened, every hair on my skin standing straight up. The sea was angry all around, yet neither the sea nor the boat could be heard anymore, only the roaring of that wave, cascading for long seconds and covering all other sounds."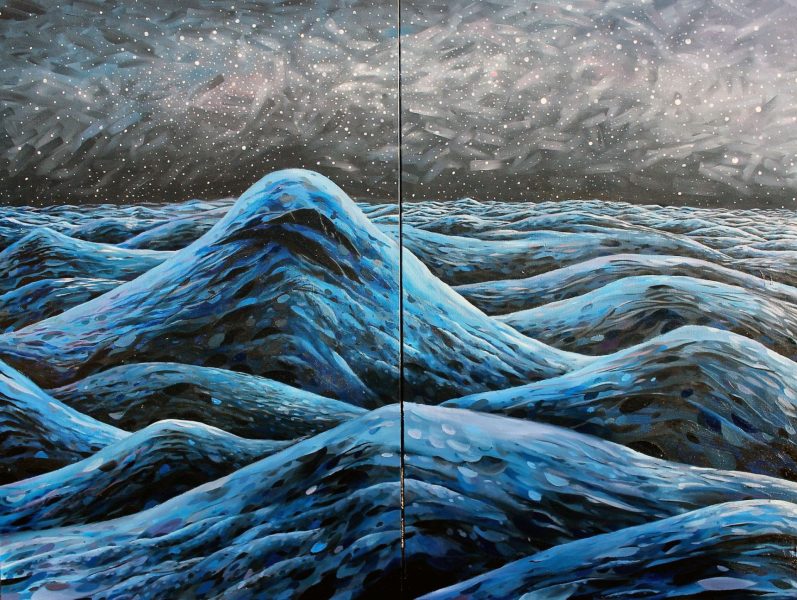 Receive emails when 'Lectronic Latitude is updated.
SUBSCRIBE