Aussie-American Jimmy Spithill has led his United States team to their first-ever SailGP victory, prevailing in light winds in the finals yesterday. The Range Rover France Sail Grand Prix was held in Saint-Tropez. In the final, Spithill battled Peter Burling's New Zealand team, who were chasing a third straight event win, and Ben Ainslie's Great Britain team.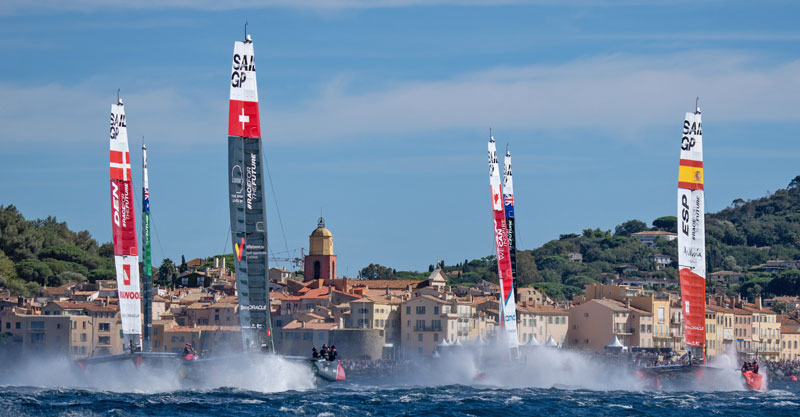 Saturday's Speed
Sunday's conditions contrasted starkly with Saturday's. On one of the wildest days seen on a SailGP racecourse, the championship speed record was broken twice in the space of three races. The British team hit 99.02 km/hour in the day's first race. Then the French team, led by Quentin Delapierre, recorded a stunning 99.94 km/hour in the last race of the day to set a new all-time record for the league. The translations to mph and knots are: 99.02 km/hour = 61.5 mph = 53.47 knots; 99.94 km/hour = 62.099 mph = 53.96 knots. Holy c**p! Heck, there are freeways in the Bay Area where you could get a speeding ticket for going that fast.
"I don't believe today," said Delapierre. "It was incredible, I've never seen anything like it. Breaking the record is super-cool. It's so good for the confidence of the team, our mindset, and our morale for the weekend."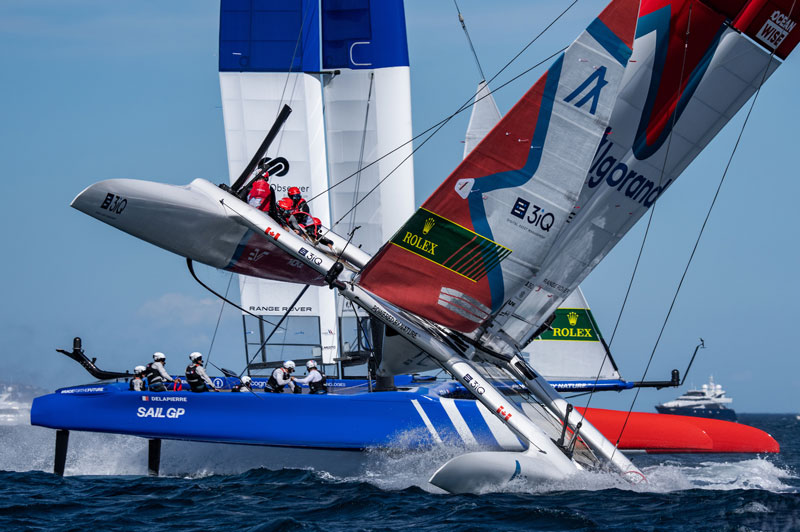 Saturday's Controversy
At the end of Saturday, New Zealand came out on top, winning two of the day's three races. Jimmy Spithill, a resident of San Diego, ended the day in second place. The end of the first race of the day proved contentious, with Australia's reaction to a bold maneuver by the New Zealand team seeing them crash down just short of the line when leading. Four boats then overtook them.
New Zealand driver Peter Burling defended his team's actions after the race and criticized the conduct of series leader Tom Slingsby after the incident. "We were overlapped for a very long time," said Burling. "They were closing down to us so we were fully within our rights to do what we were doing. It was exactly the same situation with Canada and they got out of the way. I think as drivers we might need to pitch in for some anger management lessons for Tom; I think it's out of line, the swear words he was saying afterwards on our race management channel."
Slingsby said the work of the shore and tech teams to repair his boat after the crash in between Race 1 and Race 2 was remarkable, but he was heavily critical of New Zealand. "To me, Pete just coming up at us like that is just unsafe," said Slingsby. "We are just trying to finish the race here. I just don't think what he did is worth it for one point, but no doubt he has a different opinion. He's always had a pretty warped view, so it would be interesting to hear him explain it."
Sunday's Final
USA prevailed in the opening fleet race on Sunday, but Race 5 was abandoned. The boats failed to make the race time limit, so the decision was made to go straight to the final podium race instead of the planned Super Sunday format. Unfortunately, Spithill picked up four season penalty points for an incident with the French team in that truncated Race 5. Thus the event win isn't helping the US in the season standings as much as it otherwise would have.
"It's fantastic to get that first win," said Spithill. "It's been a long time coming. It was just an incredible team effort this weekend, and it's great to be on the board at last. We have just been working really, really hard since the beginning of this season. We knew we would get there — we just needed to keep learning the lessons and not worry too much about what was said outside the team."
The French team's strategist Amélie Riou filled in for the injured Stephanie Roble on the victorious American F50 for the weekend, earning the praise of Spithill for her efforts with his team. "I'm just so happy to win in France," said Riou. "To do this in front of a home crowd and in front of some really close friends here was a really special moment I'll never forget. It's been an incredible weekend for me."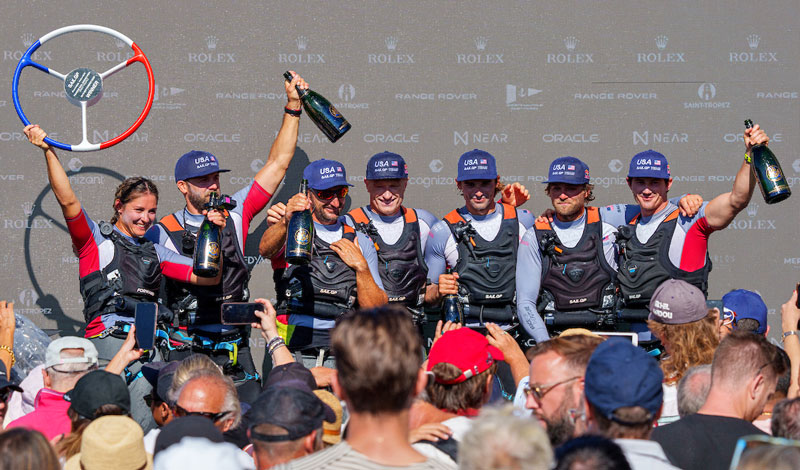 Season 3 Standings
After five events: 1) Australia, 42 points; 2) New Zealand, 41; 3) Great Britain, 34; 4) Denmark, 33; 5) France, 31; 6) Canada, 29; 7) United States, 25; 8) Spain, 15; 9) Switzerland,12.
In just two short weeks, the league will meet on the water again. SailGP will return to Cádiz, in Andalusia in southwest Spain, on the weekend of September 24-25 for the sixth stop of the season.
Receive emails when 'Lectronic Latitude is updated.
SUBSCRIBE