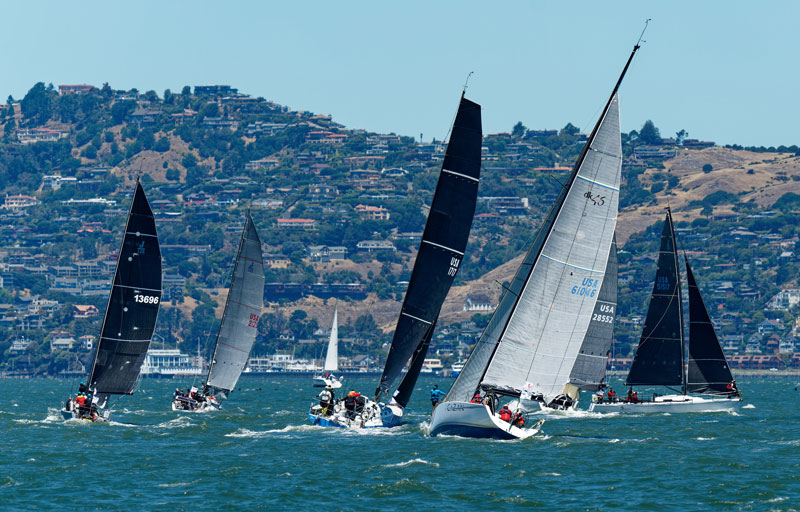 "Going offshore brings new stresses to boat and crew alike. Several of our boats reported minor to intermediate mechanical problems: broken steering cable, jammed halyard, failed checkstay, leaking prop shaft." So starts this morning's Pacific Cup media team briefing.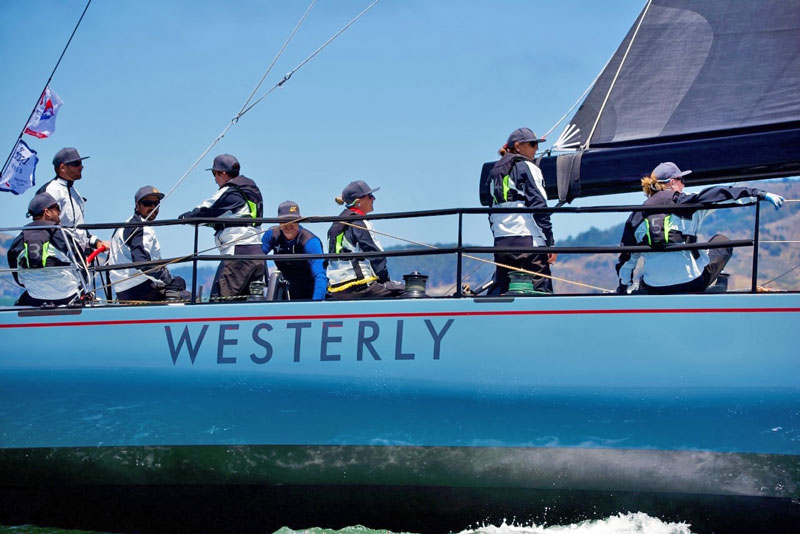 Medical Problem Prompts Evacuation
"Other boats discovered medical conditions that came out underway, severe seasickness being the most common.
Aboard John Wilkerson's Washington-based Express 37 Perplexity, crewmember Kirt Hegerberg developed a bloody nose. "Not a big deal except when it goes on for several days. This became a cause for concern. With [only] basic medical supplies and no doctor on board, Perplexity reached out to our medical team for advice. At first, it was 'Pinch your nose, or pack it; it'll be fine.'
"It wasn't.
"As the situation developed, we put out a precautionary call to the fleet for nearby vessels with better ability to deal with this to be on standby to assist. To our immense satisfaction, several boats responded almost immediately with doctors, medical gear and a willingness to meet Perplexity wherever needed.
"Meanwhile, Perplexity continued communication with the Coast Guard and our Medical Team. Ultimately, the US Navy's Pacific Tracker was dispatched from about 200 miles away to meet up with the stricken crewmember for treatment or evacuation.
"Early Sunday night, Perplexity and Pacific Tracker met a few hundred miles offshore. The 660-ft Navy vessel sent an inflatable over for what the skipper described as a smooth transfer. (From the image of the ship, we're surprised they didn't have a teleporter!)"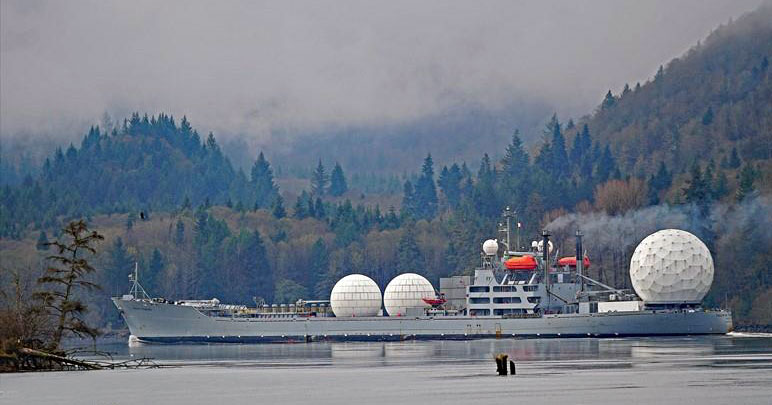 "As of this writing, Navy and Coast Guard are consulting on how best to get the patient to shore. His condition is good.
"Our thanks to the US Navy, Coast Guard, George Washington University, and the several participants willing to interrupt their race to render assistance. With huge thanks from Perplexity as well, which is returning to racing." Paul Kamen of Berkeley is listed as crew on Perplexity, but we'd be willing to bet he's their navigator.
Standings
Check out the latest standings here: https://2022.pacificcup.org/standings. Stuart Dahlgren's Victoria, BC-based Santa Cruz 70 Westerly is ahead of Roy Disney's San Diego-based turbo Volvo 70 Pyewacket 70, though the latter is out in front of everyone according to the YB Tracker. Their division started on Friday.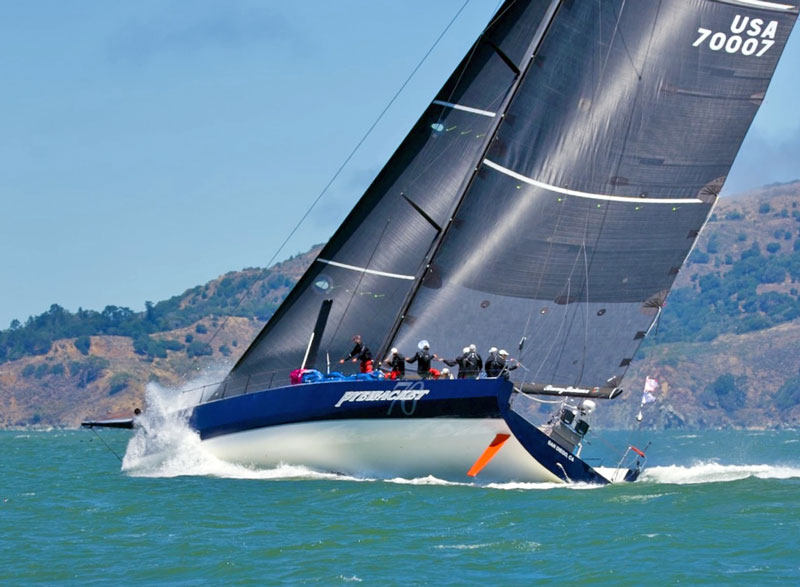 Kahuna and Cassiopeia have joined Wizard and Circe in dropping out of the race. On Saturday, Ronnie Simpson reported that, "Kit Wegman's Islander 36 Cassiopeia has made the decision to retire from the race and head back to port. Going slower than anticipated, the crew could foresee logistical, travel, work and food/water challenges, and has decided to pack it in and head home. All on board are safe, with no problems to report."
You can read texts from the fleet at https://pcup.org/publicfeed.php. Andrew Koch, navigator on the Seattle-based R/P 55 Zvi, filed this report from 32° 46.324′ N 136° 9.133′ W at 8:41 PDT this morning: "Second backdown of the day during the position report. Lots of fishing. Nets, trash, bags, totes and debris. We had a 1/2-in line on the keel and some smaller line on the rudder. Second backdown was a large trash bag clump."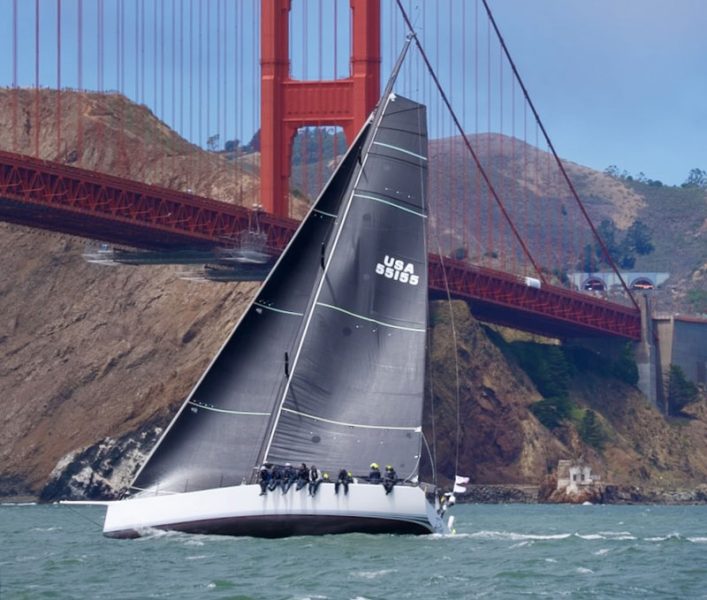 "Seems like our location on the course has lots of debris on it. We dodged a huge fishing net just before sunset and have seen [a] large concentration of fishing related items. Excellent downwind sailing for much of the day with lighter breeze overnight. Lots of commercial traffic, and we finally had a visual [of] a sailboat mast, as we are now sailing through the early starters. Crew is in good spirits and pushing hard to Hawaii."
Receive emails when 'Lectronic Latitude is updated.
SUBSCRIBE