Bernard Girod's well-honed team on the chartered Lombard 46 Pata Negra rocked the world-famous Voiles de St. Barth Richard Mille regatta with a 6-0 record. Sometimes they won big; sometimes they bested the Martinique-based Farr 40 Perseverare Diabolicum by a mere 23 seconds after nearly three hours of open-ocean racing.
The Pata Negra crew excelled in every sailing condition possible, particularly during the first three races, with winds in the 20s and considerable seas. They also managed to keep their focus despite the island's legendary opportunities to party into the wee hours. Not even the often-victorious Puerto Rican Voiles entry Lazy Dog, a Melges 32, could match their stellar record.
The Santa Barbara Yacht Club's Rock & Roll crew was one of just three teams to score all bullets. Charterer Girod normally drives, but because of an injury, former Latitude 38 racing editor Rob Grant filled in brilliantly.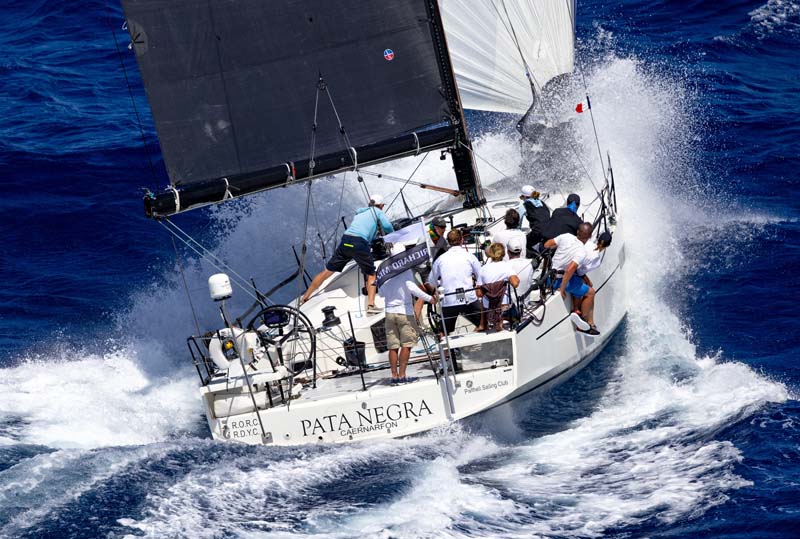 "This was my first time here," said Rob, "and it far exceeded my already-lofty expectations. It's some of the best sailing I've ever done. Being able to race around so many geographical features is really awesome. Shoreside, the parties were unrivaled by any regatta I've been to so far.
"As much fun as it was for me to do a lot of the driving, all of us would much rather have had our skipper Bernard Girod — who won ORR A (and the St. Francis Perpetual) at Rolex Big Boat Series last year with our awesome team — on board the entire time. When he returned on the final day from a back injury suffered ahead of our second practice day, he was hitting the numbers we'd worked all week to get to."
The spectacular 70-boat regatta was supposed to be highlighted by the Swan 125 Skorpios and the 100-ft Comanche. That was before Putin invaded Ukraine and World Sailing banned the two speedsters.
As a result, the maxi division consisted of George David's Rambler 88, which took line honors in each race; Wendy Schmidt's Botin 85 Deep Blue; Hap Fauth's JV 74 Bella Mente; and the Ken Keefe-managed JV 72 Vesper, owned by Jim Swartz. Vesper won four of the five races, some of which were 47 rhumbline miles long.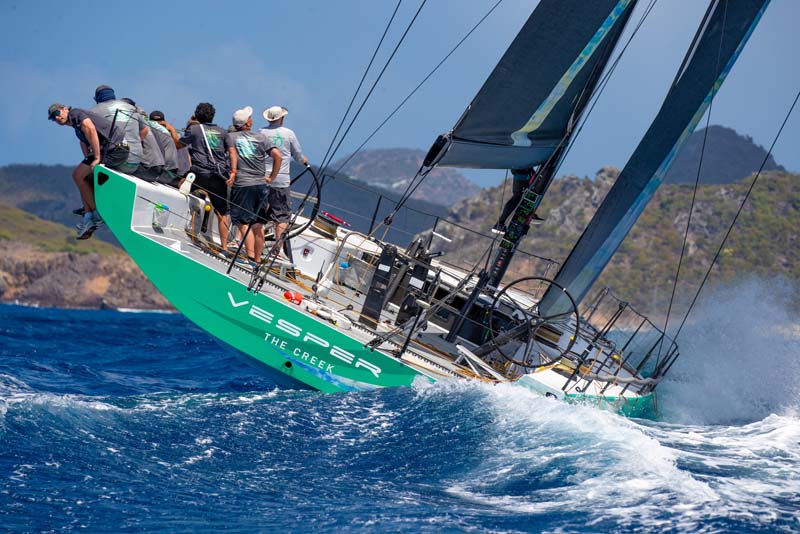 The spectacle of the dueling maxis wowed competitors and spectators alike, as the fastest among them sometimes flew along at 30 knots or more.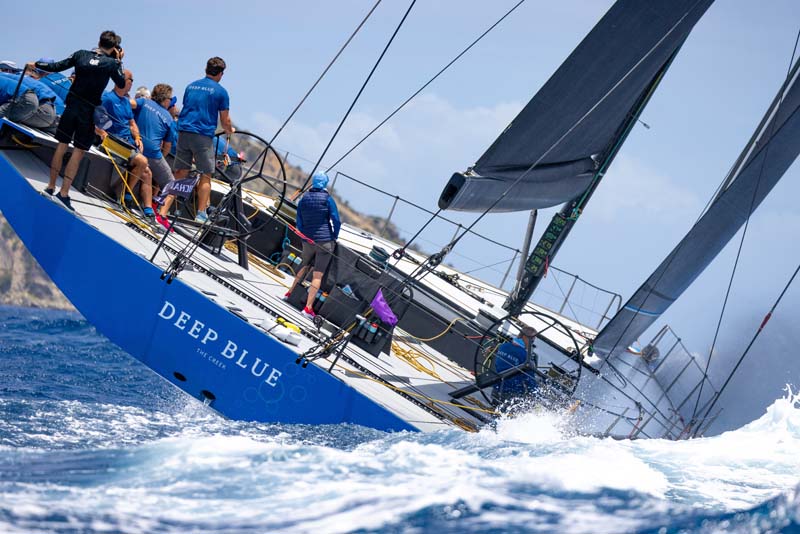 Greg Slyngstad's unique Bieker 53 catamaran Fujin represented the Pacific Northwest. While she finished third in class, Fujin was one of the most exciting sights, flying along with one hull out of the water. Just ahead of Fujin was California sailor David Welch with the beautiful blue HH66 Flash, which came in second in the Offshore Multihull Division.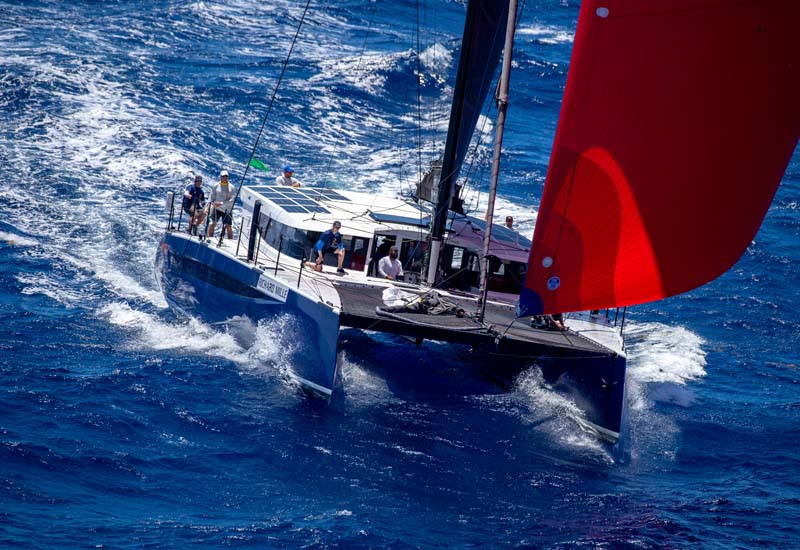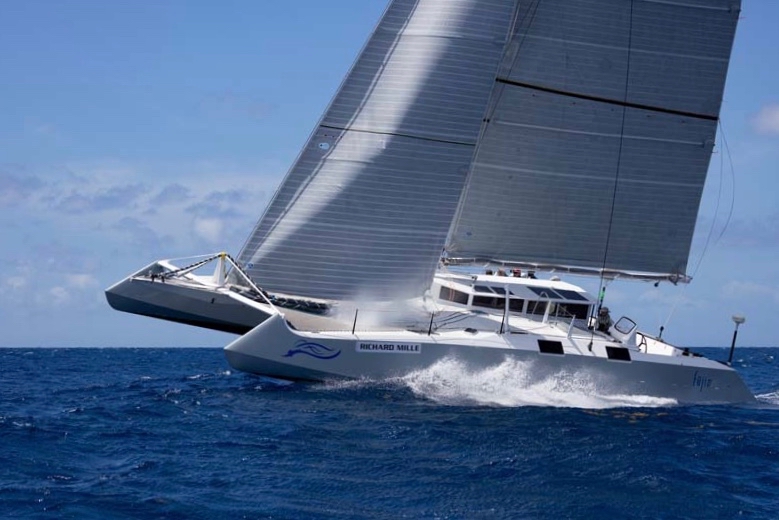 A second Santa Barbara entry, John Vincent and Ken Kieding's chartered J/121 Wings, didn't fare quite as well, regularly finishing in the middle of the pack in her class. Not satisfied, John Vincent vows to return next year with his J/125. Not surprisingly, Girod says he and his Pata Negra team will be back, too.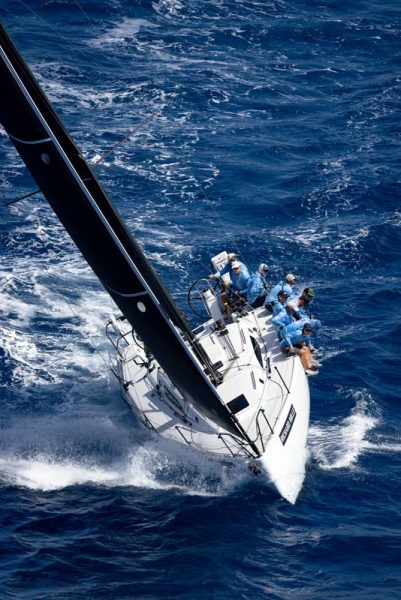 The Voiles prides itself on superb sailing and superb partying. Nobody exemplified the spirit of the duality as well as KJ Paradise of Pata Negra. KJ is the captain of the owner's yacht in Santa Barbara. Not only was she a very active floater on the all-bullets Pata Negra, but she "won" the Nikki Beach layday party by being: 1) the only woman to dive for and retrieve a champagne bottle; 2) the dynamic ringleader of several women's tug-of-war teams that bested the men; and 3) the first to dance on the tables. Voiles poster girl!
The written word and still photographs are inadequate to capture the excitement and glory of Les Voiles. You're cheating yourself if you don't check out the videos at https://lesvoilesdestbarthrichardmille.com.
Receive emails when 'Lectronic Latitude is updated.
SUBSCRIBE