For whom does the bell toll? For those looking to hit the shores of Treasure Island to go sailing after 2024, it may toll for thee.
For more than 10 years, city planners have been considering a toll to enter and leave TI as a way to "subsidize more transit options in preparation for an expected population boom over the next decade," the San Francisco Chronicle reported, referring to the proposed 8,000 units set to be developed on the man-made island between San Francisco and Oakland. Planners say they hope to reduce traffic congestion by discouraging driving to the island, and pay for more public transit options as Treasure Island continues to grow. (When we wrote about the toll last year, we said that there were plans to subsidize some of the development itself with the tolls. That does not appear to be the case, but if you have evidence to the contrary, please let us know.)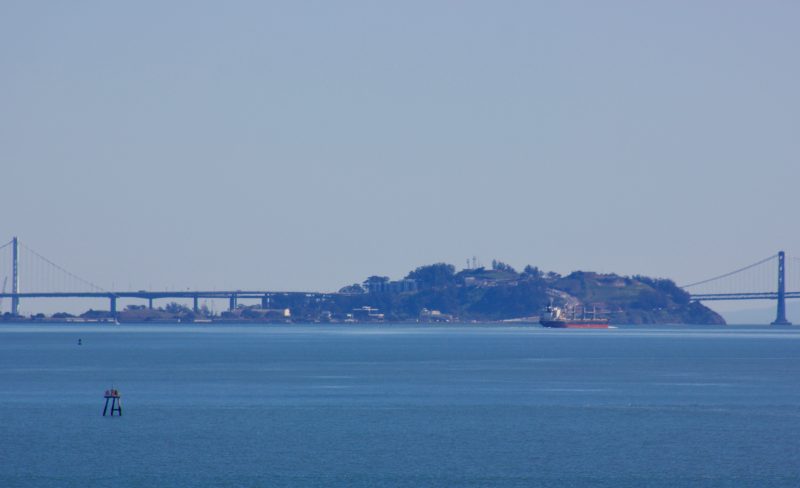 The proposed toll has caused an uproar in the sailing community, with fears that additional tolls could make sailing out of Treasure Island cost-prohibitive. There is a petition circulating, and sailing and access advocates are urging people to write the San Francisco Board of Supervisors to oppose the toll. (Links will be provided below.)
The proposal calls for a $5 toll each way onto and off Treasure Island at peak hours during the morning and afternoon commute; a one-way toll for off-peak hours on weekdays and weekends would cost $2.50. (Don't forget that there's already a $7 bridge toll westbound from Oakland, so someone from the East Bay going sailing at TI during peak hours could potentially pay $17 for a session.) Access to Treasure Island via car would be free between 8 p.m. and 8 a.m. on weekends, and 7 p.m. and 5 a.m. on weekdays, the Chronicle said, adding that exemptions from the toll will abound. "Residents who've lived on the island since 2019 will be exempt from having to pay the tolls, though new residents would not. The tolling plan also includes discounted rates for 'moderate-income' and 'low-income' motorists. The tolls wouldn't apply to motorists who make less than 55% of the region's median income."
And what about sailors?
"A toll of this magnitude would dismantle the community that we have worked hard to build over the past 20 years," said Carisa Harris-Adamson, the chair of the board of directors at the Treasure Island Sailing Center. A nonprofit, TISC said that their mission is to provide access to the Bay and to sailing for people of all ages, races, ethnicities, genders, and sociodemographic backgrounds. "We provide low-cost education and recreation opportunities to children and youth in our community. Between 50-100% of our families receive partial and full scholarships; many would not qualify for the toll subsidies. The current toll structure amounts to $10 per trip to visit TI, and $20 per day to drop off a child that is attending camp."
TISC said that while they "support increasing access to safe public transportation on and off the island from both San Francisco and the East Bay, the implementation of a costly toll presents some real challenges that need discussion and problem solving before its approval and implementation.
"Therefore, we respectfully ask that the toll as proposed not be approved at this time."
The change.org petition against the Treasure Island toll alleges that the proposed fee "violates the State Land Grant that gave TI to the city; it violates the Final [Environmental Impact Review] that specifies how TI can be developed; it violates the BCDC permit that clearly stipulates that recreational users have free and unrestricted access to the waters at TI; and it violates AB 981 [the Treasure Island Transportation Management Act] that requires clear benefits to those that pay the toll."
According to The Frisc, the SF Board Sailing Association also said that charging recreational users violates a state law enforced by the Bay Conservation and Development Commission. A BCDC staff member wrote a letter to toll planners explaining that they "may need a BCDC permit or permit amendment for the tolls." We reached out to determine what permits were required, but have not heard back.
In our quick-and-dirty analysis, we are not prepared to say what is or isn't legal, and we suspect that the answer will come after lengthy and expensive deliberation among lawyers.
It might be easy to feel an automatic, righteous outrage against the proposed TI toll. (That was our first knee-jerk reaction.) And when it comes to TISC, we are unequivocally in support of ensuring affordable, easy access to sailing. Surely there's a way to exempt or greatly discount people going to and from the Treasure Island Sailing Center. (We're thinking about instructors and employees, too.)
But we recognize that there are tolls that need to be paid. It would be easy to be reactively anti-development and bemoan new housing that makes the Bay Area more crowded and more expensive. We know that we need housing, and that we need to manage the estimated increase of 1.1 million more automobiles by 2040, according to the Sierra Club. We think Treasure Island would would be a cool place to live. And we think traffic sucks, and that people should drive less.
Unless it's windy, of course.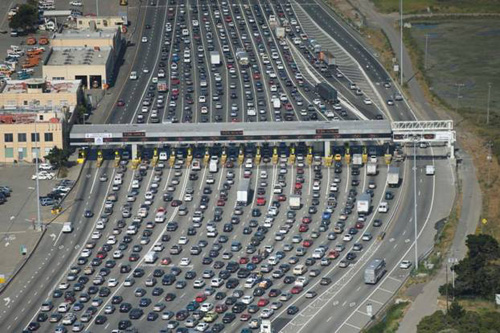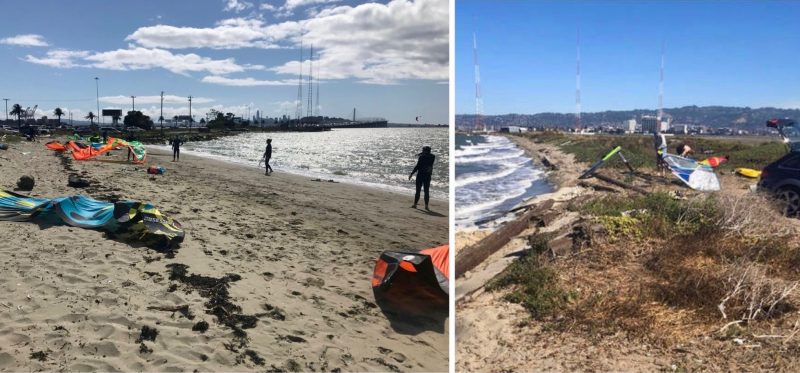 This writer drives about 4,000 miles a year chasing wind, and crosses a bridge almost 100 times a year. Both those miles and that amount of toll money, are relatively low, but that's still a lot of single-occupancy-vehicle miles to go sailing.
We also unequivocally support sailors of all stripes, especially 'boarders', and providing them with affordable access to the Bay. Is there an easy way to exempt sailors from excessive tolls — maybe a high-frequency pass? (Then we'd have to assume that every new resident of Treasure Island will take up windsurfing so that they qualify for the pass.)
Unless anyone wants to support strict population-control measures or a one-child policy, we have to recognize that every person, whether recreating or commuting to work, is part of the maddening crowd. Who is going to make sacrifices? Who is going to pay the toll?
Here's a link to the change.org petition.
The Treasure Island Sailing Center is asking people to write their San Francisco Board of Supervisors representative and urge them to vote no on the proposed TI toll. TISC said they're asking for "safe and economical public transportation for kids, reasonable accommodations for parents who have to drop off young children, and annual passes for staff and volunteers who use the island frequently."
Receive emails when 'Lectronic Latitude is updated.
SUBSCRIBE