It's been over a week since we returned from our annual pilgrimage to the Annapolis Sailboat Show — annual except for last year. Returning this year was once again a rewarding and reinvigorating experience. Annapolis is a beautiful town, rich with sailing culture, October is an ideal time to visit, and most of all, the show is packed with sailors, vendors and sailboats to inspire and fulfill any sailing dreams.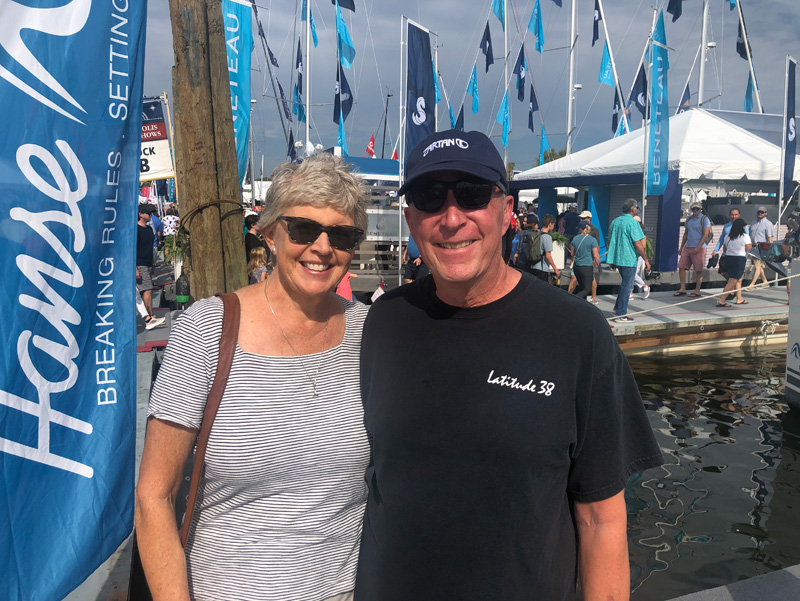 You run into people from all over the country and all over the world. And we were sure we'd encounter some Californian sailors when we ran into Kevin Miller, wearing a black Latitude 38 T-shirt. Once again we were reminded: Never make assumptions. Kevin travels to San Francisco on business and started enjoying reading the magazine and continues to follow it on 'Lectronic Latitude regularly. This while he and Alice enjoy their summer sailing on Lake Erie in Ohio.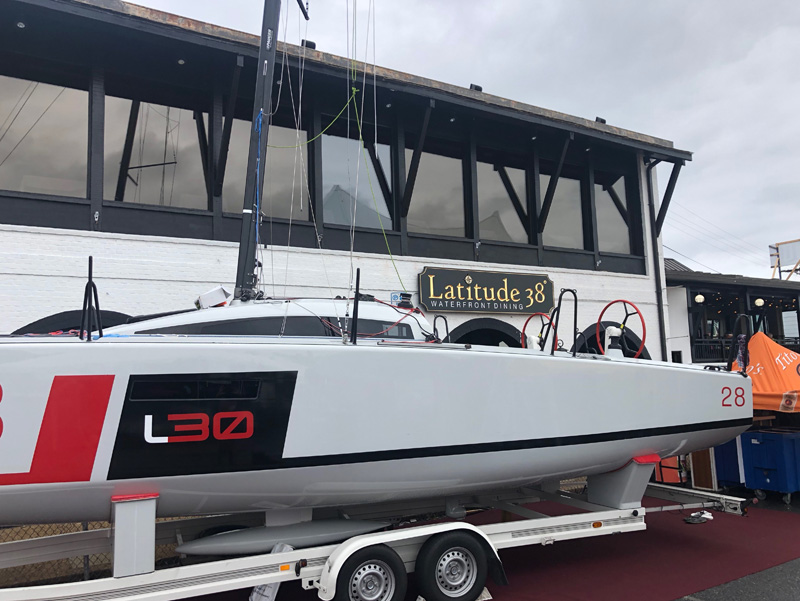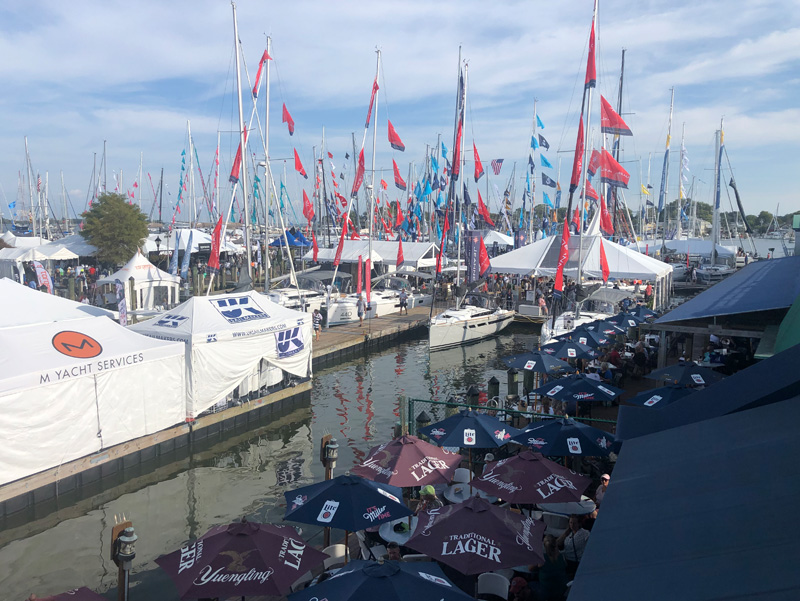 Monohulls still outnumber multihulls, but there were plenty of both, and mostly they all come in large and extra-large. There were some small boats from Zim, Topaz, Hobie, Melges and RS, but the trend toward big, fancy cruising boats continues with boats from Oyster, Amel, Royal Passport, and Hylas (pictured below), plus mid-size to large, beautiful boats from all the major production boat builders.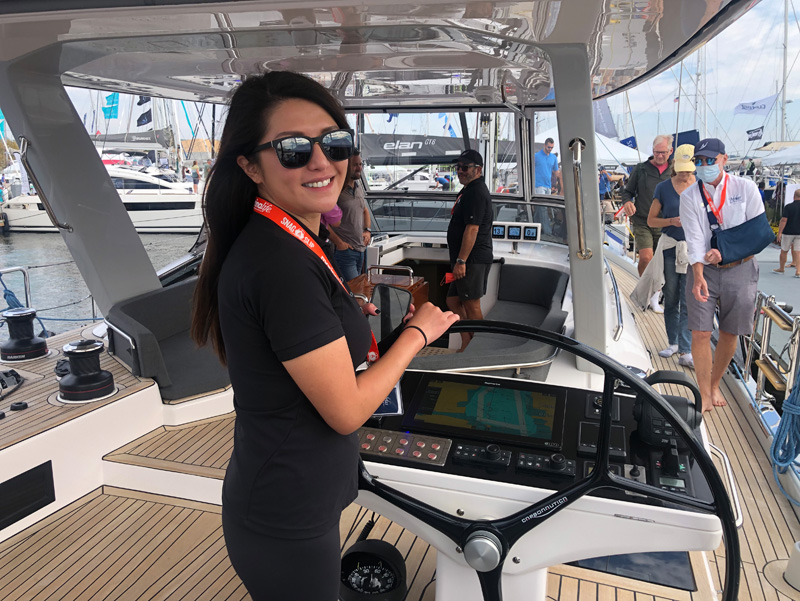 Last year's cancellation only made the show more refreshing and rewarding this year. We spent four days walking the docks, tents and booths, confirming the accuracy of the headline news — sailing is very popular, demand for boats, gear and equipment is strong, and the primary constraints are the supply-chain issues of finding people, materials and distribution to deliver the finished product to waiting sailors.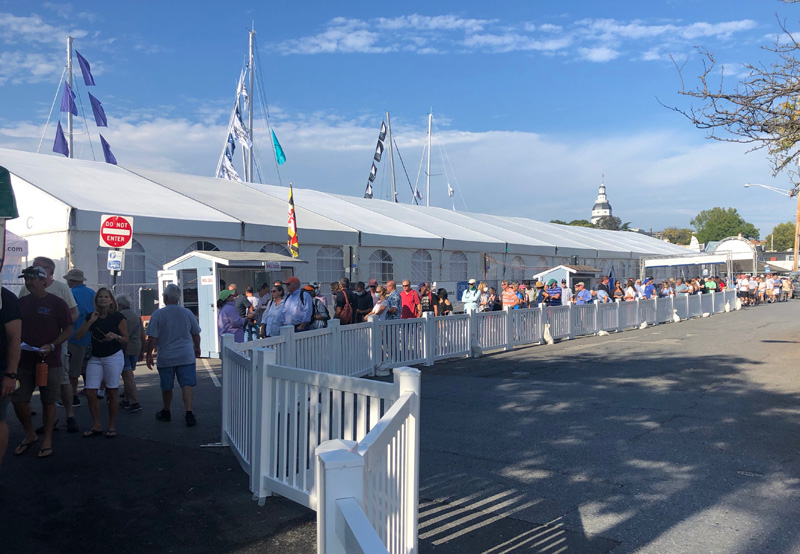 Aside from a late-afternoon rain squall on Saturday, October 16, the weather this year was perfect. The lines to get into the show each morning stretched down the street, and the lines to board a boat stretched down the docks. Dealers and manufacturers were taking orders for boats, with many of the deliveries scheduled a year or two, or more, in the future. Nonetheless, new boats are being ordered and delivered.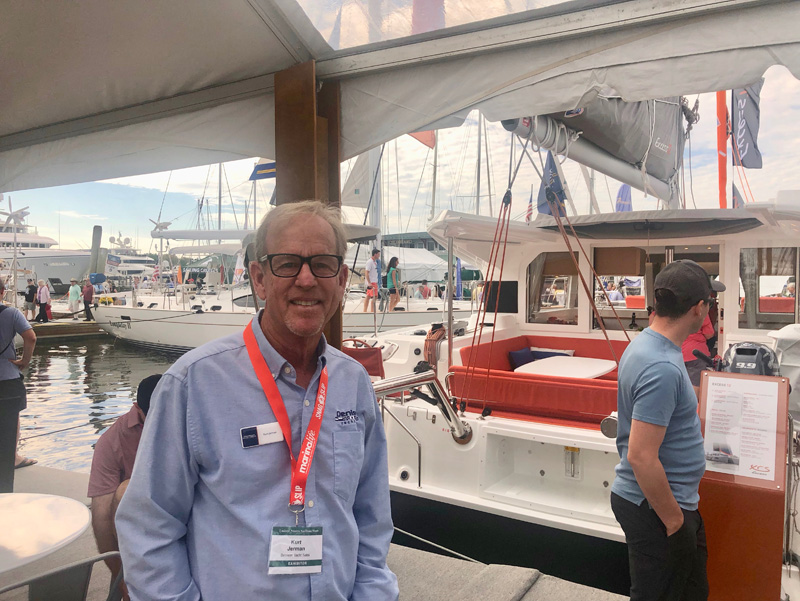 Most of the world's charter locations are also reopening. Charter companies report strong demand as health protocols at most destinations are now traveler-friendly, and charter weeks have been booking fast. Russ Goedjin of Shelter Bay Marina in Panama, pictured below, reports that Panama has changed their chartering laws so that at some point in the future there may be more chartering opportunities there.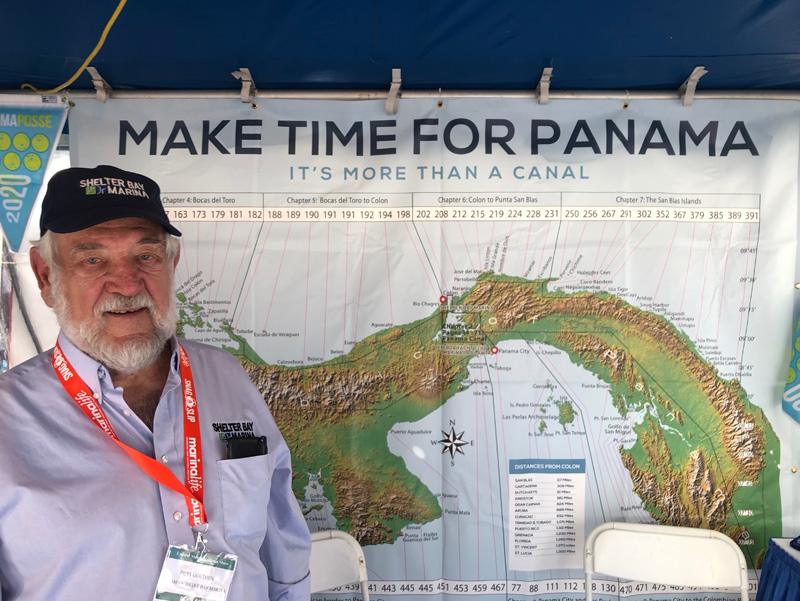 The pandemic's silver lining for sailing was on full display in Annapolis, with current owners upgrading their now more active boats, while many new and younger sailors were looking to expand their sailing horizons with new boats. Once again, Annapolis refreshed our enthusiasm for sailing.
Receive emails when 'Lectronic Latitude is updated.
SUBSCRIBE