On Monday we shared the story of the old wooden vessel Suisun, which sank in Richardson Bay  during a gale-force windstorm in late January. The story stirred up memories of Suisun's better days, during which she was a frequent member of the Bay Area's social fleet. Suisun was built in 1914 and no doubt holds a lot of memories for many. Local sailor John 'Woody' Skoriak was one of the people who had firsthand encounters with the old boat in her glory days — he sent us his recollections.
"Among all the boats that have sunk these last few months, none has been sadder for me than the news about Suisun."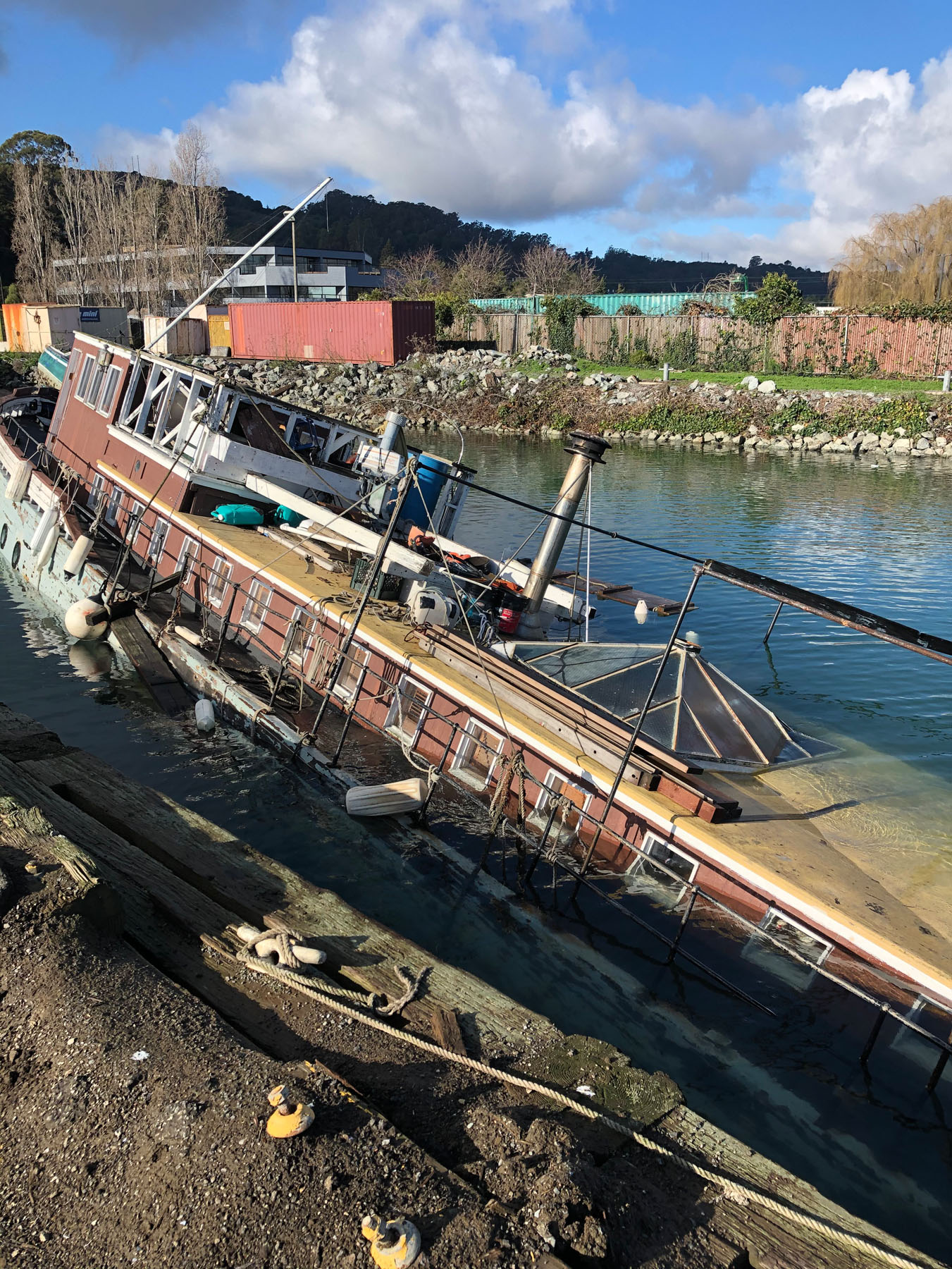 "I was involved in the original restoration of Suisun many years ago in the mid-1980s, and crewed for her caretaker/restorer, Paul Stevenson. After Paul restored the boat we held a celebration and re-launch, and then gave complimentary charters aboard her on many weekends and special events — mostly with Sausalito Yacht Club members and VIPs, and for events like the America's Cup practice trials and photoshoots, etc.
"Paul was a great boat operator but did not have a Coast Guard license. Surveyor Bruce Martens also operated the boat quite often, but did not have a Coast Guard captain's license either. So I would be on board for the license and to be 'mate' but mostly just to have a load of fun. We had great parties on the boat, and great times.
"During that time I was working as a yacht broker at Edgewater Yachts, and Paul worked there with me for several years. Paul was trying to sell Suisun after its restoration, but we used her for years. It was a fun boat, and we had a whole team of 'engineers' who had to come every time we went out and oil the Corliss 4-cylinder gas engine that was as big as a car. It was an amazing engine. [Latitude 38 writer John Riise tells us Suisun's engine was "a six-cylinder something or other" and "each of the cylinders was fed by a single carburetor from a Model A Ford … the engine room seemed to take up half the boat."]
"Suisun had been built for the US Army Corps of Engineers as a Delta and Bay survey boat. But no expense was spared to build the boat. It was much more of a yacht than a working, commercial survey vessel. In fact, her original upholstery was mohair, and we replaced it with the same during the restoration.
"Suisun later had a fire on board while hauled out at Stone's Boatyard Alameda, and the insurance did not cover the cost of repair. The boat languished until Paul finally found a buyer. There were many unsuccessful attempts to restore the boat, including one very amateurish and ill-equipped attempt by a Bay Model employee, which ended up with the first sinking of the boat. It seems it's been downhill ever since.
"Paul and I were also involved with the 92-ft Blanchard-built fantail motor yacht Wanda, which has been shuffling between marinas and berths for the last few years, with attempts to restore it while chartering it. We sold Wanda several times (bank repo) at Edgewater, and Paul did years of restoration on it for an owner named Bill Kelly, who had an insurance company and had his whole office on the boat. We also took Wanda out almost every weekend during good weather for a few years.
"Suisun and Wanda were both berthed downtown at the Sausalito Yacht Harbor.
"I worked with a lot of classic wooden yachts in those days, and at the same time, I was mate and relief skipper on Fair Sarae, which Bill Bodle bought, restored, and re-named Eros. Fair Sarae was also in main harbor Sausalito, but was too big for inside so had to moor on the outside wall where the tugboats were. Fair Sarae was 103 feet long, without the bowsprit that Bill Bodle added on Eros."
Suisun was also mentioned in Latitude 38 in October 1986. You can read that story here in our archives.
Receive emails when 'Lectronic Latitude is updated.
SUBSCRIBE