The Singlehanded Transpacific Yacht Race had been scheduled to run in summer 2020. But the Singlehanded Sailing Society had to postpone it until 2021, mostly due to quarantine requirements on the Hawaii side. The race finishes in Hanalei Bay on the north shore of Kauai.
Race chair Brian Boschma shared news of the race's future during a Zoom meeting for SSS sailors on December 3. He said he'd heard from a number of the 2020 registrants that they were coming back, with some additional people interested, for a fleet of perhaps 25 sailors. However, "We're not through the COVID waters yet," explained Brian.
"The plan is to sequester boats on June 18. Traditionally, that's been at the Corinthian Yacht Club. The start of the race would be June 19, with the startline at CYC in Tiburon. I expect the first arrival to be about June 30 in Hanalei Bay. It depends on the boat types. If we get some ultra lightweight, super-fast Moore 24 or something, maybe it'll beat that time. The committee on site at Hanalei Bay will probably arrive on June 29. The awards ceremony is currently scheduled for July 10 at the Nawiliwili Yacht Club, which is a bit of a drive around the island. There's also a bus that runs wonderfully around the island; it gets you over there in about an hour and a half. I've used it a few times. The final rules and communications plan will be available near the end of December."
Regarding the pandemic, Brian said, "On the San Francisco side, we could possibly not have access to the yacht harbor at CYC other than the startline. If they can't have group meetings and such, I don't think they're going to want us in there with our boats. The departure luncheon, which we've held at CYC in the past, and sometimes at restaurants in the area, could be impacted if we still have COVID restrictions. And boats may not be sequestered at all at the CYC docks. So we might have to think through our strategy on sequestering or not sequestering. There is a lot of value in having all the boats get together. I notice a lot of people help each other that last day. And I think they would be a missing part of the race if we can't do it."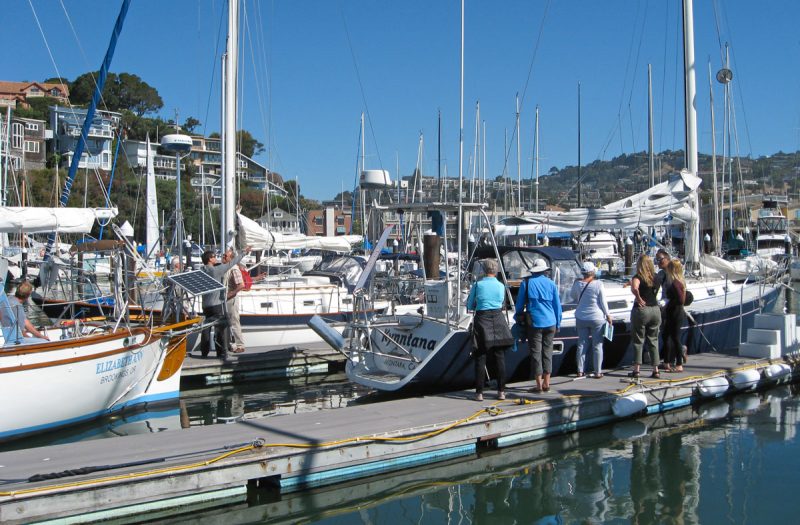 Brian spoke with the authorities in Kauai. "Kauai is under stricter restrictions than the rest of the islands. They're currently under a 14-day quarantine restriction for anybody arriving from out of the area, which is pretty strict. They don't want you to leave your hotel or home. And they enforce it. They have roadblocks on the island, and they check people driving along. Will that be lifted? I talked to the county administrators today on the phone about it. And they said, 'Call us in February, because we have no idea.' Beach-going or beach gatherings are limited to five individuals. Large gatherings are completely prohibited, so that if that's still in place that could be a complication for our tree meetings and get-togethers at a little house we rent near the beach. The awards ceremony in the traditional manner potentially could not be held."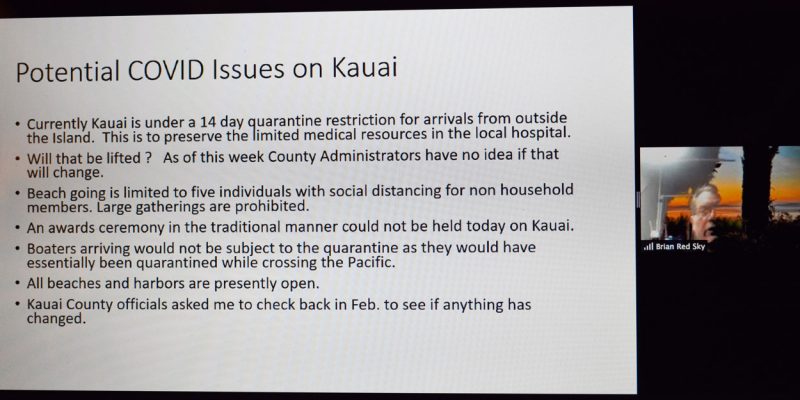 "In summary, we're moving forward with planning; we expect to run the race. If restrictions in Hawaii are not lifted with regards to the 14-day quarantine period, I personally see this as a big problem because people who come to greet the racers are likely to not want to go over there and spend 14 days sitting in a hotel room or house. I think that this is one of the big sticking points we had last time, which was we just felt it wasn't feasible to do the race because of the impact it had on the non-racers as well as the racers. Additionally, that impacts the race committee. It would imply that the race committee has to go over there two weeks in advance and sit around."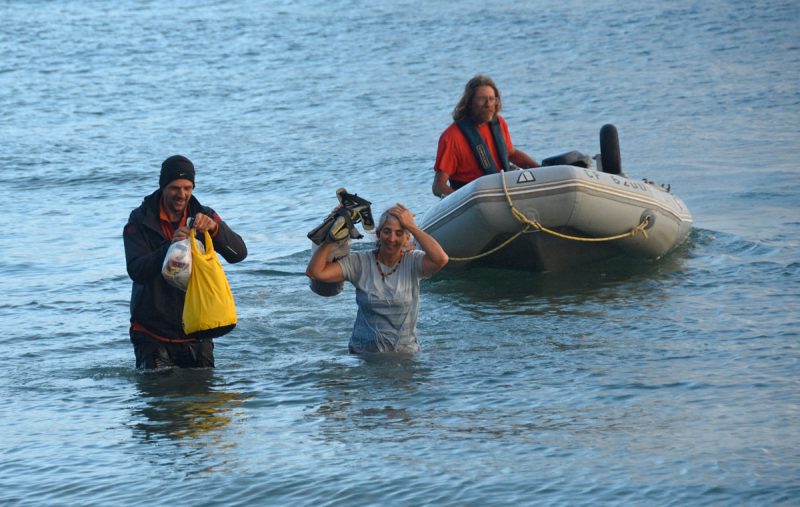 Brian explained that although other islands in Hawaii have a system of testing within 72 hours to allow visitors to enter without quarantining, Kauai has tighter restrictions, as their hospital is very small. He plans to make a final decision by March 15. "There's some other alternatives. We could have a no-race committee finish and a self-managed finish line where individuals record their time. And we can track how close you were to that with satellite data. But that's only good to about a 10-minute window. I think the first couple races to Hawaii were done like that." (Without satellite tracking in 1978.) "We talked about that this year, but no one seemed excited about it." Another possibility would be to go down the coast or go out in the Pacific and turn around and come back. "And then of course, we could delay the race to another season."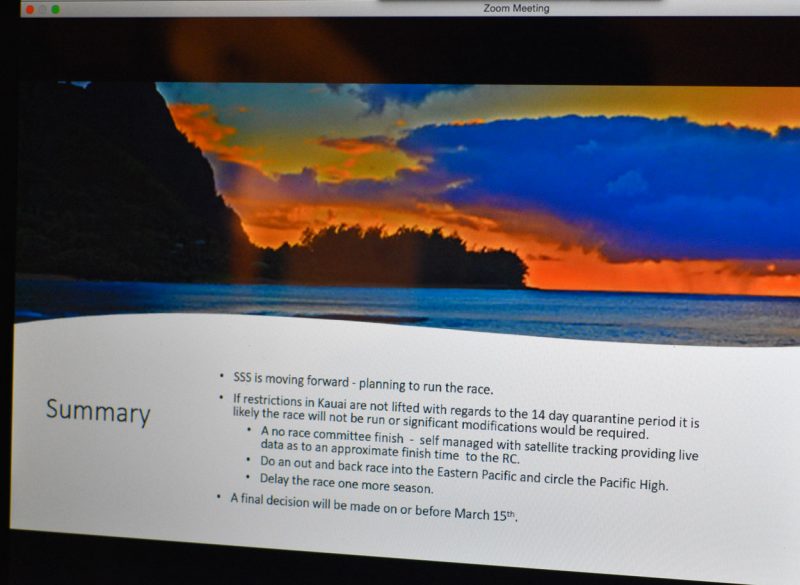 Moving the SHTP from even years to odd years seems like a good idea. "It gets this race out of the shadow of the Pacific Cup. There are racers who would like to do both. If we have to delay again, we'll have to have a discussion about whether we do races two years in a row to hold the odd year planning. The LongPac would shift as well." The Great Pacific Longitude Race is a 400-mile qualifier that runs on opposite years from the SHTP.
The Pacific Singlehanded Sailing Association, based in Marina del Rey, had planned to run their Shaka Challenge simultaneously with the SHTP, finishing in the same place around the same time, and sharing the awards ceremony in Nawiliwili. That is still a possibility.
We'll keep you posted on further developments on this and other significant races for West Coast sailors. In the meantime, we're looking forward to the first race of the 2021 SSS season, the Three Bridge Fiasco on January 30.
Receive emails when 'Lectronic Latitude is updated.
SUBSCRIBE