If you've had a chance to take a look at the September issue of Latitude 38 yet, you may have seen the story about the new Moore 33. The story's in Racing Sheet on pages 88-89. Or, maybe you saw the announcement right here in 'Lectronic Latitude on August 14.
Alan Andrews designed the Moore 33, and Ron Moore plans to build a fleet of them at Moore Sailboats, Inc., in Watsonville. Readers commented on the August 14 post, asking for more information. Moore Sailboats, Inc., wasn't quite ready to share the particulars, including the drawings, at that time, but they are now.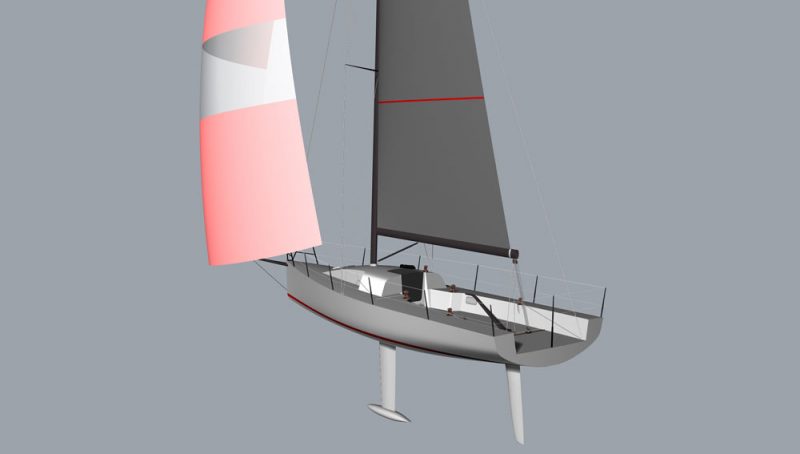 Herewith are the preliminary specs:
| LOA | 10.06 m | 33.0 ft. |
| --- | --- | --- |
| LWL (empty) | 9.00 m.  | 29.5 ft. |
| Beam | 3.05 m. | 10.0 ft. |
| Draft | 2.29 m. | 7.5 ft. |
| Displacement (empty) | 1,700 kg. | 3,750 lbs. |
| Ballast | 680 kg. | 1,500 lbs. |
General Comments
The Moore 33 is designed for inshore one-design or handicap racing, plus point-to-point and offshore racing such as in California Offshore Race Week, to Cabo, in the Pacific Cup or in the Transpac. It can be trailered home from long races and crane-launched from dry storage.
Auxiliary propulsion will be supplied by a retractable outboard engine housed in a dedicated well under the cockpit. The system includes a fixed, plumbed fuel tank and appropriate controls.
This boat is to meet US SER requirements for Offshore Racing, with the addition of optional equipment, and is to be built to comply with ISO 12215-5, 12215-8 and 12215-9 construction standards and ISO 12217 stability standard for Category A Offshore.
Rig
The rig is a fractional sloop with a non-overlapping jib and two sets of aft-swept spreaders as shown on the sail plan.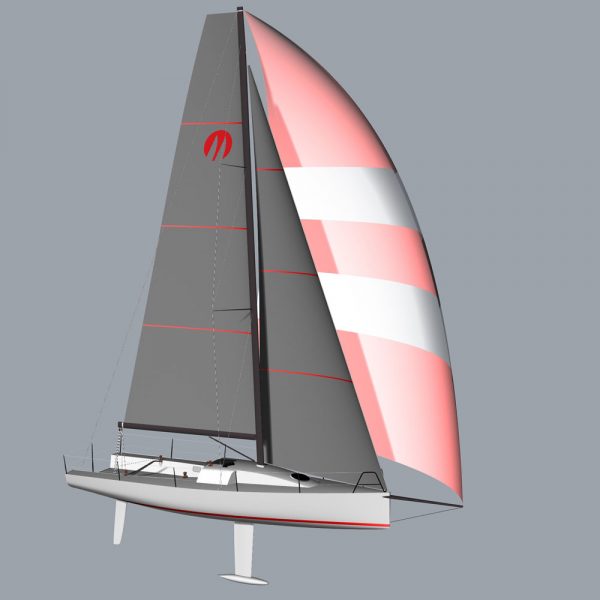 Lightweight un-tapered boom.
Carbon removable bowsprit fit with two bolts to hull near shear.
Single tack line at outboard end of sprit for buoys racing with provision for optional second tack line for offshore racing.
Bobstay with attachment on stem about .22M (9 inches) above waterline. Lashing attachment to tighten bobstay.
Keel, rudder and steering
Retractable keel fit with a bulb cast from lead with 3% antimony as hardener.
Spade rudder with carbon fiber rudder stock, foam core and carbon and fiberglass skins and tiller steering. Rudder bearings secured in fiberglass tube bonded to hull and cockpit sole.
Deck
Deck framing to include:
Foredeck transverse ring frame
Cabin house edges
Cockpit support from retractable outboard enclosure
Traveler, partial bulkhead and rudder tube.
Deck, cockpit and transom exterior surfaces to be off-white molded gelcoat with post-applied or molded-in nonskid.

Interior surfaces of the hull and deck to be smooth with no rough edges and covered with clear polyurethane sealer.
Interior surfaces of molded components to have an off-white molded gelcoat finish.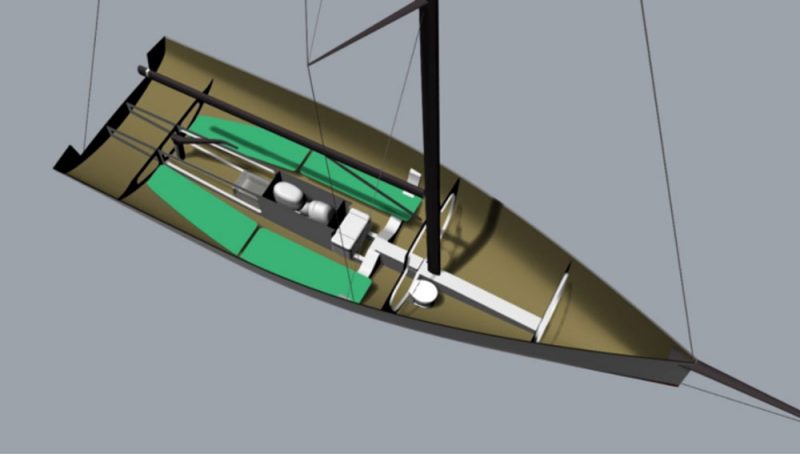 Latitude will keep our eye on this new boat under development. In the meantime, contact Blaine Rorick, the president of Moore Sailboats, Inc., at (909) 754-4487 for more info.
Receive emails when 'Lectronic Latitude is updated.
SUBSCRIBE