Better Late Than Never, Potters
Timeliness, shimeliness. Just over a week ago, Goose Gossman sent us a wrap- up of a Potter Yachter regatta in the North Bay. Because of a combination of fussy technology, deadlines and a certain boat show, we've been tardy in passing along the news. But hey, BLTN (Better Late Than Never). We tip our hats to the Potter fleet, which has a strong Bay Area following.
Last weekend's [April 14 and 15] outing fielded twelve boats, the weather was glorious, and the winds cooperative in the Carquinez Strait. While it shut down shortly after we transited the trio of Benicia bridges, we were able to view the last few ships of the Mothball Fleet in Suisun Bay for perhaps the last time. Friday we were welcomed at the Benicia harbor and yacht club and enjoyed some good food and company. Several boats motorsailed down from Rio Vista, and one of the crew members was Singlehanded Sailing Society star Robert Crawford, who's apparently joined a newly formed SSS group: Seasoned Senior Sailors retired in Rio Vista.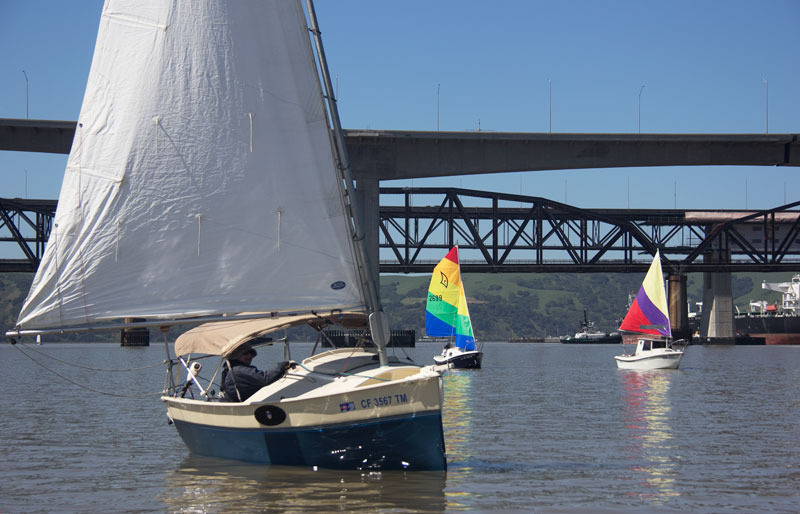 This is a renegade offshoot of the Potter Yachters, which proves that actively sailing into your 70s and 80s is attainable. This year's annual Benicia sail was actually lightly attended, as several regulars were making preparations for an early pilgrimage to the Northwest Messabout. This is the sixteenth year ATUS (All the Usual Suspects) have made the trip, and this time we're celebrating the 90th birthday of Don Person, our wise man Council of Elder. Several wives are even flying up for the auspicious occasion, because, as the saying goes: Potters sleep two . . . once!
Receive emails when 'Lectronic Latitude is updated.
SUBSCRIBE