Nancy and I spent Fourth of July weekend at Angel Island. We pulled into Ayala Cove around 11 a.m. on Friday, and there were already a handful of boats on the moorings. By Friday evening the moorings were completely filled, and boats were being turned away. State Parks opened the moorings on June 29 with the stipulation that rafting was not allowed, however, there were at least five boats on raft-up. We counted as many as 20 boats using the moorings Saturday night.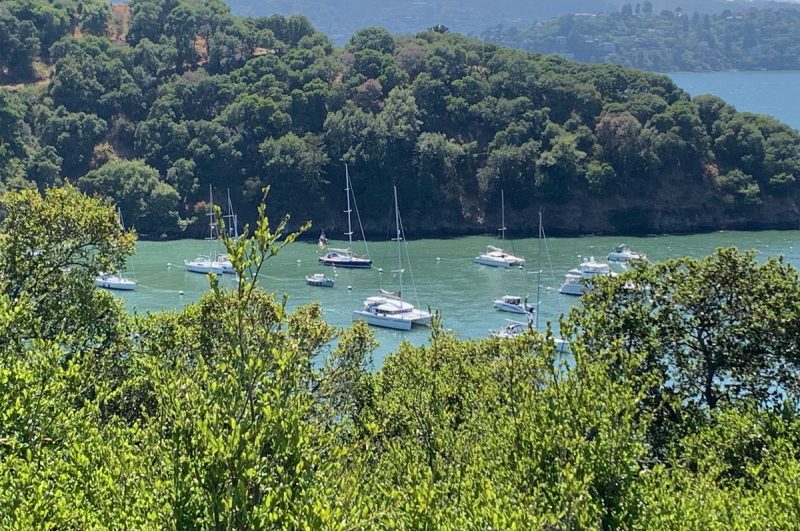 In general, the island was not crowded, as very few people were coming in by ferry. The San Francisco ferry was not running, and our understanding is that the Tiburon ferry is operating by reservation and limited in terms of the number of people allowed per trip. However, the moorings and docks were packed, and many boats trying to get a day slip or a mooring had to look elsewhere. A few boats even tried to anchor in Ayala, but the park rangers quickly told them it wasn't allowed.
The café just opened on Friday, and we saw a few trams leave with a handful of people on them. We talked to one of the café workers who was almost in tears to see all the boats at the docks and moorings.
We walked the perimeter trail on both Friday and Saturday, and it was fantastic, with a wide road to socially distance, few people around, and many deer who couldn't care less that we were invading their island. Plus you cannot beat the 360° view of the Bay as you walk around the island. It was a wonderful weekend watching seals pop up, kids swinging on halyards and people swimming — and just talking with other boaters by social dinghy distance.
We went back this past weekend and spent Saturday night on a mooring. It was funny because we saw four boats that had been there over the Fourth. Same great conditions, and it was just as nice.
We have been visiting Angel for many decades. Here are a few tips for using the moorings and docks:
There can be a pretty big tidal countercurrent in Ayala. Counterclockwise on an ebb, clockwise on a flood. Any ebb or strong flood will create the countercurrent, so take this into account when docking or mooring.
If you get to the docks early, before the rangers clean off all the seal poop, be really, really careful as the docks can be extremely slippery.
The center of the mooring field is shallow. We had early-morning minus tides over the weekend. Our catamaran, 'iliohale, draws 4 feet 2 inches and was sitting on the bottom. If you have a deep-draft boat and there are going to be low lows, then look to moor on the outside balls of the mooring field.
Mooring bow and stern can be a challenge, especially if there is current and/or wind and if the moorings are crowded. Be sure to have long mooring lines available because if the only open spot is in the center of a mooring string (they're color coded), the balls will be pulled in and the distance between them will be greater.
Boats with limited control in reverse should consider picking up the stern mooring first, not the bow. You will have more control in forward than in reverse. Use a poly line that floats for the stern or have someone on the stern line keeping it clear of the prop as you go for the bow mooring.
Spending the weekend at Angel feels like a real vacation. We hope that everyone gets the chance to experience it.
— Gary and Nancy Ryan
'iliohale, Lagoon 450S
Loch Lomond, San Rafael
Readers — For more info about visiting Angel Island State Park, including what's currently open or closed, see www.parks.ca.gov/?page_id=468.
Receive emails when 'Lectronic Latitude is updated.
SUBSCRIBE