When I made plans earlier in the week to sail out of Moss Landing with my friend and mentor George Mckay, I felt a tension ease out of my shoulders that I hadn't really been cognizant was there. Like a lot of you, I had been missing some much-needed time on the water. It was a typical foggy gray when I arrived at Moss Landing and met with George. The breeze forecast was for 10-12 knots, so I was excited that we'd get to test a new-to-us #1 headsail that we had been planning on using in this year's Pacific Cup. George owns Skye, a Capo 30, and, in preparation for the late Pac Cup 2020, we spent many workdays last winter re-bedding stanchions, installing new primary winches, and fixing spinnaker halyards, among many things.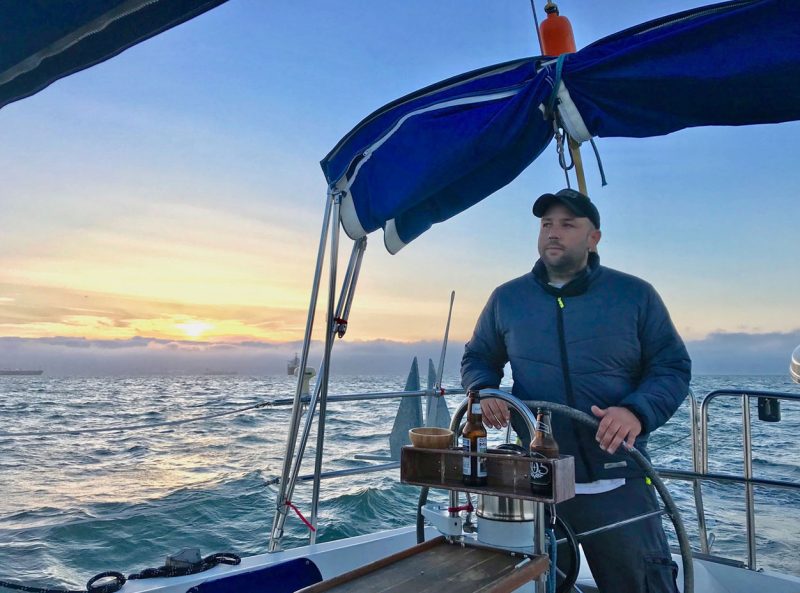 As we began rigging the boat to sail, the atmosphere of Moss Landing Harbor began to sink in. Otters floated by munching on mussels or tending their young, the denizen sea lions lounged or noisily engaged in territorial disputes, and the air was filled with the cries of gulls and the tang of salt. There were certainly fewer people about, but Phil's Fish Market still busily plied their trade in delicious to-go food. Some fishermen sold their fresh catch right off the sterns of their boats. As we exited the harbor mouth, we were immediately greeted with a humpback breaching about 200 yards ahead of us, and I began to feel the gentle rolling of the sea swell.
Sailing Monterey Bay is always a gift. In the past I have been treated to fields of bioluminescence, orcas, dolphins, giant blooms of jellyfish and lumbering mola molas. A mile or two to the south of us, we saw a large gathering of birds swooping and screeching over the scraps left by a pod of feasting humpbacks. We hoisted our #1 and set a southward tack.
I met George when I started racing for the very first time out of South Beach during their Friday night series on a Schumacher 30 called Double Down. In the four years since then, I have worked all of the crew positions with the exception of driving, so as George handed me the tiller we talked of tactics and of the instruments, both natural and artificial, that I have at my disposal to find my best point of sail. Even without Pac Cup this year, George still gave me the time and training to be the most competent crewmember I can be, for both our eventual passage to Hawaii and whatever other opportunities these skills will bring me. I enjoy this aspect as much as the thriving animal community around us.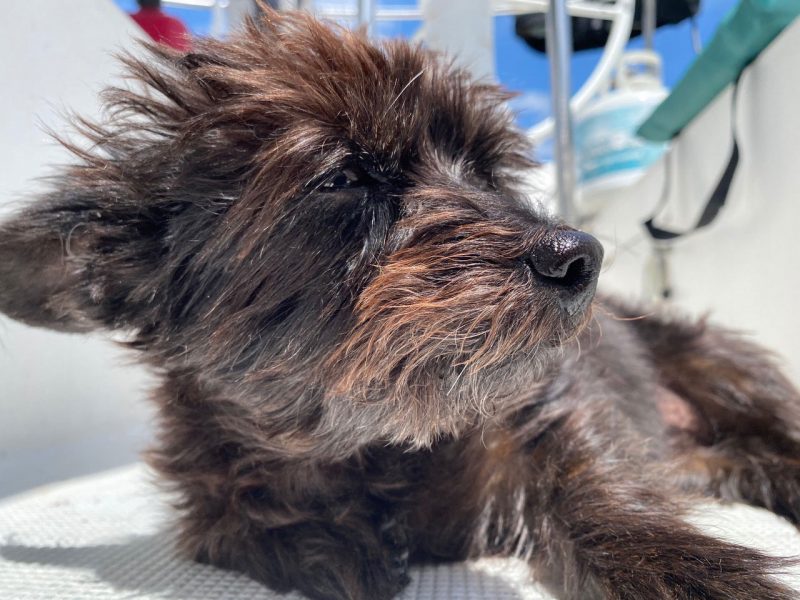 As we neared the point we'd spotted earlier, I was struck by the odd smell of the whales. It's like garlic and dirty socks. Pebbles, my stalwart little seven-pound sailing dog, began to growl as spouts appeared all around us. The resident humpbacks lazily waved to us with colossal flukes that dipped gracefully below the waves as they dived. I felt a sense of harmony in this moment, the boat, the wind, and the life around us in symbiosis. It's a feeling that will always keep me striving for opportunities like this and keeps me thankful for what I have in these troubled times.
Receive emails when 'Lectronic Latitude is updated.
SUBSCRIBE