Treasure Island Will Keep Clipper Cove Beach Open to Boaters
Last year, we heard a rumor that there were plans to close Clipper Cove Beach on Treasure Island to boaters in order to create a swimmers-only zone. As one of the most protected — we'll even say iconic — anchorages in the Bay, dinghy access in Clipper Cove is essential for visiting cruisers and an important part of Treasure Island Sailing Center's summer sailing programs. The beach is also a resource for everyone who lives on Treasure Island, from the multimillion-dollar condo owners to the roughly 20% of the population who are considered low-income.
We are happy to report that rumors of restricted access for boats at Clipper Cove Beach appear to be just that, though sailors should expect to see designated boating and swimming zones in the next few years. That's just one of several compromises that have been made in an attempt to balance development with public access.
There's a lot happening on Treasure Island, from bolstering the land against earthquakes, to infrastructure improvements and new public spaces, to an 8,000-home neighborhood growing in the middle of the Bay. Looming over the future of TI is a proposed toll to enter and exit the island, which could cost as much as $5 each way. San Francisco city officials have told us that the toll is slowly moving forward.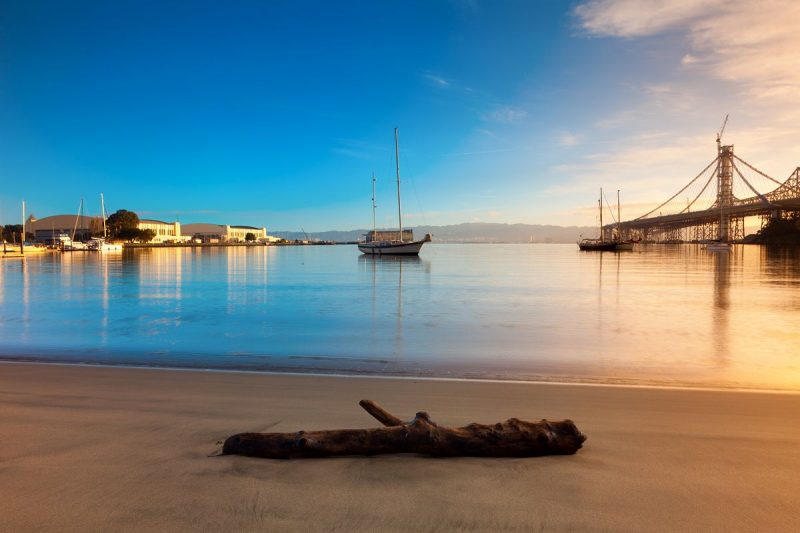 "We understand Clipper Cove's place in the recreational boating community," a Treasure Island Development Authority (TIDA) spokesperson told us in November 2022. "[Clipper Cove Beach] will remain a public-access beach — there certainly is no idea that it would be closed to island residents. If anything, there are significant access improvements. We're always going to have room for everyone — it's a big enough Cove.
"Nothing is set in stone, but we are looking to carve out something on the beach that's free from outboard motors."
The spokesperson said that plans for different zones at Clipper Cove Beach were in the "very early stages," and that Aquatic Park, where swimmers and boaters have lived in relative harmony for years, is being used as a model.
So what about those improvements around Clipper Cove Beach? "TIDA hopes this improved transition point, adjacent to the area where motorized dinghies will still be able to land, will encourage more beachgoers and anchor-outs to access the Island with ease by connecting to an improved sidewalk along the causeway, limiting the need to use the wooden stairs."
The spokesperson said that the stairway will be replaced in the near future; we haven't been to Treasure Island in some time, and we're not sure if that work has begun yet.
The TIDA spokesperson also told us that there are plans to dredge a new channel into the cove, and to possibly excavate a channel through the sand bar near Yerba Buena Island, which will certainly benefit all boaters. There have long been plans and fierce debate over the development and ultimate footprint of Treasure Island Marina; we'll have more on that in the coming months, but one source told us that there's been some discussion about having a transient dinghy dock at the marina for visiting cruisers.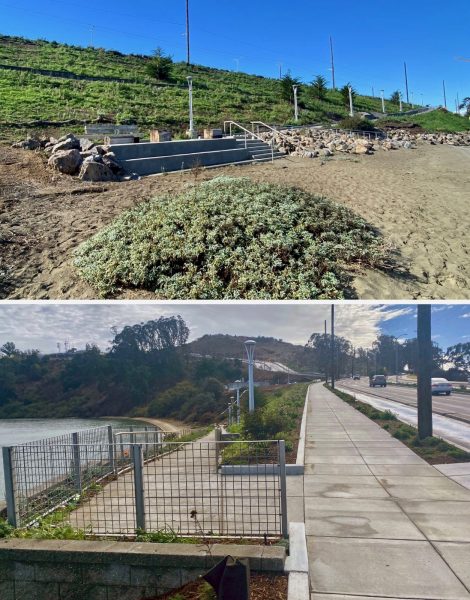 What's it like to be a cruiser anchored in Clipper Cove? In late September 2022, we talked to Marissa and Chris Neely, who were anchored out in Clipper Cove on their Cheoy Lee 41 Avocet.
"We have been accessing the shore via dinghy, locking it up on the beach to a tree out of the way from other beachgoers," they told us. "After three days of nonstop sailing up the coast, it was so nice to anchor in Clipper Cove — which is basically like a lake! The new ferry is $10 round trip per person and is so new it is basically a VIP service to the city. Biking the Bay Bridge pedestrian path on the weekend is also a blast!"
What are the amenities like on Treasure Island?
"We actually rode our bikes to the island market, which had a decent selection of produce and a lot of dry goods. There is also a great bar called Mersea that we unfortunately didn't get to visit because it's closed Mondays and Tuesdays."
According to TIDA, there are plans to put "some sort of concession" in Quarters 10, a former Navy building, which sits above the cove and has been vacant for some time.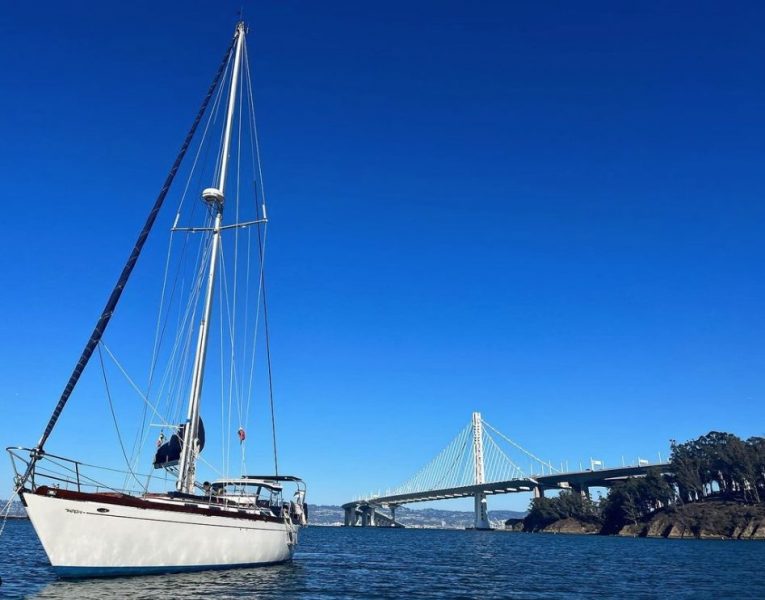 Treasure Island Sailing Center (TISC) Does the Shuffle
"We've had to condense our current site into a very narrow strip along the waterfront and minimize the amount of equipment we have. It's temporary — for anywhere from one to five years — because there's going to be a 35-foot-high dirt pile where we are currently," Doug Paine, the executive director at TISC, told us yesterday.
A giant dirt pile? What's going on at TISC?
In a nutshell, the City of San Francisco is currently working to remove the moisture from the soil to stabilize it for future construction. This is done by first pounding the ground to force water into a moisture wick, and then forcing more water out by compressing it with a large pile of dirt. All of this is an attempt to reduce the risk of liquefaction, where soil becomes fluid in an earthquake, which can cause catastrophic damage to any structure built on top. The waterfront around TI is also being raised a few feet in preparation for sea-level rise. (The man-made Treasure Island was built in 1936-37.)
To accommodate the maintenance, TISC has had to shuffle its operation around substantially. "It's an interesting time to maintain programs, but we're pulling it off," Paine told us. (TISC just hosted a high school regatta last weekend amid rain, no wind, too much wind and maybe even a little snow.) "We've got a signed 66-year lease on our final property location that we'll move to, from 'the strip' — between the riprap and demarcation line — once the work is finished," Paine said.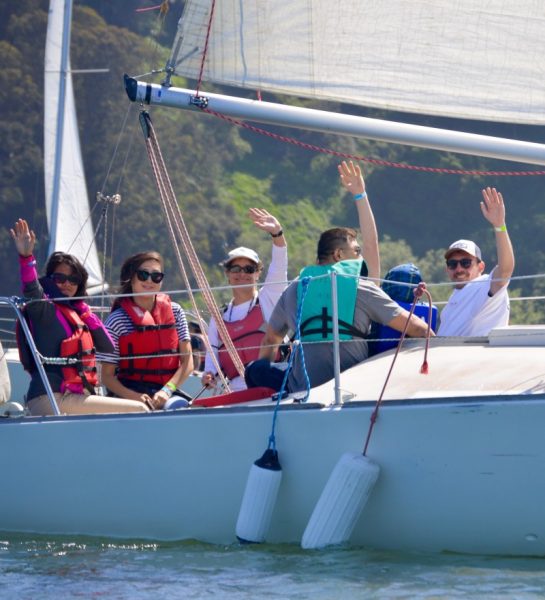 The Toll
Comments from city officials about the proposed Treasure Island toll trickled in late last night. We'll pick up this story, and discuss the latest developments with the toll, in Friday's 'Lectronic Latitude.
Receive emails when 'Lectronic Latitude is updated.
SUBSCRIBE