Regattas to Look Forward to in September
Labor Day Weekend
The 26-mile Jazz Cup to Benicia is on for Saturday, September 4. South Beach YC will run the start near Treasure Island, and Benicia YC the finish. Going a step beyond County of Solano requirements, the city of Benicia has enacted an indoor mask mandate. This requirement is more in line with the rest of the Bay Area.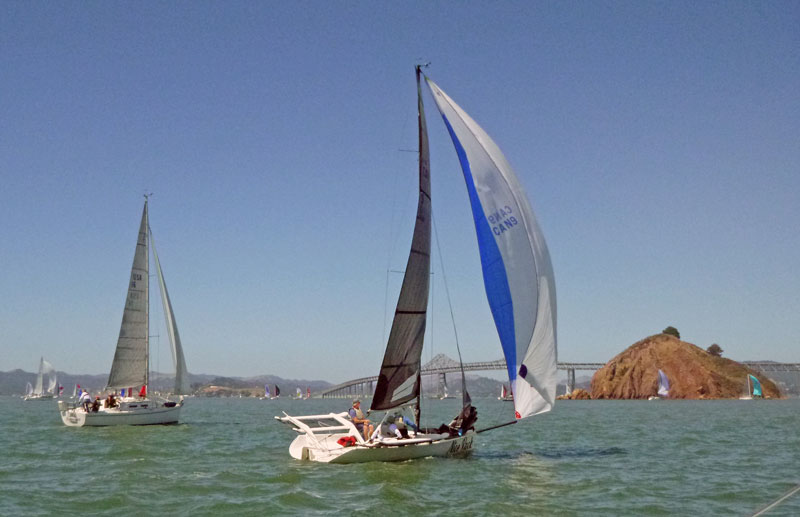 The Berkeley YC-hosted Cal Cup Windsurfing Series will conclude on Saturday.
"We are having the Redwood Regatta at our normal site in Big Lagoon on Labor Day weekend, September 3-5," writes Humboldt YC commodore Bridge Randall. "Camping, food, and of course cool weather guaranteed. Our sailing community is small and a bit ragged, but building enthusiasm. Other than some exciting currents, our little bay is a very safe place to sail. Sort of a micro version of San Francisco Bay."
Looking in the other direction down the California coast, we see the Finn Pacific Coast Championships on San Diego YC's calendar for September 4-5.
Week 2 Regattas
SDYC will follow up the aforementioned Finn PCCs with the Finn North American Masters on September 9-12.
The Tahoe Laser Fleet Championship on September 10-12 features a  Friday afternoon fun sail, racing on Saturday and Sunday, and camping. "Typical breeze on Stampede Reservoir is 8-15 knots with larger puffs," advised Tahoe YC's Rick Raduziner. "The a.m. is calm, and the breeze fills in around 12 to 1 and sometimes later. The Regatta Headquarter Campsite is #71 at Logger Campground." However, the Tahoe National Forest is currently closed due to the disastrous wildfires in the region. "If the closure is extended, we will not be able to hold the regatta at Stampede Reservoir," advises Raduziner. "We are beginning to consider alternate locations, or we may have to cancel in its entirety. Last year our money was refunded in full by the campground when they closed the forest. Regatta fees will also be 100% refunded."
Updated on September 1: The day after we originally posted this story, we received another message from Rick: "It is with a sad heart that we have to cancel the Tahoe Laser Fleet Championships a second year in a row due to nasty and dangerous wildfires. Nearly all California National Forests are now closed until September 17. And may likely have closure extensions if we do not get some rain. Full refunds will automatically be issued for those who booked campsites from the Forest Service, and we of course will fully refund your regatta fees."
The YRA rescheduled the final race in their Summer Series from July 24 to September 11. It's Summer Series #4, the South Bay Races.
The next race in the Singlehanded Sailing Society season will be the Half Moon Bay Race on September 11. This one's for singlehanders and doublehanders.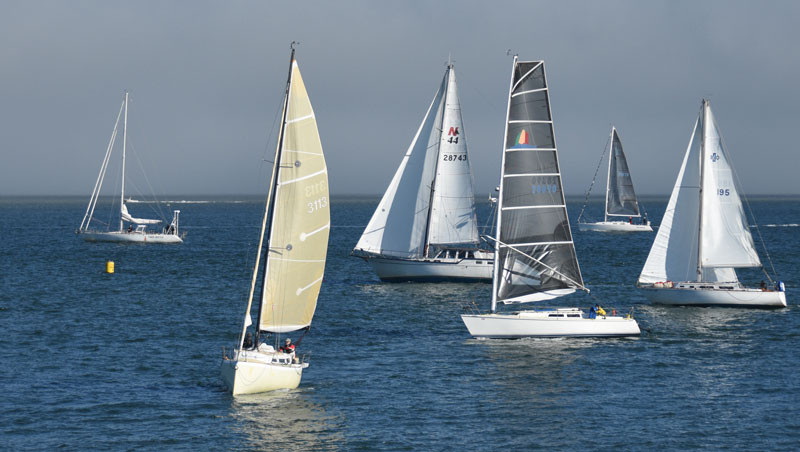 Richmond YC will go Totally Dinghy on September 11-12. A class must have four or more boats registered by Monday, September 6, to ensure it will receive a start. Otherwise, RYC may assign boats to an Open Class. The Provisional US Sailing Portsmouth handicap rating will apply to any Open Class boats. Register by Thursday, September 9, at 8 p.m. Potrero Reach (in the area known as El Toro Cove) and Keller Cove will be the racing venues.
Regattas Big and Small in the Middle of the Month
Long Beach YC will host the prestigious international match-racing regatta, Congressional Cup, on September 14-19.
There's still time to sign up for StFYC's Rolex Big Boat Series, on September 16-19 — but only just barely. No entry will be accepted on or after September 1. As of this morning, 85 boats had registered.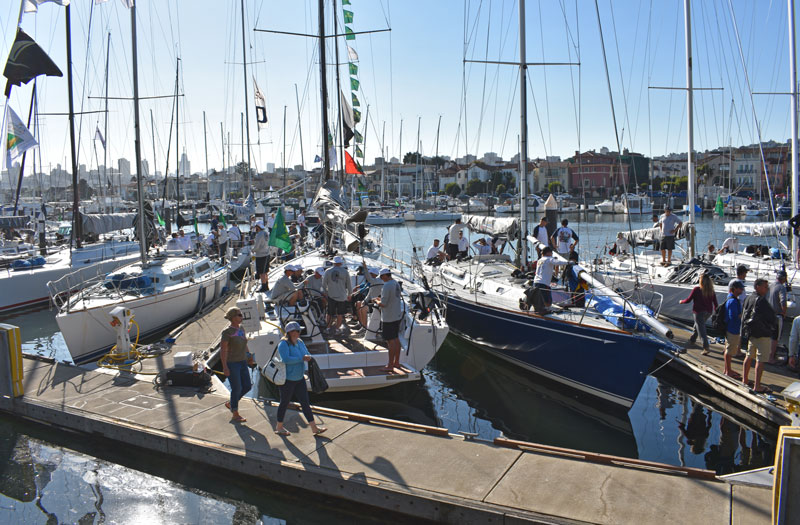 Coming up at Santa Cruz YC: September 18's Jack and Jill Regatta will be a counter for the Moore 24 Roadmaster Series, with prizes for everyone. Divisions are offered for Doublehanded, Family & Friends, Spinnaker, and Jib & Main.
Sequoia YC's Moonlight Marathon will sail from Redwood City to Treasure Island and back on September 18, and RYC will host the Mercury Homecoming Regatta on the same day.
In Late September
Sacramento Sail Week will come to Bridgeway Lakes Park in West Sacramento on September 18-26. This regatta will include National championships for radio-controlled 1-Meter, SeaWind, Canterbury J and Large J classes. Sacramento Model YC and Elk Grove Model YC share hosting duties.
RYC will run the Express 27 Fleet Nationals on September 24-26.
Last week on Friday, we posted a rather thorough preview of September 25's Doublehanded Farallones Race, which has proven surprisingly controversial (read the story then continue on to the comments section).
Also on September 25, St. Francis YC will host the Joe Logan Regatta for the Mercury fleet and Fall Invitational.
You'll find many more regattas and events in our Calendar, coming out in the September issue of Latitude 38 tomorrow, Tuesday, August 31.
Cancellations
Note that the Tahoe Laser Championships at Stampede Reservoir have now been canceled due to wildfires in the region. (See above.)
The Perkins Challenge and Leukemia Cup Regatta had been scheduled for October 16-17. However, they've been canceled for the second year in a row. "With the progression of the latest phase of COVID-19 and some operating challenges of the Leukemia and Lymphoma Society, it is clear that we cannot reasonably assure that these events can be presented in a healthy and safe manner while complying with regulations. The Organizing Committee is now focusing on an October 2022 event, and hopes you will join us then," signed, Leukemia Cup Organizing Committee, Leukemia and Lymphoma Society.
SFYC has also canceled September 11's Belvedere Classic and Great SF Schooner Regatta.
In Port Townsend, WA, the Northwest Maritime Center has canceled the Wooden Boat Festival and WA360 Blazer Party, which had been scheduled for the second weekend in September. "Even with the additional safety measures we put in place, every day has brought new cancellations from vendors, presenters and wooden boat owners who remained uncomfortable with the potential risk. We respect and support everyone's decision to do what's right for themselves," says the organization's official statement.
Hey, it could be much worse. Take New Zealand for instance. Not only has the SailGP New Zealand Grand Prix in Christchurch on January 29-30, 2022, already been canceled, but: "The Yachting New Zealand offices are now closed and staff are all working from home. All yachting and boating clubs should also be closed and activity on the water is prohibited," advised Yachting New Zealand chief executive David Abercrombie last week.
Receive emails when 'Lectronic Latitude is updated.
SUBSCRIBE