Ficker Cup This Week and Congressional Cup Next Week
Ficker Cup
Long Beach Yacht Club's Ficker Cup, a Grade Two match-racing qualifier for the prestigious Congressional Cup, starts today at 11:30 a.m. in Long Beach. Eight teams will continue racing tomorrow with the finals on Sunday. Spectators can watch the action (for free) from the Belmont Pier at 15 39th Place. In addition to bragging rights, racers are competing for the three open berths in next week's Congressional Cup.
Ficker Cup chair Lisa Meier says, "We look forward to welcoming back Pearson Potts (USA), Peter Holz (USA) and Dave Hood (USA), and introducing newcomers Jeffrey Petersen (USA), David Wood (USA) and Emil Kjaer (DEN). These three youngsters are enthusiastic and primed, having just squared off against each other at the Youth Match Racing Worlds and Governor's Cup. Plus we have Pauline Courtois (FRA), the top ranked female match-racing skipper in the world, and Nicole Breault (USA), who just won her fourth title at the US Women's Match Racing Championship, shutting out her opponents with 12 wins and 0 losses!"
Click here to watch a video of the 2018 Ficker Cup.
The Ficker Cup and the Congressional Cup will be raced on a unique fleet of identical 37-ft Catalina keelboats, ensuring an even platform for the competitors and thrills for spectators.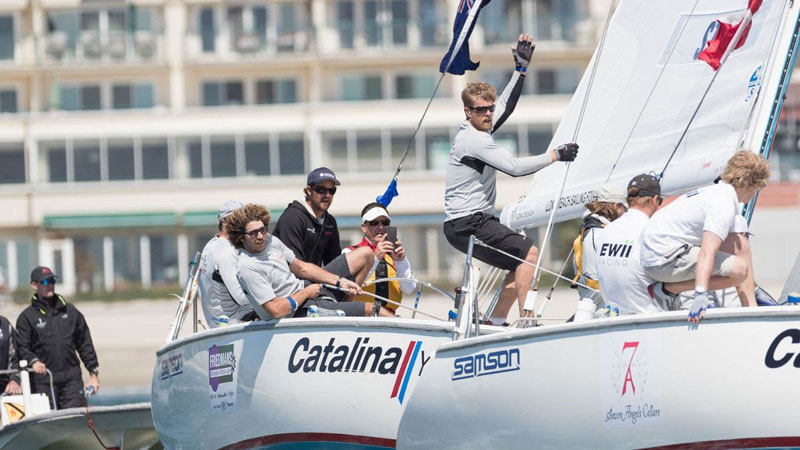 Congressional Cup
Long Beach YC founded the Congressional Cup, the 'grandfather of match racing', in 1965. It's the only Grade One Match Race in the US and a championship event on the World Match Racing Tour,
Defending champion Ian Williams (GBR), Phil Robertson (NZL) and Nick Egnot-Johnson (NZL) had to withdraw. Taking their places will be Chris Poole (USA), right off a win in the Oakcliff International Regatta, and local hero Dustin Durant, a three-time Congressional Cup veteran and LBYC representative. Final berths will be filled by the Ficker Cup's top trio of finishers.
"It has been crazy, with all the moving targets and moving pieces — like musical chairs," admitted LBYC Congressional Cup chairman Chris Macy. "I'm a realist and was not going to force this event to happen. But within the current guidelines, we are allowed to proceed — and the competitors are gung-ho to come and race! That's what's dictated our march onward, our persistence and flexibility.
"If I didn't feel we could hold a superior level of competition worthy of the Congressional Cup, that wasn't on par with the other esteemed champions etched on that trophy, we wouldn't hold it," Macy continued. "Look who is coming! We have Taylor Canfield (USA), a four-time Congressional Cup champion and 2009 winner Johnie Berntsson (SWE). Three of the top-10 ranked match racing skippers: Eric Monnin (SUI), Maxime Mesnil (FRA) and Chris Poole; plus Sam Gilmour (AUS) who had a podium finish in the 2018 Congressional Cup, and is a crowd favorite. It is going to be an excellent competition!"
Congo Cup matches will begin on Wednesday the 15th. The format consists of a double round robin followed by semi-finals and petite finals, then finals on Sunday the 19th.
On Saturday afternoon, umpires, competitors and VIPs will 'Race to the Bar' aboard the Catalina 37s. A fleet race on Sunday, with cash prizes, will offer a consolation to competitors who do not make the finals.
Live commentary will add spice to the atmosphere on the pier, but if you can't be in Long Beach, you can watch the action live on the event's Facebook page @CongressionalCup.
BTW, SailGP Is Happening Too
As our readers who are following SailGP are no doubt already aware, this weekend will also see the next event in that professional league's second season. Saint-Tropez, a resort town on the French Riviera, will host the international fleet of eight foiling F50 catamarans on September 11-12.
Receive emails when 'Lectronic Latitude is updated.
SUBSCRIBE