California Storms Take Their Toll and Keep Coming
On Wednesday, we reported on the New Year's Eve storm that wreaked havoc across California. As another string of storms is approaching we're sharing a couple more photos of two boats that didn't fare well. It's always a reminder to do whatever you can to secure your boat during the winter weather. Extra dock lines, extra fenders, removing your roller-furling jib or at least rolling it tight and wrapping a spinnaker halyard around it, making sure your bilge pump is clear and working, and generally battening down the hatches.
After last weekend's storms, all looked bright and beautiful at South Beach Marina. However, frequent Sailagram contributor Kerry of the sailing yacht Cetacea sent in the photo below of a sunken boat at the docks at South Beach. He reports it wasn't a storm that sank the boat but a bilge pump. How? The pump was pumping out the boat and, after exhausting the battery, it reversed flow and siphoned the water back into the boat, eventually sinking it at the dock. As Kerry said, "Sometimes safety equipment actually causes the emergency."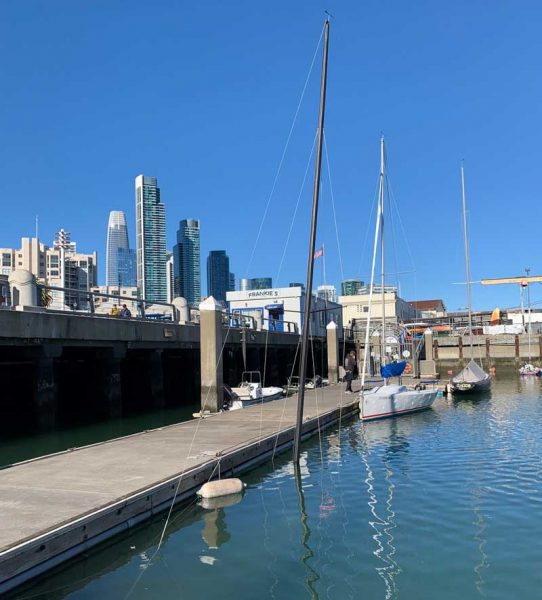 At Antioch Marina, an Ericson 34 ironically named Outatime also sank at the docks. The cause is currently unknown, but yet again is a reminder to do all you can to secure your boat and check to make sure all systems are working ahead of the upcoming storms. It's also a good reason to stay connected to your friendly dock neighbors or marina liveaboards, who are sometimes able to help remote owners who can't get to their boats!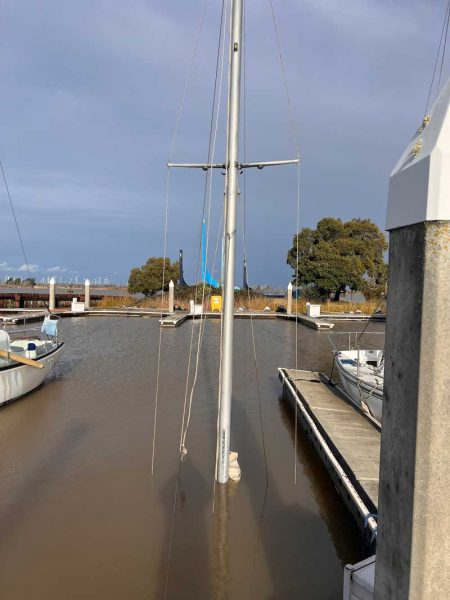 We know people have suffered losses, but hopefully this photo sent by KKMI can add a little humor to the situation.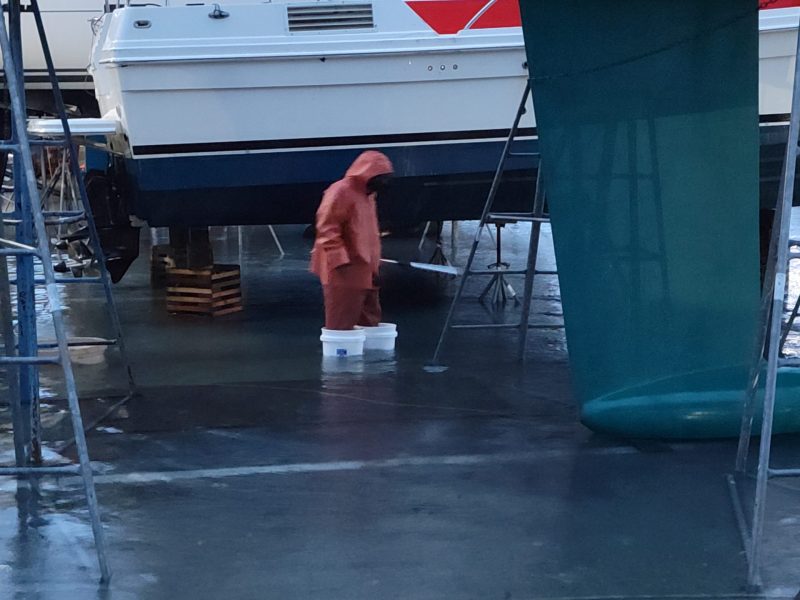 Travis Marina, near the Golden Gate Bridge, held up well enough that the sailboats all came though unscathed, but the outriggers stored on the beach didn't fare so well.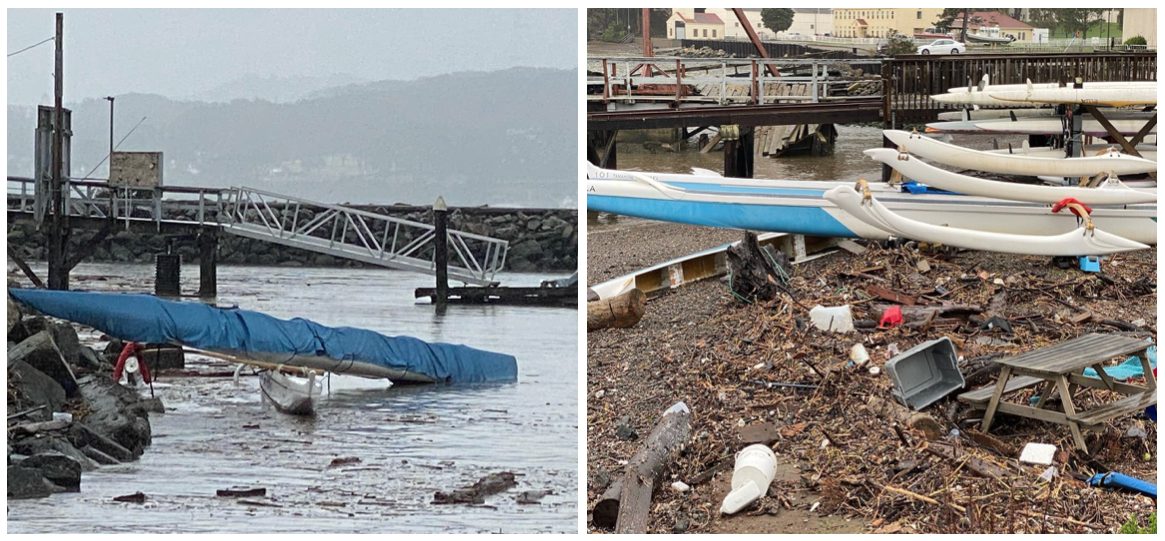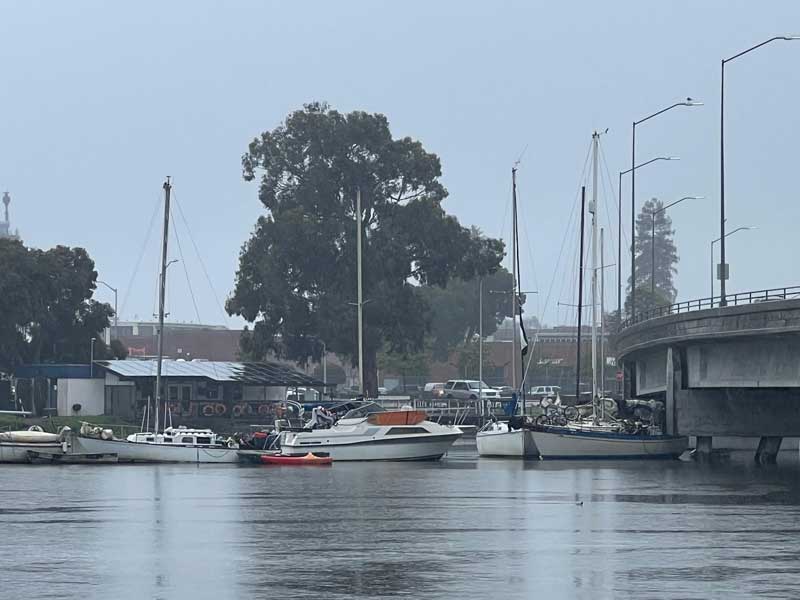 Elsewhere in California, the storm whipped up the ocean and sent enormous waves barreling onto the shore.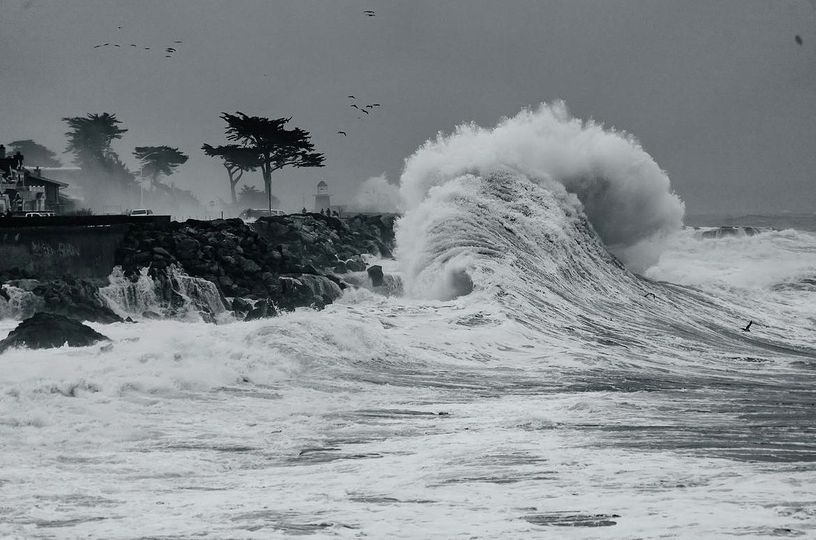 The weather app Windy.com posted this clip on its Facebook page.
The upcoming week looks full of more threatening storms. We hope everyone gets through unscathed. For more preparation advice, you can read the story in our January 2021 edition by Mary SwiftSwan of Afterguard Sailing Academy about lessons learned from the October 2021 storm that destroyed one of their boats on the shores of Brooks Island. You can also listen to the story in a recent edition of Good Jibes.
Receive emails when 'Lectronic Latitude is updated.
SUBSCRIBE