Breaching Humpback Whale Lands on Boat
Four whale watchers got the shock of their lives on Saturday in Sinaloa, Mexico, when a breaching humpback whale landed on their boat. Photos and video of the landing quickly found their way onto social media and online news channels. According to DailyMail.com, the whale, known to local authorities as Pechocho, "leaped out of the water" and landed on the small powerboat.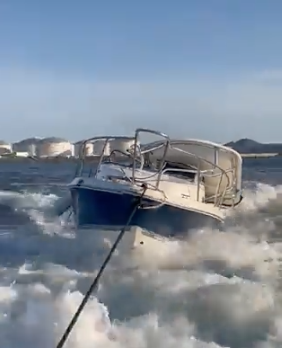 "The large mammal leapt in the air to perform one of its characteristic acrobatic jumps," Mexico News Daily reported. On its way down, the whale landed on the boat's stern and caused it to roll heavily, resulting in severe damage to the boat.
The accident occurred at around 6 p.m. in Topolobampo Bay in the Sea of Cortez — approximately 127 nm northwest of Culiacán. Authorities said the whale "felt harassed" when the boat got too close."
We have found no reports of the whale being injured in the encounter.
This situation does remind us that when we sail, we are entering the home of the oceans' multitude of sea creatures and marine life. Watching whales play in their own natural environment is a privilege, one that we should appreciate by showing respect to the animals that give us such pleasure. Whales need space; that is why there are perimeters. NOAA recommends a 100-yard approach guideline for all large whales. That said, it is of course possible that the whale will come to you, and for all we know, that is what happened in the above situation.
Anyone who is planning on cruising offshore, and particularly those sailors planning on heading south with the Baja Ha-Ha — as Mexico has some spectacular whale-watching opportunities — please spend some time familiarizing yourself with the regulations and best practices for safe and respectful whale watching. The Pacific Whale Foundation is a good place to start.
And who knows? If you're lucky, the information may even come in handy when you're sailing on the Bay this summer!
Seven News, Australia compiled and shared the above YouTube video of the whale encounter in Mexico last Saturday.
Receive emails when 'Lectronic Latitude is updated.
SUBSCRIBE