Sons and fathers had a great day on the water — and did very well — at the first 2023-24 Island Yacht Club Island Days race on November 12.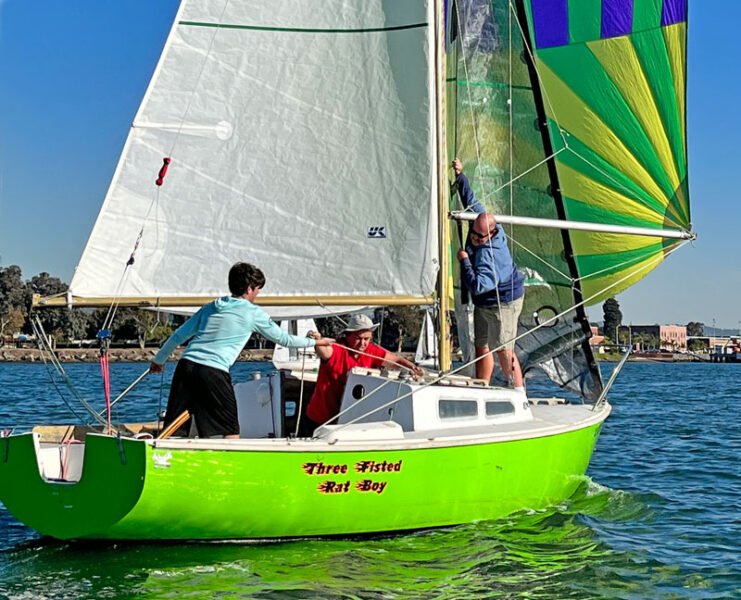 In the six-boat Santana 22 class, Giuseppe, age 14, sailed with his father and took first aboard Three Fisted Rat Boy. Giuseppe said, "The boat handled real good. It felt like I was on a spaceship, because we were zooming past our fellow competition. Brandy cut off Fun and let us catch Anemone, and then proceeded to hit the mark, but sometimes that just happens." His father Phil added, "We signed up late and hadn't been out in a while, but it worked out great."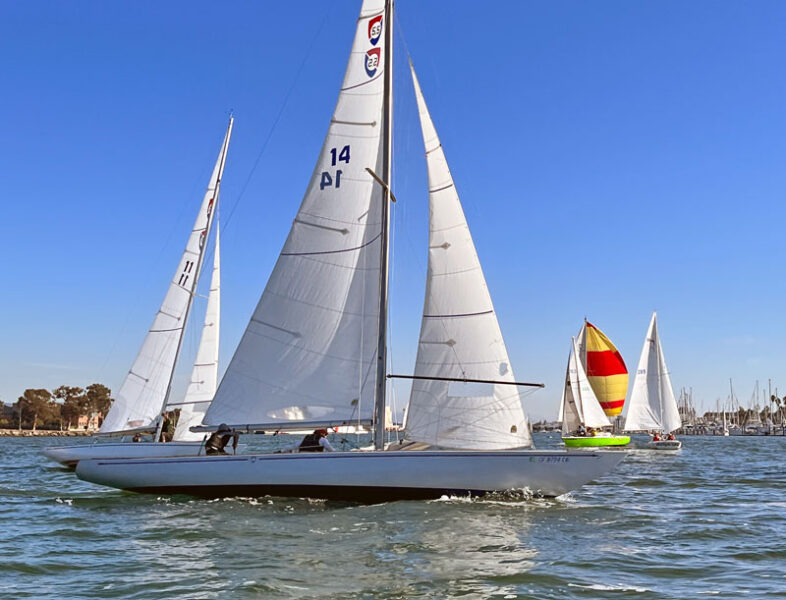 In the four-boat Columbia 5.5 class, another son-and-father crew, Wilfred and Ken Bodiley won aboard Maverick, sailing doublehanded. "Great to get out and get the win in the first race of the series," commented Wilfred. "I'm happy to add more hats to my collection; you won't be able to miss me next time." (The hat Wilfred referenced is his prize from winning the race: a fluorescent-yellow baseball cap.)
"It was a really close race, and I certainly didn't think we'd be able to pull out the win after starting at the wrong end of the line. The 5.5 might be pretty, but they need some breeze to get going, which helped us, being on the light side weight-wise. Great to be able to teach the importance of covering and picking the right lanes to Wilfred. Hopefully he'll be able to apply that to his Opti tactics! A great start to the series and looking forward to more Sundays on the water with my son."
If first-place sons and fathers in two classes was not enough, the lowest-handicap class had a first-place tie. The Express 27 Wile E Coyote and Soverel 33 Good and Plenty corrected out to the same finish time, 00:47:56.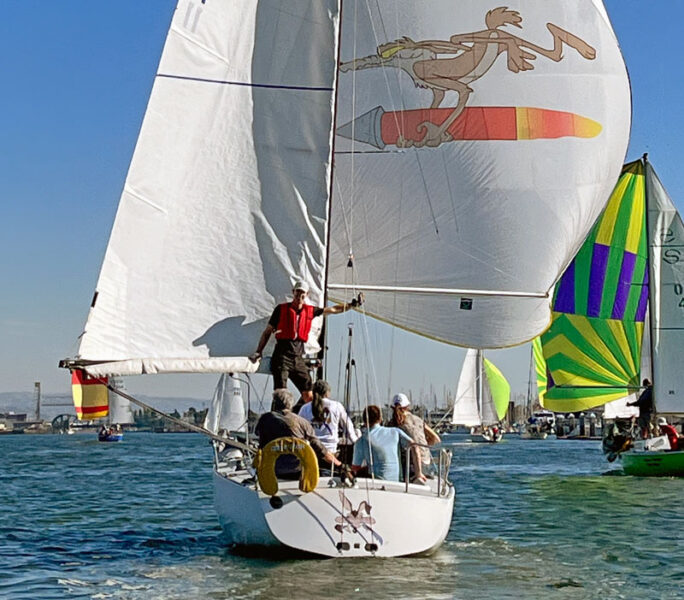 Wile E Coyote skipper Dan Pruzan writes, "It was a beautiful, sunny day on the Estuary, with enough breeze coming straight down the course to make it a fun and tactical race. We had a couple of friends from Tennessee on board with very little sailing experience. They had a blast with all of the close crosses throughout the fleets. A great way to spend a Sunday afternoon."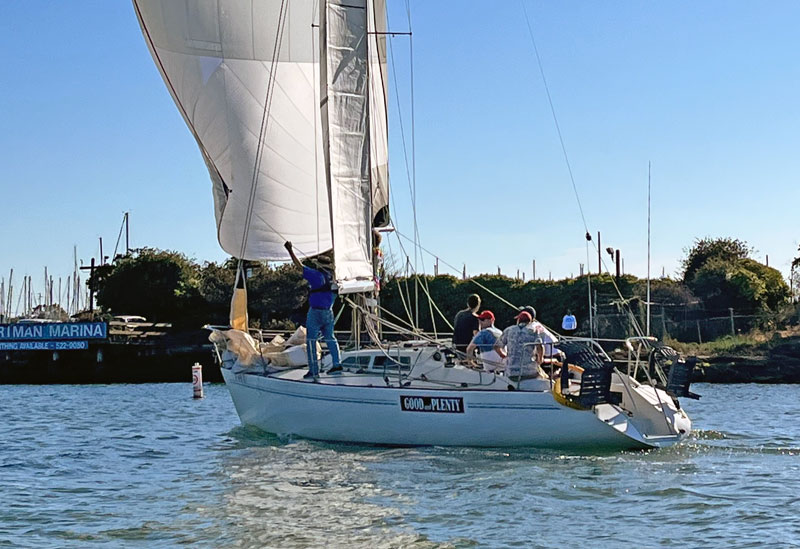 Good and Plenty skipper Justis Fennell wanted to say, "Good and Plenty (G&P), yes the boat with the flip-over Adirondack chairs, is still kickin' it after all these years. Great partnership since we got her new in 1985. We had not signed up for the IYC Island Days Series as we were supposed to be cruising in Mexico. Multiple issues made us bail on the Baja Ha-Ha with the cruising boat. On the Friday before the first race of the series, we decided to go for it. We were able to get our regular great crew assembled at the last minute, with my nephew Nathaniel Fennell as tactician, Blake Loncharich on sail trim, Matthew Barrick as pit, and partner Steve Berl at the bow. Partner Mark Wagner was unavailable. Scott Smith was able to jump in at mast.
"It was a beautiful day on the Estuary! Light wind, big ebb. Both Wile E Coyote and G&P were a little early to the line, especially with the ebb. We both sailed down the line and headed up at the gun — great even start! We were to weather of Wile E Coyote, with Nathan de Vries, on the Santa Cruz 27 Medusa, to weather of us. Wile E was first to the shore and called room. I in turn called room to Nathan. We all tacked, and it was off to the races.
"Arguments ensued on board about how much benefit there is for tide relief at the shorelines (shallower water?) in the Estuary. We tried to get to shore when it was possible. Excellent crew work. Great sets and drops. Course 3, double sausage, a short 3-mile course. We had to beat Wile E by 2 minutes and 27 seconds, but, alas, we only got 'em by 2 minutes and 26 seconds. Dead-even tie! Wow!"
In the non-spinnaker/high-handicap class, Paul Mueller on Loco 2, a classic Nunes Mercury 18, took first. In the mid-PHRF class, Jens Jensen on J/22 Loose Cannon won.
The PRO for the race was Karen McDowell, one of five IYC race committee members who has taken the US Sailing PRO course. "We're in the Alameda Estuary, where the water is flat, and many of our racers sail in shorts," said Karen. "We use more of the Estuary than other clubs, from Jack London Square down to past the east end of Coast Guard Island. So racers get more to see on a scenic day, and more interesting wind shifts to navigate as the wind flows around buildings on shore. We've worked hard to build up the race committee to give racers the best experience possible.
"Ultimately what makes great racing is the venue, the weather, and the competition. This weekend we had beautiful weather. And we had a first-place tie in the lowest-handicap division, because Wile E Coyote and Good and Plenty came out with the same corrected time to the second. Thanks to all the RC team, and thanks to all the racers who came out!"
Find the full results or sign up on Jibeset at www.jibeset.net/IYC000.php?RG=T008206319. The next race in the five-race series will be on Sunday, December 10.
Receive emails when 'Lectronic Latitude is updated.
SUBSCRIBE