When foiling, it's all about the leading edge. The edge of the foil in the water, the edge of the wing in the air, and, in the end, who has the edge on the water. This past weekend St. Francis Yacht Club was on the leading edge, hosting the Spring Wingding & Pacific Coast Wingfoil Championships, the first-ever wingfoil regatta of its kind on San Francisco Bay.
In the end it was the Heineken brother and sister world-champion kiteboard duo, Johnny and Erika Heineken, who had the edge and won overall and in their respective men's and women's divisions. They started their careers with kitefoiling before foils came on the scene, yet have stayed on the evolving leading edge ever since. The overall winner and Pacific Coast Champion is Johnny Heineken, who won all 12 races, plus the two championship races.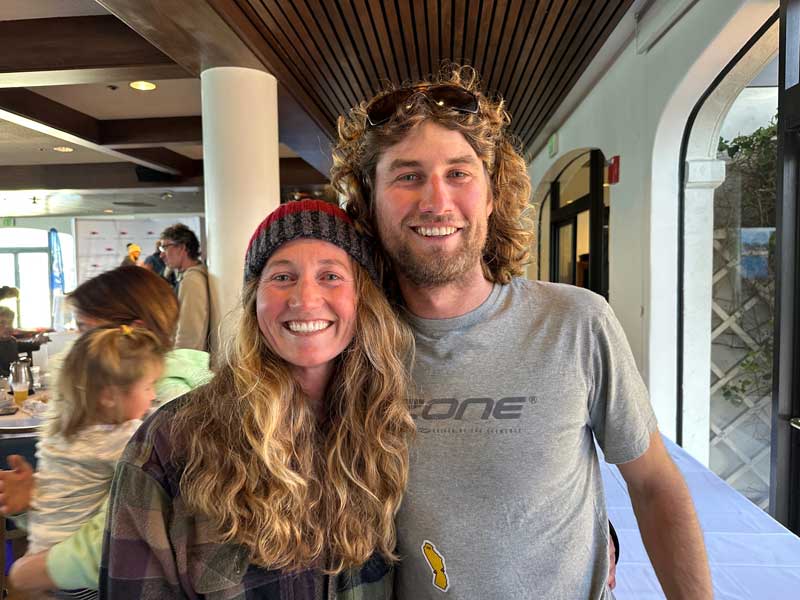 Sixty wingfoil riders competed in 12 races over three days in perfect conditions on courses situated between the StFYC clubhouse, Alcatraz Island and the Golden Gate Bridge, adjacent to Crissy Field. Racing commenced with five heats on Friday, followed by a Grom Freestyle Session. (Admittedly, we looked up the word "Grom:" "Grom," shortened from grommet, is Australian and California slang for a young, often precocious surfer. Now you're cool again).
Saturday opened with three heats, then the "San Francisco Bay Challenge" — a distance race of approximately 20 nautical miles from the San Francisco Cityfront east to Berkeley and back. That race was also open to Hydrofoil Kites and Formula Windsurfers. The Bay Challenge counted double, and Johnny finished the 20-mile Bay race in just over 43 minutes. On Sunday, competitors were whittled down in three heats to the top 20, who then competed in two final championship races.
Johnny Heineken, representing StFYC, is a former Kiteboarding Course Racing World Champion, 2012 Rolex Yachtsman of the Year, and no stranger to the podium. An exceptional competitor across diverse sailing platforms and a pioneer in the sport of wingfoiling, he was excited to see how racing in a large fleet would play out at this event.
"We were figuring out how it would all work, winging in a big regatta, how to conduct the starts, how to be on the start line at the right time, getting around the course — it went pretty flawlessly," he said.
Heineken was part of the racing community that developed the sport of kitefoiling on these same waters, and he commented on the similarities in the development experience. "At the top of the fleet were the people who know what they are doing and are used to racing, whether kites or boats. It was reminiscent of the early kitefoil racing days. Those of us who had come from dinghy sailing knew how to start and make tactical decisions. If you had raced kites, you had a huge advantage this weekend. But this was the beginning of something new, and the level of competition will keep getting better."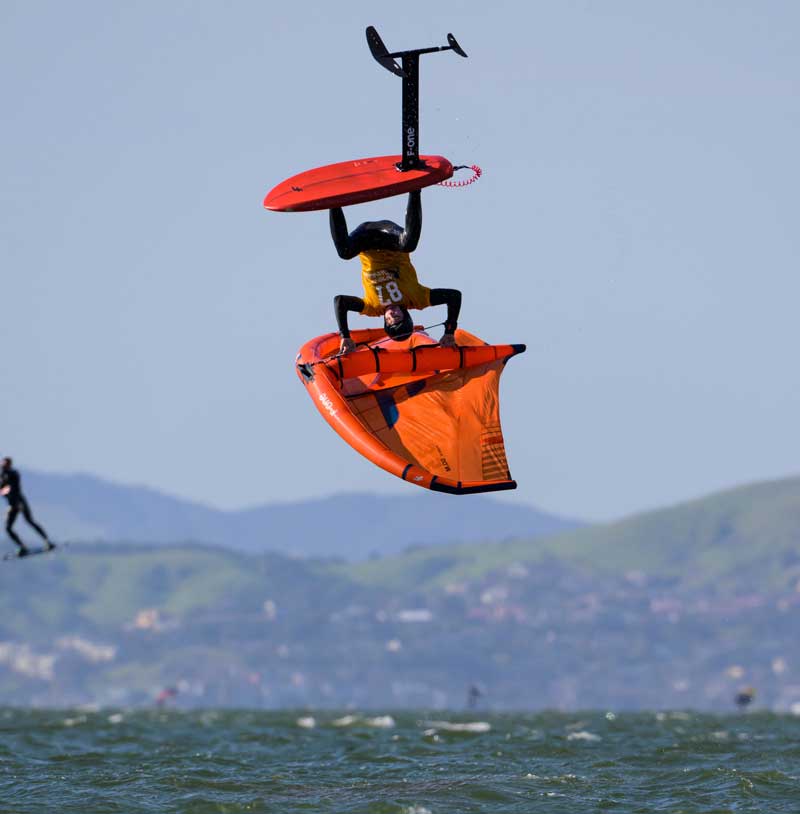 Heineken acknowledged the up-and-coming talent in the Under-19 division, who have shown a ton of enthusiasm for the new sport. "It was cool to see a bunch of kids out there, more than we would ever see kiting," Heineken said. "I'm sure they'll be giving me a run for my money soon." In fact, Makani Andrews, Henry Vare and Liam Corralle, who were 1, 2 and 3 in the U19 Division, posted an impressive 5th, 6th and 7th overall. They are not far behind at all.
One of those kids, 15-year-old Makani Andrews, was representing the Kaneohe Yacht Club and Windclub, from Hawaii, and took fifth place overall and first in the Under-19 division. A high school freshman, Andrews has been making waves on the iQ Windsurf Foil scene this past year and took first in class in the 2022 Sears Cup, skippering in the VX One.
"I was really stoked to see something like 60 wingers on the water. When I raced on the Bay last year there were only about 20 of us," Andrews noted. "The organizers did a good job putting together the courses — it's hard to run developmental class events because it's kind of blurry how everything works! It was super-cool racing with the other kids my age who I know through recent wingfoiling clinics."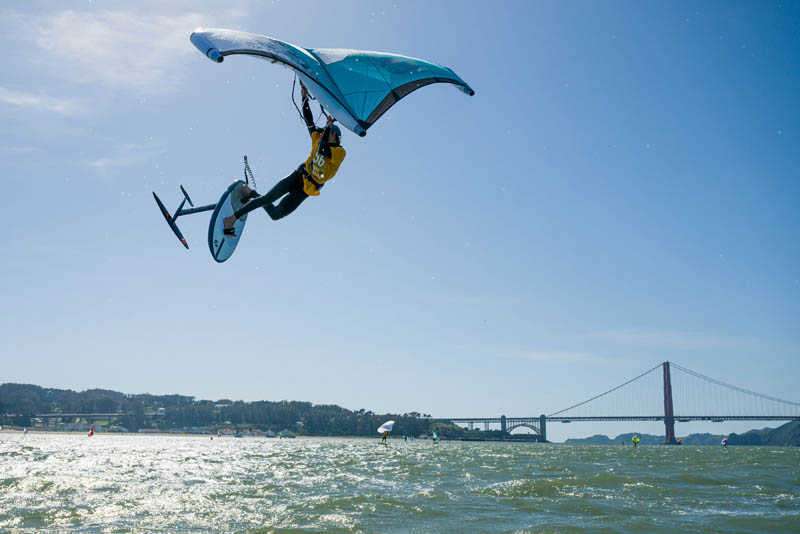 Andrews added that he learned a lot from the event, such as evaluating gear and learning about different foils for different conditions. At Spring Wingding, for instance, many riders were on a specific foil designed and built in the Bay Area. "The long-distance race was fun — I put on my biggest wing and used a harness for the first time, so it took a while to tune in to that, but it was a great downwind. That was one of my best races."
This was also an opportunity for Andrews to learn how to navigate the currents on San Francisco Bay. "In Hawaii we don't have much current, so learning about the floods and the ebbs on the Bay gave me a lot to think about tactically going through the course."
All gallery photos: © St. Francis Yacht Club / Salty Brother
Event co-chairs Geoff and Morgan Headington were satisfied that the event went so well, given the unknowns of racing a huge fleet in a new kind of regatta. A light-air forecast for the weekend did not look conducive to competition, and even going into the first race on Friday morning, Geoff Headington had moments of concern due to the strong flood current.
"Fortunately, the wind filled in and racing was fine, and we had great breeze throughout the weekend," he said. "On Saturday for the distance race, we had a mad downwind rush of 80 watercraft starting at the same time right off Crissy Field. It must have been amazing for spectators to watch us all zigzagging and crossing paths all the way downwind. We had exceptional breeze on Sunday for the finals, in the low 20s and blasting solid across the course."
With the event done and dusted for 2023, Headington is excited about being on the leading edge of such a new sport. "It is thrilling. We know we are going somewhere exciting but we're unsure exactly where," he said. "We're in the early stages and I don't know what the future looks like — whether it's the Olympics or higher-performance wings and equipment than we have today. This weekend we had freestyle, course racing, and distance racing, so we explored three different areas of the sport. The event could not have played out as perfectly as it did without help from sponsors F-One, Manera, Ozone, Marine Layer, NJS Designs, Ronstan, 101 Surf Sports, Axis, Kite the Bay, Cabrinha, Sunski and Pistil, plus the many volunteers, StFYC staff and race committee.
"The energy in this global community really showed through," Headington said. "There was a shared spirit of anticipation, which is contagious. We had a lot of people helping out and watching the competition and talking about wanting to take wingfoil lessons, which I think is so cool!"
Results:
Wingfoil Overall: 1 – Johnny Heineken; 2 – Joey Pasquali; 3 – John Subranni.
Under-19 Division: 1 – Makani Andrews; 2 – Henry Vare; 3 – Liam Coralle.
Women: 1 – Erika Heineken; 2 – Lily Buden; 3 – Michelle Gabriel.
Masters 35+: 1 – Joey Pasquali; 2 – Kenneth Adgate; 3 – Joshua Waldman.
Grandmasters 45+: 1 – Steve Bodner; 2 – Geoff Headington; 3 – Nils Stolzlechner.
Bay Challenge – Wingfoil: 1 – Johnny Heineken; 2 – Joey Pasquali; 3 – John Subranni.
Bay Challenge – Formula Windsurf: 1 – Xavier Ferlet; 2 – Max Rosenblad; 3 – Al Mirel.
Bay Challenge – Hydrofoil Kite: 1 – Neil Marcellini; 2 – Mike Martin; 3 – Vladimir Mezhibovsky.
In 2023, St. Francis Yacht Club will continue to host monthly Wingfoil & Windsurf Course Slalom Racing and Friday Night Foil Series from May through September. More information at https://www.stfyc.com/racing
Receive emails when 'Lectronic Latitude is updated.
SUBSCRIBE