US Sailing presented their annual awards at their Sailing Leadership Forum yesterday in St. Pete Beach, in Florida's Tampa Bay area. Ravi Parent and Daniela Moroz received the 2022 Rolex Yachtsman and Yachtswoman of the Year awards.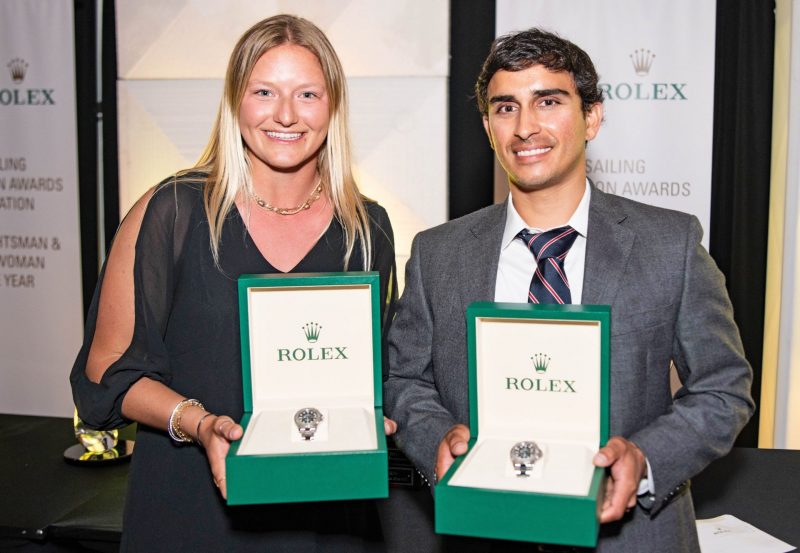 Bay Area Kiteboarder Daniela Moroz Celebrates '22 and Turning 22
In 2022, Daniela Moroz won gold at the Princesa Sofia Olympic Regatta and captured her sixth Kite Foil World Championship title. Moroz also placed first at the French Olympic Week Regatta, held at the 2024 Olympic venue in Marseille.
"I turn 22 today, and I keep thinking how unreal my day has been," said Moroz after winning her award. "I went out on the water, got to race, spend the evening with my parents, and now this. It couldn't have gone any better."
Raised in Lafayette in the East Bay, Moroz competed in her first international event at age 14, winning her first World Championship at 15. Since then, she has won six world championships and four European championships. Moroz is currently campaigning for the 2024 Olympic Games, where the Formula Kite will make its Olympic debut. She's a member of St. Francis Yacht Club.
This is the fourth time Moroz has won this award. Her first win, as a 16-year-old in 2016, made her the youngest athlete ever to claim the prize. She was also the first kiteboarder to receive this award. The current award makes two in a row, as Daniela was also the 2021 Rolex Yachtswoman of the Year.
As near as we can tell from scanning the list of past winners, Daniela ties with Anna Tunnicliffe for the most awards. Tunnicliffe won four consecutive times, in 2008-2011. (See the full list, going back to 1961, here.)
Listen to our Good Jibes podcast with Daniela here.
Multihull Sailor Ravi Parent 2022 Rolex Yachtsman of the Year
In 2022, Ravi Parent became the first sailor to win the A Class Worlds, F18 European Championships, and F18 World Championship in the same year. He also won the A Cat Midwinters Championship and the A Class division at the Helly Hansen Sailing World Series.
Parent first sailed multihulls at the Sarasota Sailing Squadron. At age 14 he joined the Sarasota Youth Multihull Team. From that first introduction to the F18, Parent went on to compete in two Youth World Championships, complete a degree in mechanical engineering at Boston University, and campaign for the Olympics in the Nacra 17.
Ravi is a design engineer at Morrelli & Melvin in Newport Beach, and he races under the burgee of Alamitos Bay Yacht Club (Long Beach) as well as the Sarasota Sailing Squadron.
Mark Ivey of Sausalito Wins Kevin Burnham Memorial Award
The Kevin Burnham Memorial Award is presented to a sailor who embodies the spirit of the late Olympic silver and gold medalist Kevin Burnham: passion, persistence, perseverance, sportsmanship on and off the water, and love of the sport and love of his or her competitors. This year's winner is Mark Ivey.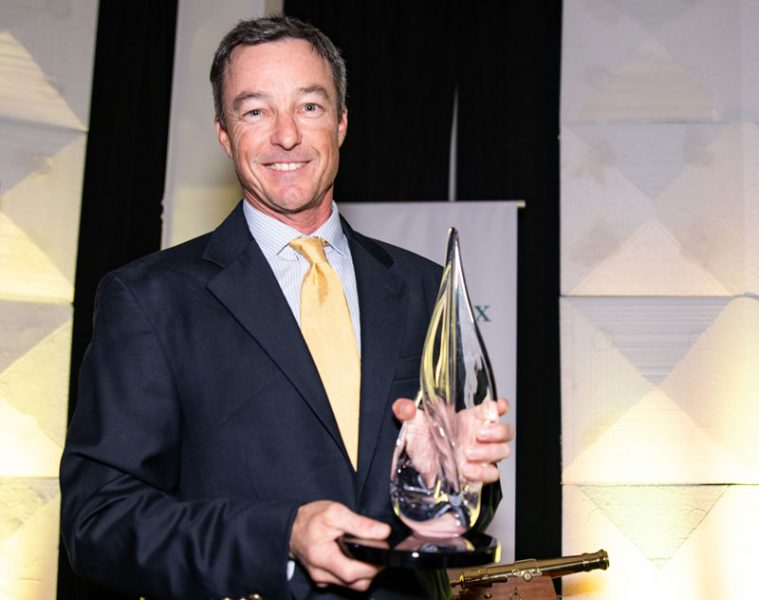 His nomination read: "Mark is both an outstanding sailor and a fantastic person. Just like Kevin. He's applied his skill and enthusiasm into coaching as well as sailing in a super impressive way. I know Kevin was a mentor to Mark, and I certainly have witnessed Mark accomplishing the highest heights (including both his own awards and coaching sailors to Olympic gold) while, like Kevin, bringing enthusiasm and sportsmanship to the table. Mark's list of regatta wins as a competitor, and as a coach, is too long to mention."  Mark has been a multi-time all-American college champ, a keelboat champ and a world- and Olympic-champ coach. "The fact that he's everyone's favorite person to lose to says a lot about his approach to the sport, to say nothing of his sailing skills. Just like Kevin."
Larry Ledgerwood of Walnut Creek Receives Timothea Larr Trophy
In 2015, Larry Ledgerwood stepped into the role of Training Committee Chair, replacing current US Sailing Board President Rich Jepsen. As chair, Ledgerwood brought continuity, the ability to create consensus, objectivity with the benefit of history, and a fresh perspective. His ascension to chair coincided with a structural and philosophical shift in US Sailing's education department.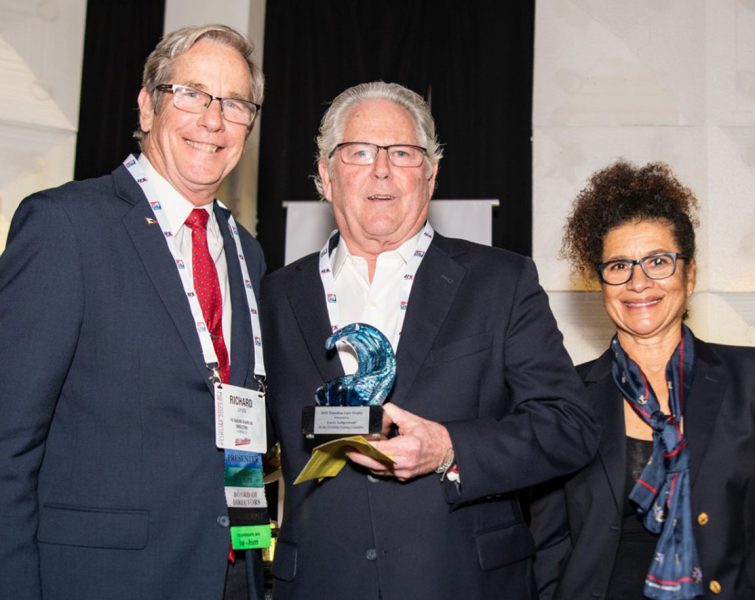 With Ledgerwood's help, the structure of the Training Committee was adjusted, ensuring representation from each discipline. This included bringing in representatives from Safety at Sea and Race Administration.
He also worked together with the education department staff to push the organization into the digital age by taking a lead role in the creation of Teaching and Coaching Fundamentals Online. This was key when the pandemic hit — it allowed US Sailing to meet the demand for online learning.
For more award winners, see www.ussailing.org/news/winners-announced-for-the-2022-us-sailing-association-awards.
Receive emails when 'Lectronic Latitude is updated.
SUBSCRIBE