"I came across this news clipping in the ditty bag of a long-ago sailor, and thought someone might be interested," writes Ellen Liebenberg of Livermore. "If only the Chronicle was as interested in sailing now!"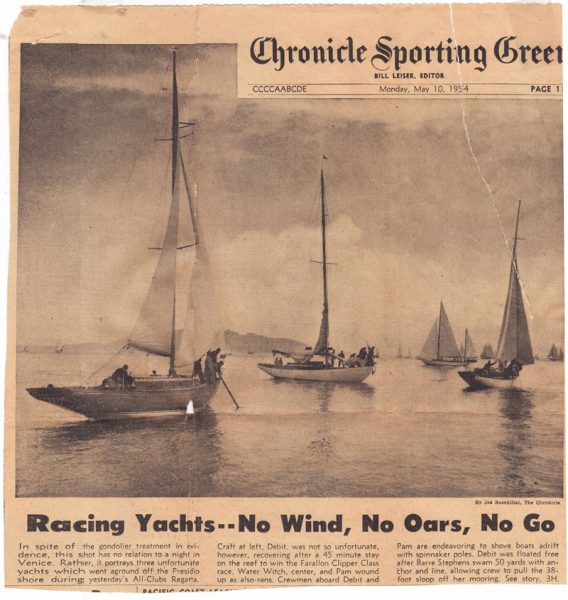 Back in 1954, when this article was published, there were no alternatives to get Bay Area sailing news. Bay and Delta Yachtsman launched in 1965, and Latitude 38 started up in 1977 (we're celebrating our 45th anniversary this year). In the early 1980s, Latitude began running race results in the magazine, and the San Francisco Chronicle stopped. Coincidence or by design?

In case you can't read the clipping showing the results, it lists one-design classes 210, Junior Clipper, Rhodes 33, Windward, Pic, Star, Hurricane, Bird, Acorn, Golden Gate, Farallon Clipper and Bear. Some of these classes and individual boats still race on the Bay. Handicap classes include such memorable yachts as Baruna, Java Head, Yo Ho Ho, Water Witch and Yankee. The results list all entries, including "dnf", "disq" and "dns". Among the Farallon Clippers mentioned is Patita II. We featured Patita in the July 2020 issue of Latitude 38. Perhaps not coincidentally, Chronicle boating columnist Jack Schmale's nephews restored the boat, which had been in the family for 45 years. (There's a discrepancy in spelling: "Farallon" vs. "Farallone" Clipper; not sure which is the original, definitive spelling.)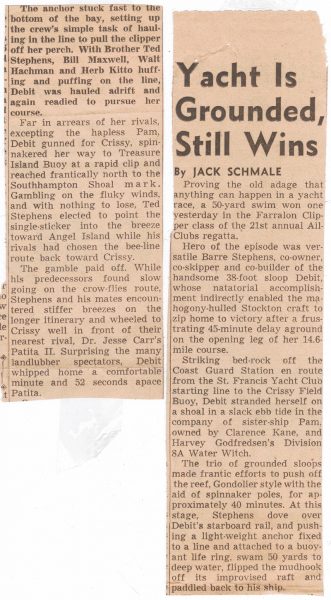 Again, in case the text of the article is hard to read on your screen, Jack Schmale relates that "Barre Stephens, the co-owner, co-skipper and co-builder" of Debit, dove over the rail, pushed an anchor 50 yards into deeper water, and swam back to the boat. The crew hauled on the anchor line to pull the boat off the shoal near Crissy Field. Debit won her class in the All Clubs Regatta that day.
The Chronicle does sometimes still cover local yacht racing. We've shared desk space with their reporter in St. Francis Yacht Club's media room at Rolex Big Boat Series. But page counts and staff sizes are smaller than they were in the heyday of publishing before the Internet disgorged such a glut of media content. This is true of most print publications. The Chronicle's longtime web portal, SF Gate, used to carry a Sailing with Latitude 38 channel, but the powers that be changed, as they are wont to do, and the new honcho nixed our channel.
If you, the reader, can fill in more details, please comment below. Thanks to Ellen for sending us these clippings.
Receive emails when 'Lectronic Latitude is updated.
SUBSCRIBE