Sailors Have the Most Interesting Lives
Every so often, at random intervals, we hear from sailors who have found a Golden Ticket in their copy of Latitude 38. When this happens we like to share the winners' sailing stories, because believe it or not, sailors have the most interesting lives. One of the winners mentioned in a previous story, Larry Haynie, had promised to tell us about his sailing life, and although it took a little while to reach us, it did, and it is interesting.
Larry began sailing on the Bay in 1986, starting out on OPBs (other people's boats). In 1990 Larry took a big sailing step and attained his OUPV/Six-pack Captain's license, which would allow him to operate charter boats. Since then Captain Larry has put his license to good use and has worked as a sailing instructor and charter captain, and has completed several boat deliveries.
One of the facts that we find so interesting is that until 2014, Larry was a public school teacher. "Many of my students went sailing with me over the years and a few have crewed for me on deliveries. My most recent long-haul deliveries were Tapachula, Mexico, to the Marquesas, and Grenada to Charleston, SC."
These days, rather than only sailing on other people's boats, Larry has his own sailboat, an Albin 25. Now he's working toward buying a 1972 Hallberg Rassy 35. The new boat is in France, and if the planned purchase goes through, in a few weeks' time Larry will embark on his next sailing journey — to spend a couple of years cruising the Mediterranean.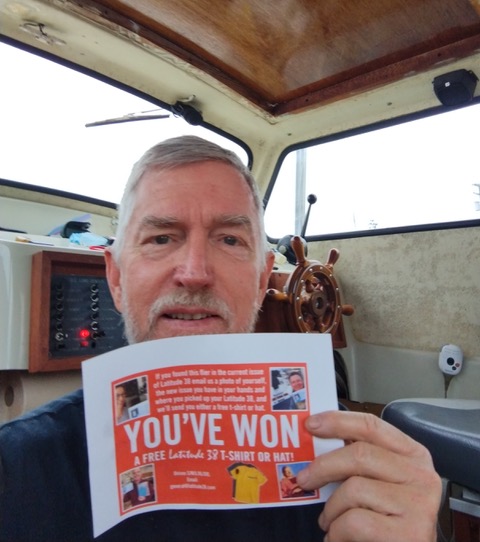 Is it possible that there's a connection between winning a Golden Ticket and having a good sailing life? We think not. We do, however, believe that the connection between reading Latitude 38 and having the most interesting of sailing lives is very real. And if you're sailing while wearing a Latitude 38 hat or T-shirt, your enjoyment will be amplified. So, go grab your copy of the latest magazine, or any past issue, for that matter, and get some of that great sailing vibe into you. And if a Golden Ticket happens to fall out, send us your preference for a hat or T-shirt (color and size included), and tell us your sailing story.
Larry picked up his winning magazine at the Point San Pablo Yacht Club — just one of the many distributors on the West Coast. Check here for your nearest outlet, or subscribe and have the West's best read delivered right to your mailbox.
Receive emails when 'Lectronic Latitude is updated.
SUBSCRIBE