Britain and Japan Collide in Australia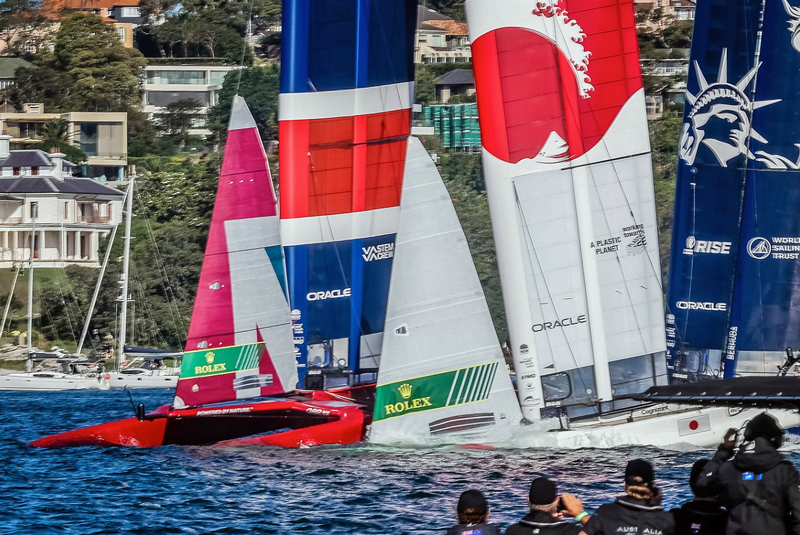 With 15 seconds left on the countdown to Race 3 yesterday, a collision between Great Britain and Japan took both teams out the race — and out of the remainder of the Sydney SailGP regatta. As a result of the major damage caused to the Japanese boat, Britain received 6 penalty points in the event and 2 points for the season. The British team will finish in last place in Sydney.
As the UK crew was focusing on closing the gap to the American boat in the pre-start, they didn't see the Japanese boat. That error resulted in a significant crash, but no one was hurt.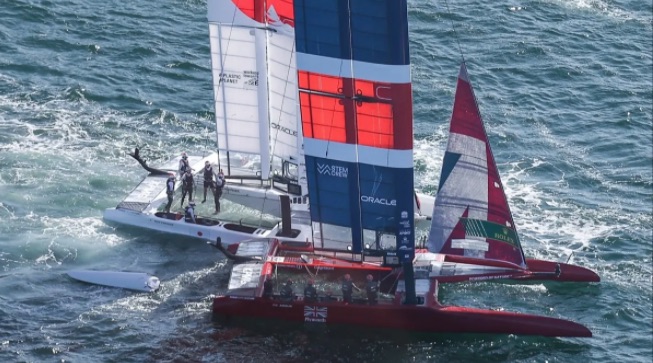 "We were coming back in the final moments of the start, fighting for the top of line in a defensive mode against the Americans," explained the British skipper, Sir Ben Ainslie. "We just didn't see them at all, which was devastating for both teams.
"Everyone was OK, which is the most important thing. But sadly it probably means the end of our season as we receive hefty penalty points for the damage caused. It will also impact Japan, which is not what we want. As is only correct, we are giving them our F50 and any support they need to hopefully get back out racing tomorrow."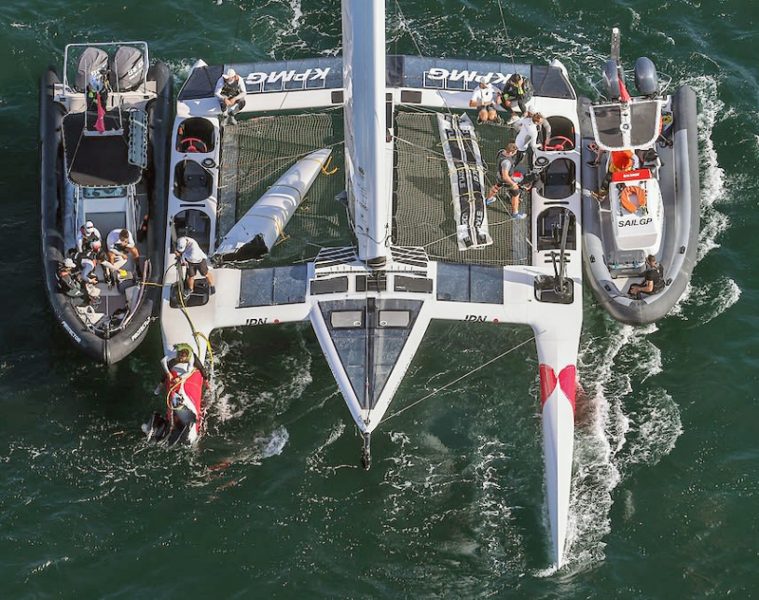 The Japan boat skipper, Aussie Nathan Outteridge, wasn't giving up hope of racing on Day 2. "Ben said if there is anything he can do to get us racing tomorrow he will help. I appreciate that. Our goal here in Sydney was to maintain that buffer in the championship standings."
"The first two races were great to be involved in," added Ainslie. "It's super-tight racing out there and all the teams were pushing super-hard, so this was hugely frustrating for everyone. But that's sport, and we will dust ourselves off and go again in San Francisco."
But Spain Was Brilliant
The day belonged to the Spain SailGP Team. Kiwi driver Phil Robertson led them to three top-three finishes to sit atop the event leaderboard.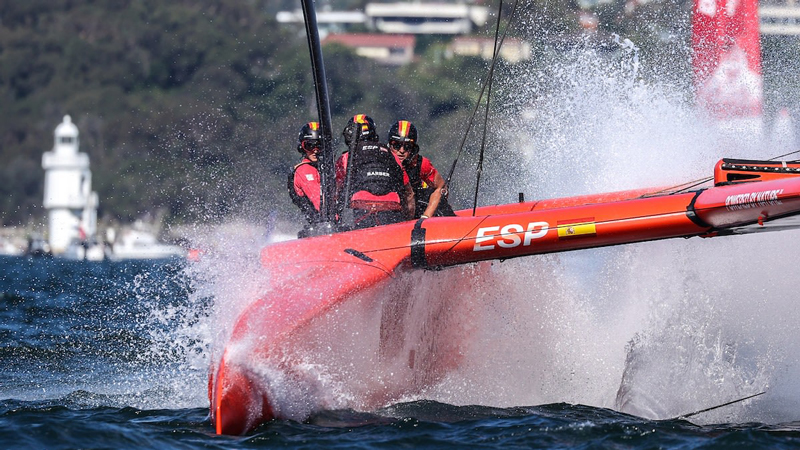 "Racing's pretty close," said Robertson. "There's a lot of pressure there. Everyone wants to be making that final in San Francisco, so boats are going to crash and they're probably going to keep crashing. We'll keep doing what we are doing and maybe we can sneak our way into the Grand Final in San Francisco. I'm hoping the team come full-focus tomorrow. It's going to be windy. We need to be looking at this event, these races, and not next season or anywhere else."
Racing on home waters, Australia's Tom Slingsby had a mixed day of results: a win in chaotic Race 3, third place in Race 1, and a disappointing seventh place in Race 2. His team sits in second with Jimmy Spithill's US team after Day 1, 5 points behind Spain.
The Americans overcame a slow start — sixth place in Race 1 — to finish on the podium in the next two races. They scored third place in Race 2 and second in Race 3.
Onward to Day 2
Action will resume on the second day of the Australia Sail Grand Prix at 5 a.m. GMT tomorrow, Saturday, December 18 (that's 9 p.m. tonight, Friday the 17th, on the West Coast of the US).
You can watch a two-hour recap video of Day 1's three races at https://sailgp.com/news/21/live-stream-australia-sail-grand-prix-sydney-race-day-1. The collision at the start of Race 3 comes at 1 hour, 33 minutes in.
Receive emails when 'Lectronic Latitude is updated.
SUBSCRIBE