Doublehanded Transat Jacques Vabre in the Home Stretch
After more than 12 days of racing in the 15th edition of the Transat Jacques Vabre from France to the Caribbean, the top boats in each division are now entering the home stretch of what has turned into a long and grueling doublehanded race across the Atlantic. With a complicated weather scenario, this hasn't been a 'fast' trade-wind jaunt where the crews just set the big sails and knock out miles, but rather a prolonged and arduous campaign of sail changes, constant maneuvers, and trimming. The relatively light and mild conditions of the race have, however, served to keep the fleets close and the boat failures to a relative minimum, despite a handful of high-profile dismastings earlier in the race.
Ultime Trimaran Division
At the head of the fleet in the Ultime trimaran division — the fastest boats in the race and also sailing the longest course — Franck Cammas and Charlies Caudrelier on Maxi Edmond de Rothschild have been in control of the five-boat fleet since the start. Despite the recent arrivals of François Gabart's brand-new SVR Lazartigue and Armel le Cléac'h's new Banque Populaire XI, the two Volvo Ocean Race-winning skippers Cammas and Caudrelier have only further continued their recent reign of dominance. Currently, Armel le Cléac'h and co-skipper Kevin Escoffier on Banque Populaire XI are in second place, while François Gabart and co-skipper Tom Laperche on SVR Lazartigue are in third.
IMOCA 60 Fleet
The 22-boat IMOCA 60 fleet has evolved into a three-way battle for the lead among Apivia, Charal and LinkedOut, with Thomas Ruyant and Morgan Lagraviére on LinkedOut currently leading the pack. Apivia and Charal are hot on their heels. American Charlie Enright and co-skipper Pascal Bidegorry on 11th Hour Racing's new IMOCA 60 Malama are sailing in sixth place in the fleet. Recent Vendée Globe winner Yannick Bestaven and his yacht Maitre Coq IV are currently in ninth place.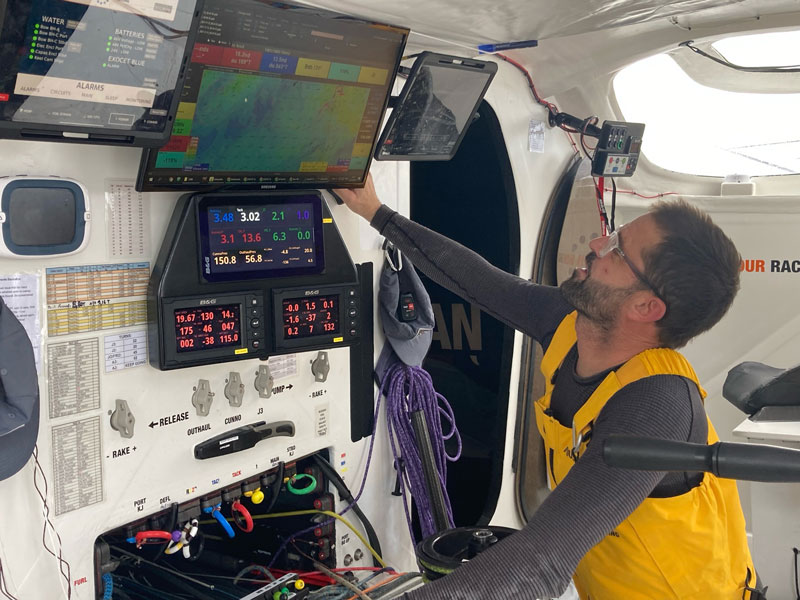 Ocean Fifty Trimarans
Sailing the same 'medium'-distance course as the IMOCAs is the recently rebranded Ocean Fifty trimaran class. The multi-talented Sébastian Rogues and Matthieu Souben lead the class onboard Primonial, while pre-race favorites Erwan le Roux and Xavier Macaire are right behind but with a bit of leverage. English sailor Sam Goodchild and Aymeric Chappellier on Leyton continue to remain in contention in third place. It's another very solid performance for Goodchild's Leyton team, as the English skipper continues to cement his position as the top up-and-coming 'non-French' sailor in this very French sport.
Class 40 Fleet
Antoine Carpentier and Spaniard Pablo Santurde del Arco on Redman are still sitting atop the Class 40 fleet after an impressive comeback following the light-air fiasco during the early stages of the race. Sailing a much shorter and more direct route toward the finish in Martinique than the bigger and faster classes, much of the Class 40 fleet is jibing through the turning mark in the Cape Verde islands as this article posts. There is a nice north-south split among the fleet and a lot of race track left — it's still a wide-open race for the impressively large 45-boat Class 40 fleet. Bay Area sailor Alex Mehran, the only American sailing in the Class 40 division, remains in 35th place sailing with the famed naval architect Merfyn Owen.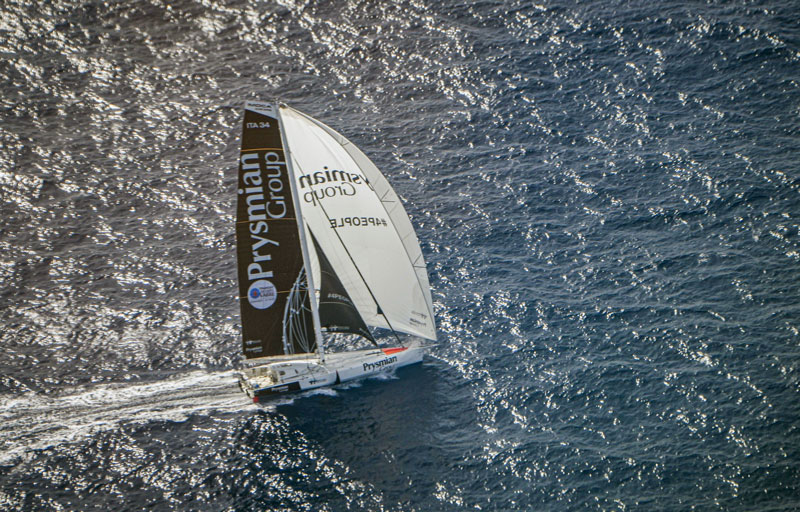 Singlehanded Mini Transat Draws to a Close
A two-race transatlantic epic that started in late September in western France has now drawn to a close at the Caribbean island of Guadeloupe. Pierre le Roy and his powerhouse Teamwork were first into Guadeloupe by about 16 hours and went on to win the overall victory by a shade over 14 hours. Tanguy Bouroullec and his innovative Pogo Foiler finished third, while Californian Jay Thompson and his self-built foiling boat Cocotopia came home in an impressive ninth overall. Thompson never quite had the stars align in his favor for him to showcase his true potential. Frenchman Hugo Dhallenne put on a dominant display in Leg 2 to claim the overall race victory in the 65-boat Series division, while Italian Alberto Riva took home second. Leg 1 winner Melwin Fink of Germany rounded out the podium.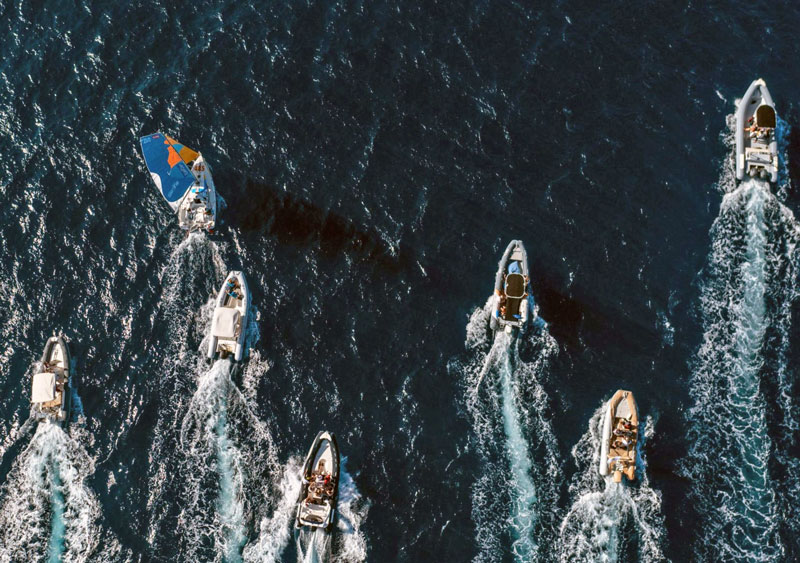 See www.minitransat.fr.
Receive emails when 'Lectronic Latitude is updated.
SUBSCRIBE