When David came out for breakfast this morning he was already dressed for his morning run. I noticed his shirt selection right away and asked, "Do you remember where you got that shirt?" He didn't.
Baltimore Harbor was one of those unforgettable anchorages. We arrived early in the afternoon and had the place nearly to ourselves, so we could pick out the best spot to drop the hook and then be in position to watch everyone else do the same. It is a tradition that provides lots of entertainment. Other cruisers like us arrived in the next couple of hours and settled in without incident. The real fun began when the local weekenders started to arrive after work on Friday.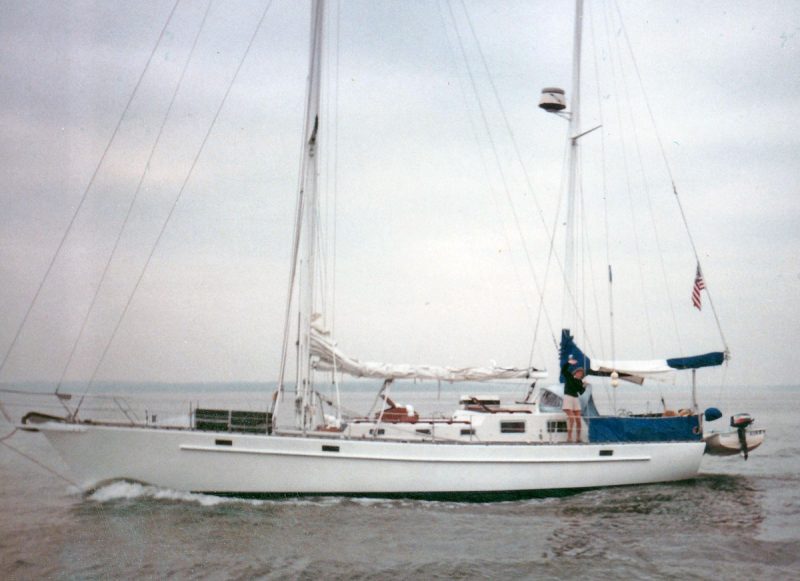 Those with sailboats, regardless of size, were fairly accomplished at the anchoring process. It's almost always the stinkpot class that expects power to make up for competence. No less so in a part of the world now overpopulated with bureaucrats and politicians of all types. We watched the little red powerboat motor into the harbor, driven by a nice-looking captain in his mid-40s with a younger blonde woman on the foredeck holding the anchor chain. It looked like maybe 20 feet of chain. It might touch the bottom in a shallow spot.
The captain didn't bother circling to check for swing room between other boats, he just yelled to the blonde to drop the hook. She pushed it overboard, still holding the end of the chain with one hand. Her technique might have had a chance of working if the chain had been longer or her grip tighter, but once the chain ran out and the anchor was still headed to the bottom, the end of the chain slipped through her fingers and followed the rest of it to the bottom. By then the sun was starting to set. Perhaps they had another anchor and chain. We have three, for example, designed for different bottoms and holding types.
Not the case for the little red powerboat. It was evident they didn't have an option, and our catching a word now and then, Captain was thinking their only choice was returning to their home marina. That was sure to spoil their weekend.
This was not our first potential rescue of a powerboat, but actually number three. The first one ran out of gas on San Francisco Bay, and we towed them to their marina. The second lost their anchor while waiting for a bridge to open on the Intracoastal Waterway. So, we hailed the captain to come along side.
Confirming that they were overnighting for the weekend, we offered to raft them to our boat. David made it plain that he would direct the process and thus avoid damage to either boat. Baltimore Harbor is relatively calm, but an occasional big boat wake can cause damage if the boats are not properly secured. Any captain who didn't have his chain secured before dropping the anchor was not to be trusted to tie up boats.
Despite our having rescued them, the captain was a bit grumpy and begrudgingly thanked us. He wasn't used to being given orders, even when he clearly was not the one to be in charge. By that time it was full dark, and we were ready to settle down for the evening.
Next morning, while we were having breakfast in the cockpit, our rafting mates reappeared. They asked if we were OK with their heading off to shore for the morning, which we were. It would be mid-afternoon before they reappeared. Meanwhile, we had a relaxing day watching the harbor traffic and doing boat projects typical of a cruising boat in port.
They returned bearing gifts. "We wanted to thank you for the rescue last night after we lost our anchor, and to apologize for being out of sorts. I've just spent the week testifying before Congress, and besides being exhausted was a bit stressed." We offered coffee and cake, and once we were all comfortable in the cockpit, we opened our gifts. Mine was a big red crab carved out of wood and made to hang on my Christmas tree, which it has every year since. David received a T-shirt, also with a big red crab, and the statement "Maryland Is for Crabs." We all laughed at the joke and the appropriateness of the thank-you gifts.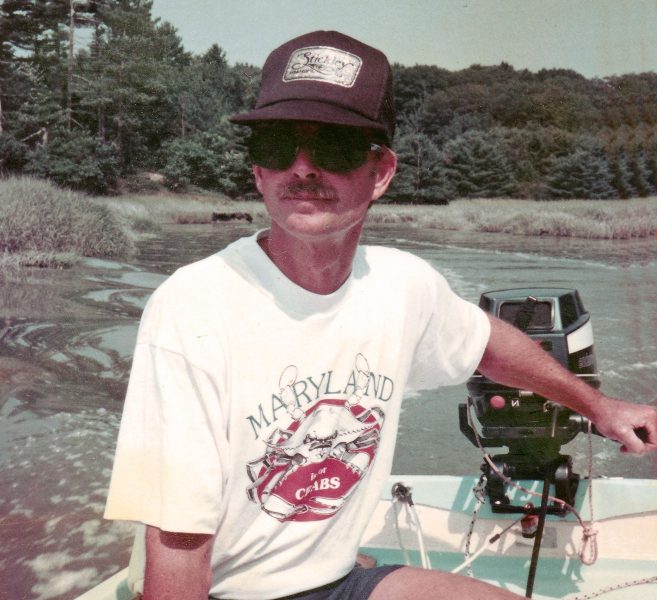 Now an incredible number of years later, it is one of David's favorite shirts for running.
Receive emails when 'Lectronic Latitude is updated.
SUBSCRIBE