After doing the Pacific Puddle Jump solo last year, Elana Connor wanted to share what first-time Jumpers learned in 2019 while sailing across the South Pacific. Don't miss part one: provisioning, or part two: breakages.
For first-time Puddle Jumpers, the journey across the Pacific really is a leap — a leap of faith. It's a decision to cast off the security of your docklines and venture into challenges unknown, to surrender to the will of wind and sea, and to believe that somewhere in the warm trade winds, your soul will find satisfaction. A successful cruise is about more than just being well provisioned and keeping the boat moving; it's about creating a tapestry of unique memories that will last you a lifetime. While alumni from 2019's PPJ had many practical tips for sailing the South Pacific, they had far more thoughts on how to craft a satisfying journey.

The Long Passage
Every boat is different, but we all pass through the initiation of sailing 2800-4000 nm across the Pacific Ocean. When you're not busy with sailing, staying entertained is key. "Audiobooks are a must!" says Jolanda de Boer of Bliss, a Pearson 385 from Berkeley. Others, like singlehander James Mace of Moonrise from Falmouth, UK, recommend listening to podcasts.
"If we didn't have movies, we would have gone crazy," said Cody Heath of Zoë from Houston. Bring high-capacity external hard drives to facilitate sharing digital media (as well as cruising guides, weather data, and e-charts).
"Take advantage of calm moments when there aren't any issues," advised Katie Nolet of Zoë. "Use this time to do stuff that's good for the soul, because you may not find time for it otherwise."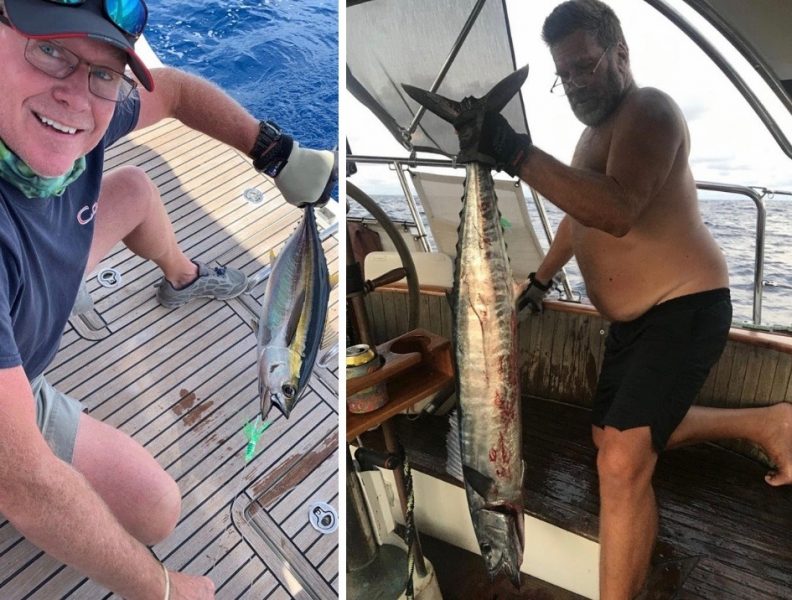 Food also becomes a kind of entertainment. "You get so exhausted that it's hard not to reach for the closest thing to snack on during watches," said Abraham Phillips of Odyle from Monterey. He recommends stowing a variety of foods together, so that you don't run out of one favorite item too soon.
"We eventually started baking our own [treats]," said Flo Benincasa of Flocerfida, who noted it not only gave them something to do, but also reduced their garbage.
Shorthanded crews may discover they don't see much of each other. "We all loved coffee in the morning, and cocktails in the evening," said Audrey Toal of Wild Orchid from San Diego, "and taking these two times to connect as a group helped us to enjoy life together at sea." Toal mentioned that their group may have gotten along so well because everyone was also OK with not talking.
Life after Landfall
Once the hook drops, your boat's watch schedule is swapped for a completely different one of exploring the islands and meeting new people, but it's only enjoyable if you're confident in your anchoring gear. With sudden wind changes, a peaceful bay can quickly turn into a dangerous minefield of coral "bommies" on a lee shore. Small ports may need sailboats anchored in a turning basin to move quickly when a ship arrives. Having beefy ground tackle may provide reassurance, but it can also become a liability if it must be managed by more than one member of the crew, so find a safe balance.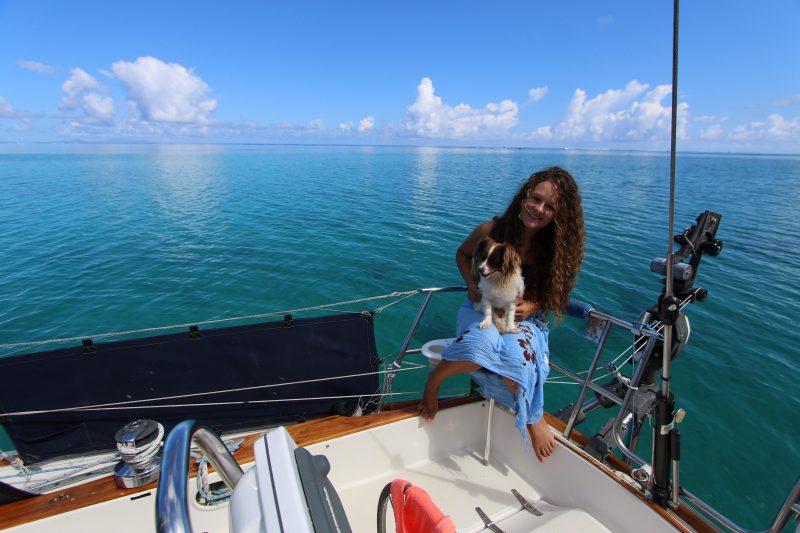 After landfall, most cruisers immediately sought Wi-Fi. Some people wanted to linger near connectivity, while others wanted to escape to isolated places. Crews that weren't on the same page experienced discord, because needing an internet connection affects your itinerary. Having a Google Fi subscription and/or a Wi-Fi booster can help. Benincasa of Flocerfida notes, "Every country has its own local provider. Take time after you arrive to do some research and you'll save money." And be sure to download all charts, manuals, and guides in advance of departure; only major ports have free unlimited internet that's fast enough for downloads.
An average day might include hiking paths lined with ripe mango trees, eating family-style in a small local restaurant, or drift-diving a reef pass, and these activities may affect your body. Just as the four-person Robertson family of Ocean Alley from Waikawa (New Zealand) was about to leave Nuku Hiva, half the family caught a stomach bug. Thankfully, they had electrolyte packets and loperamide (anti-diarrheal) aboard, and could sail on to the Tuamotus before their weather window closed.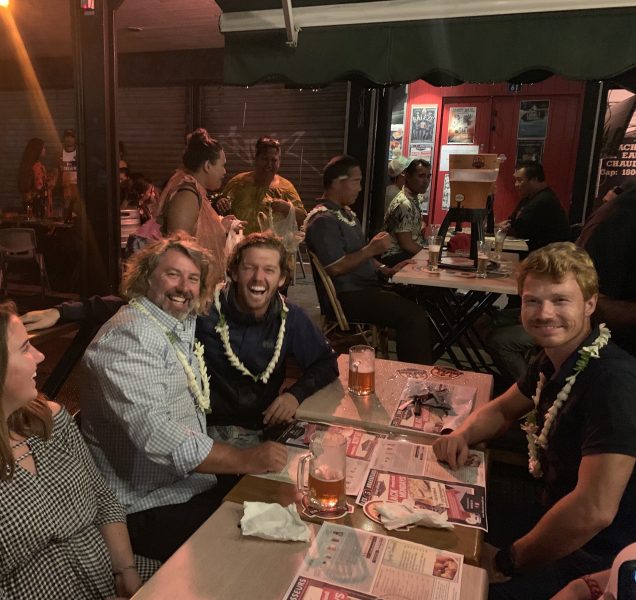 Cooking burns can also be an issue; Toal of Wild Orchid recommends bringing "second skin" dressings. Many cruisers experienced rashes and bites, and some female sailors caught UTIs, so be sure to thoroughly stock your ship's medical kit.
The most commonly reported health issue was irritated skin as a result of exposure to the elements. Long-sleeved sunshirts and wide-brimmed hats are important, but even if you cover up, you'll still need to wear sunscreen. This, combined with the humid weather, sweat, and salt, caused problems for those with sensitive skin.
Some alumni recommend washing problem areas with gentle cleansers before reapplying sunscreen during the day. Others found products with salicylic acid or tea tree oil effective at treating breakouts (especially on one's bottom). Bring soothing creams for irritated skin (the author found colloidal oatmeal lotions helpful). Come prepared for a variety of issues.
Redundancy is essential when cruising. Kathy and David Bennett of Pacific Destiny from Alameda experienced chartplotter failures (and they weren't alone); having a tablet with Navionics "saved" them. "I didn't realize the importance of having a dry box to put our electronics in," admits Bennett, "and our laptop eventually died." Many alumni reported failed headlamps and broken or lost snorkeling gear. Redundant essentials make life easier.
When Things Go Wrong
Everyone agreed that your attitude when facing challenges will be the greatest determining factor in your happiness. "Your worst moments are actually your best moments," said Abraham Phillips of Odyle, "because when you emerge from them you'll know what you can do better, and that's going to help you become a better person, and a better sailor!"
The Phillips family made landfall in Nuku Hiva with a dead engine. "At first, we were working every day, but we realized this was making everyone miserable. We set a rule that we would work two days, but on the third day we would go enjoy life." Philips and other alumni observed that some crews worked for days on end without relaxing, and seemed unhappy. "Men especially," Phillips warns, "don't get so focused on problems that you forget to take a break and notice your [partner's] happiness."
During engine failures, some cruisers didn't have a good backup plan to live contentedly without fridges, freezers, and watermakers, or were unable to use AC electronics (like laptops). Installing renewable energy sources can help power your boat through problems.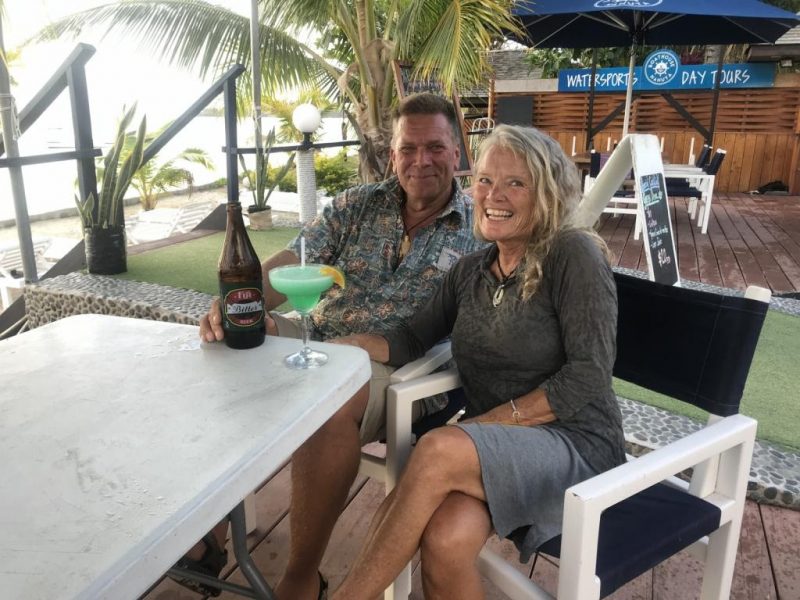 Couples found breakages especially challenging. "Everyone deals with stress differently," says Heath of Zoë. "On a boat, there's no escaping each other, so communicate and give your partner the benefit of the doubt that they are trying their best."
When anchoring, Toal of Wild Orchid reduces communication issues by having a person amidships to relay messages. Others, like Diane Brown Dinwiddie of Tabu Soro, a Hans Christian 38T from San Francisco, recommend wireless headsets: "[These] saved our marriage while anchoring in weather."
Every Journey is Different
In order to have a great experience you must make your trip your own. "There's so much information available now that you're always trying to digest too much," says Benincasa of Flocerfida. "You'll have your own experience, so be comfortable with that and trust yourself."
At the end of the season, some couples didn't feel the same way about continuing. One male cruiser summarized an oft-noticed trend: "A lot of wives are living the husband's dream; they are taking a serious hit to their own happiness and giving up a lot. There needs to be a balance." Thankfully, it's not difficult to cruise part-time since there are many places to store your vessel in the South Pacific.
"You will learn if you are a passagemaker or not during the crossing," said de Boer of Bliss. "We are in the 'not' category, and there's no shame, either way." The de Boer family left Bliss in Raiatea, and they look forward to cruising Fiji part-time this year.
While you can't know what you'll experience during your journey, the hardest part is usually just pushing off the dock. So, dear reader, go ahead and jump that great Pacific puddle. Point your bow for the western horizon and take a leap of faith. We're sure you won't regret it.
Receive emails when 'Lectronic Latitude is updated.
SUBSCRIBE